Sharing some of the prettiest feminine holiday dresses for your upcoming holiday parties.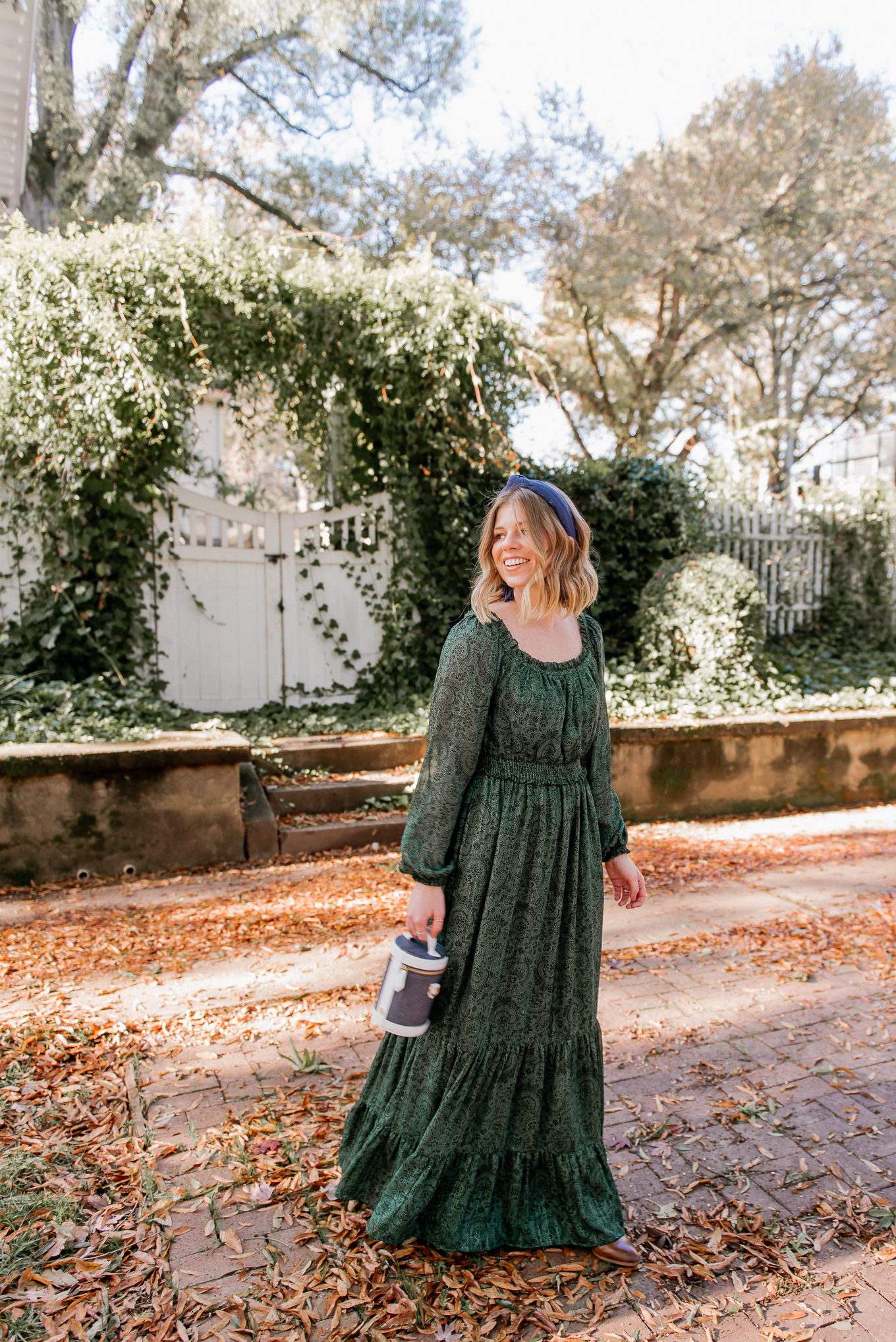 Holiday parties are in full swing which means you need a fabulous holiday dress. Maybe even multiple dresses! Personally, I love opting for feminine holiday dresses over any other style.
While we sadly do not have any Christmas parties to attend this year, I did "throw" a little Louella Reese LLC Christmas party last weekend…for myself and my CSO. What is a CSO? A Chief Support Officer and who is Louella Reese's, Joshua of course! So we really just went on a snazzy date night to CustomShop but I called it the Louella Reese Christmas Party and we played the part – getting all gussied up in our Christmas best! 
For me, that meant wearing this beautiful, feminine winter maxi dress from Gal Meets Glam Collection. Hands down my favorite dress this season. Which you may have noticed as I wore it to my sister-in-law's rehearsal dinner and again when I modeled for Half-Mile Farm last week (can't wait to show you the photos). My favorite for good reason…the quality is amazing, the pattern is very unique + fitting for the winter season, and all of the romantic details make the dress incredibly special. And isn't a holiday dress suppose to be very special?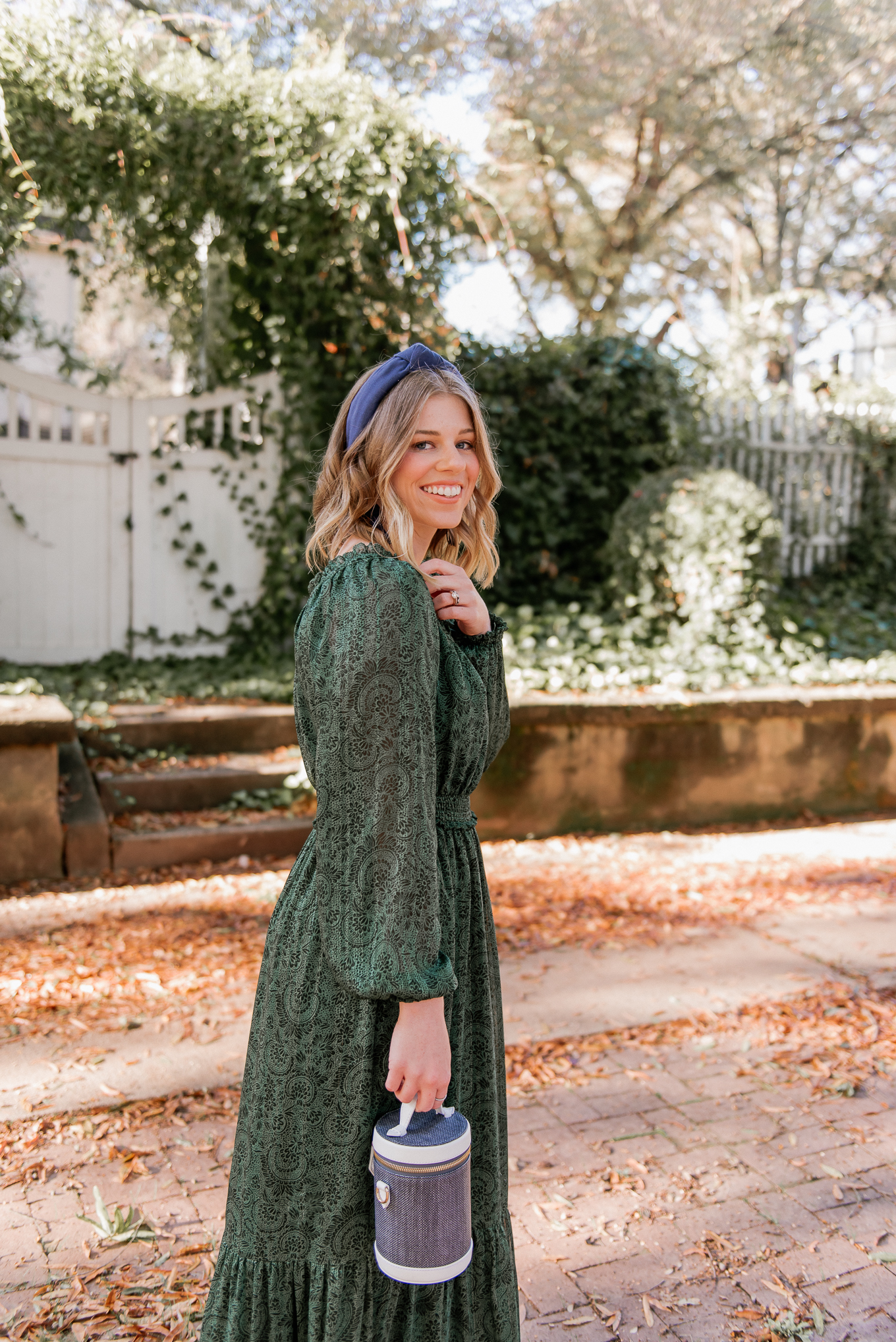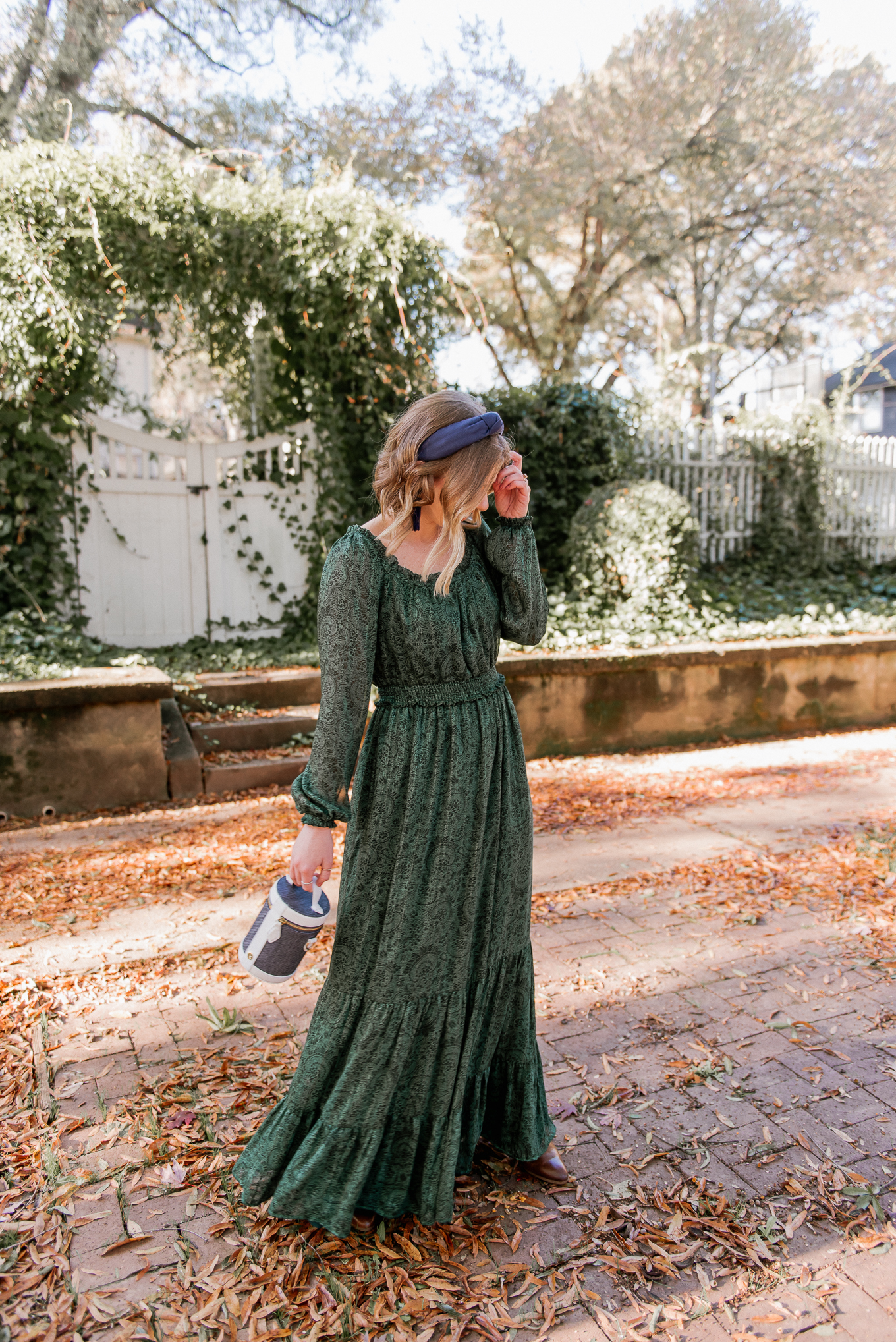 Shop Feminine Holiday Dresses
If you're like me and into the feminine holiday dresses, below you will find nine of my favorite from the Gal Meets Glam Collection. These dresses pack a festive punch with sweet feminine touches. Dresses you can wear to multiple occasions, for years to come, and even wear into different seasons. All of the red dresses would be amazing for Valentine's Day as well. And that sparkly green number would be perfection for NYE festivities! 

* p.s. the below photo is right after a squirrel scared me half to death!
photo shoot are NEVER boring!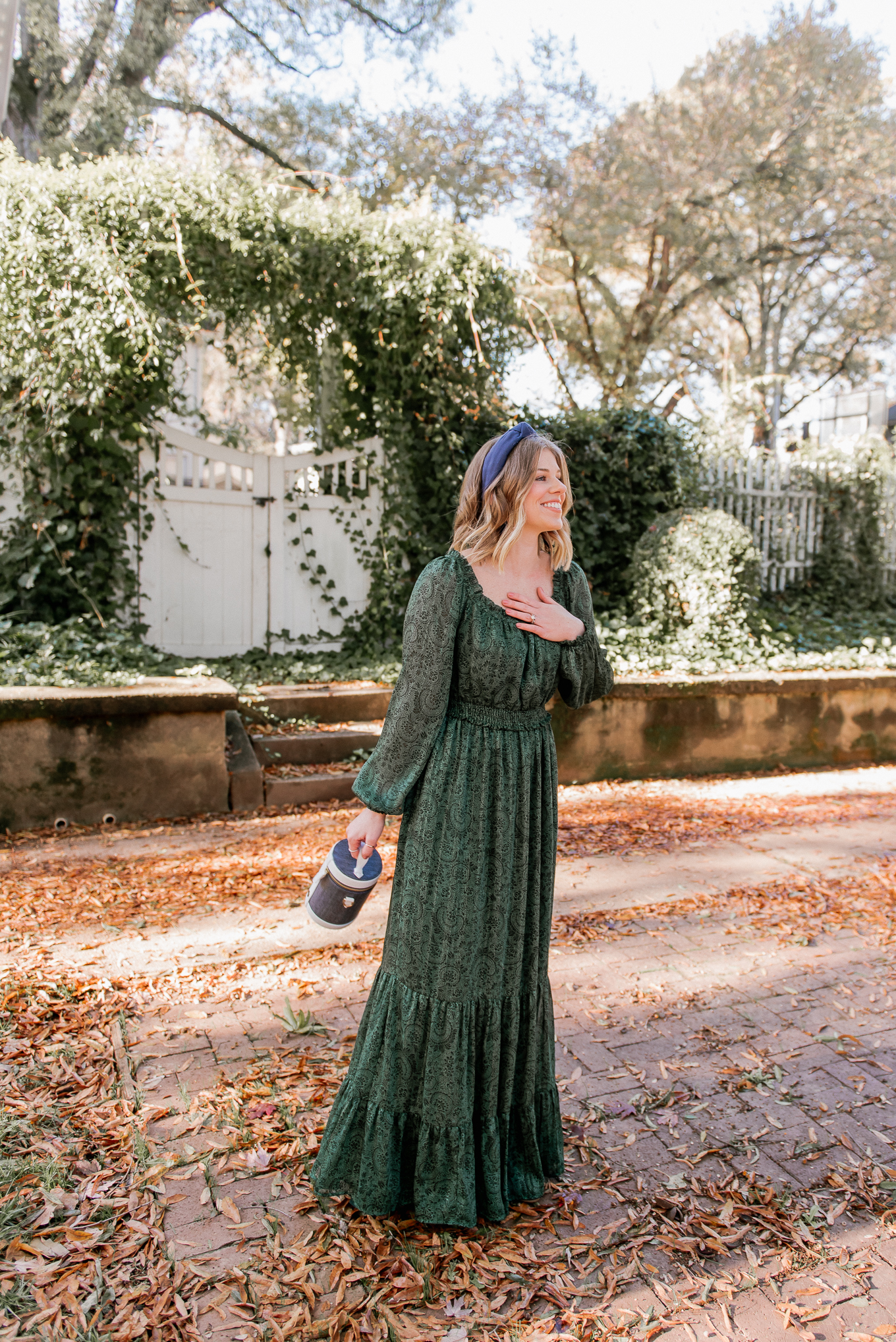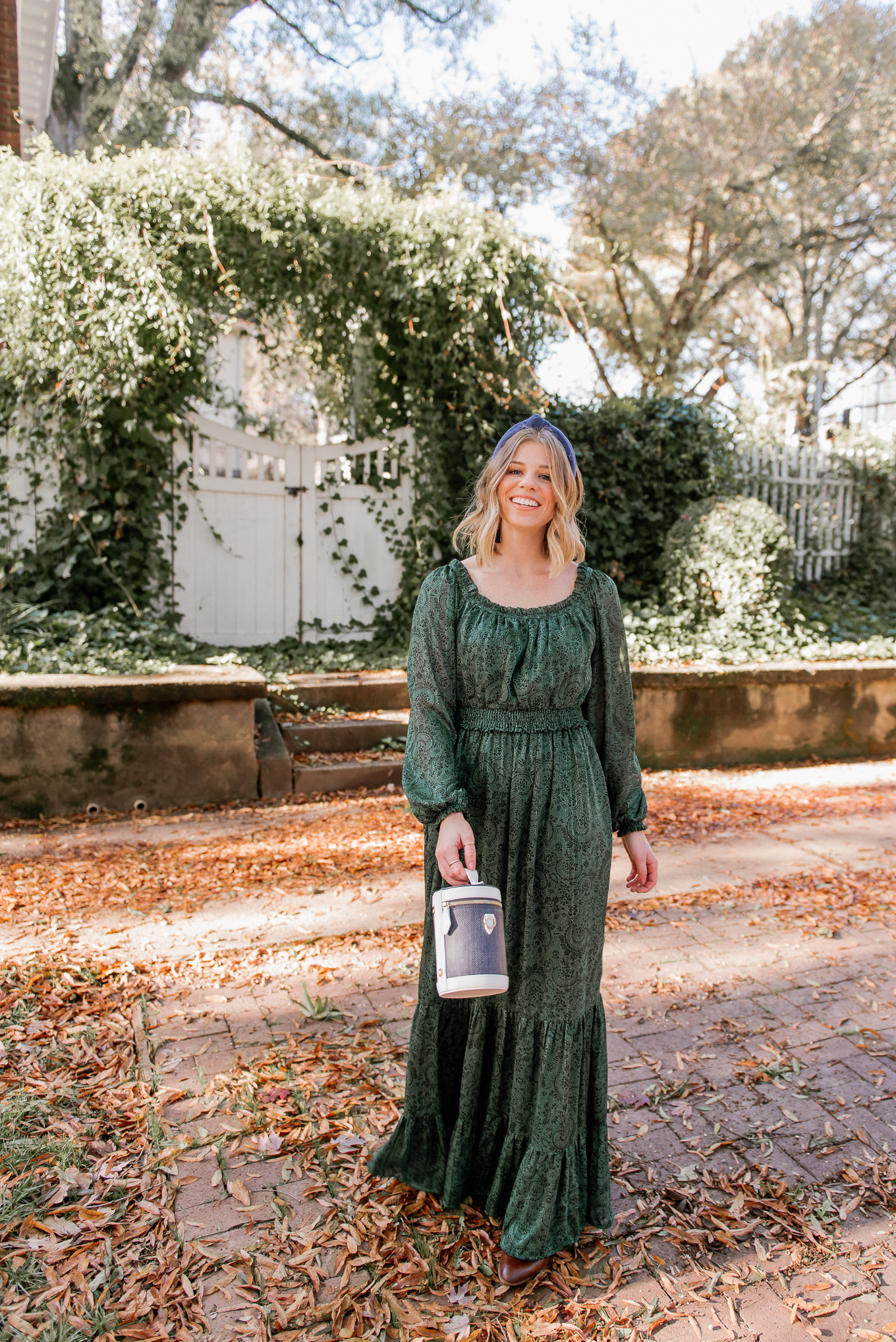 For my holiday party look, I opted to go a little less traditional and pair my dress with navy vs. typical red or metallic hues. Which fits my personal style way better and also encouraged compliments from several people! So many said they would have never thought to pair navy with this green hue or opt for such a playful, lighter handbag. 
Proof that going outside the box and being true to yourself truly pays off! While also going unnoticed, in the best way possible! So have fun this holiday season with your holiday looks. Don't feel as though you have to wear a specific accessory, color combination, or style – be true to you and again, have fun with it! 
Stay up to date on holiday posts!