Tips on styling your spring dresses in the dead of winter! Plus a little pro tip for extra warmth that doesn't include an extra layer! Think you know what I am talking about?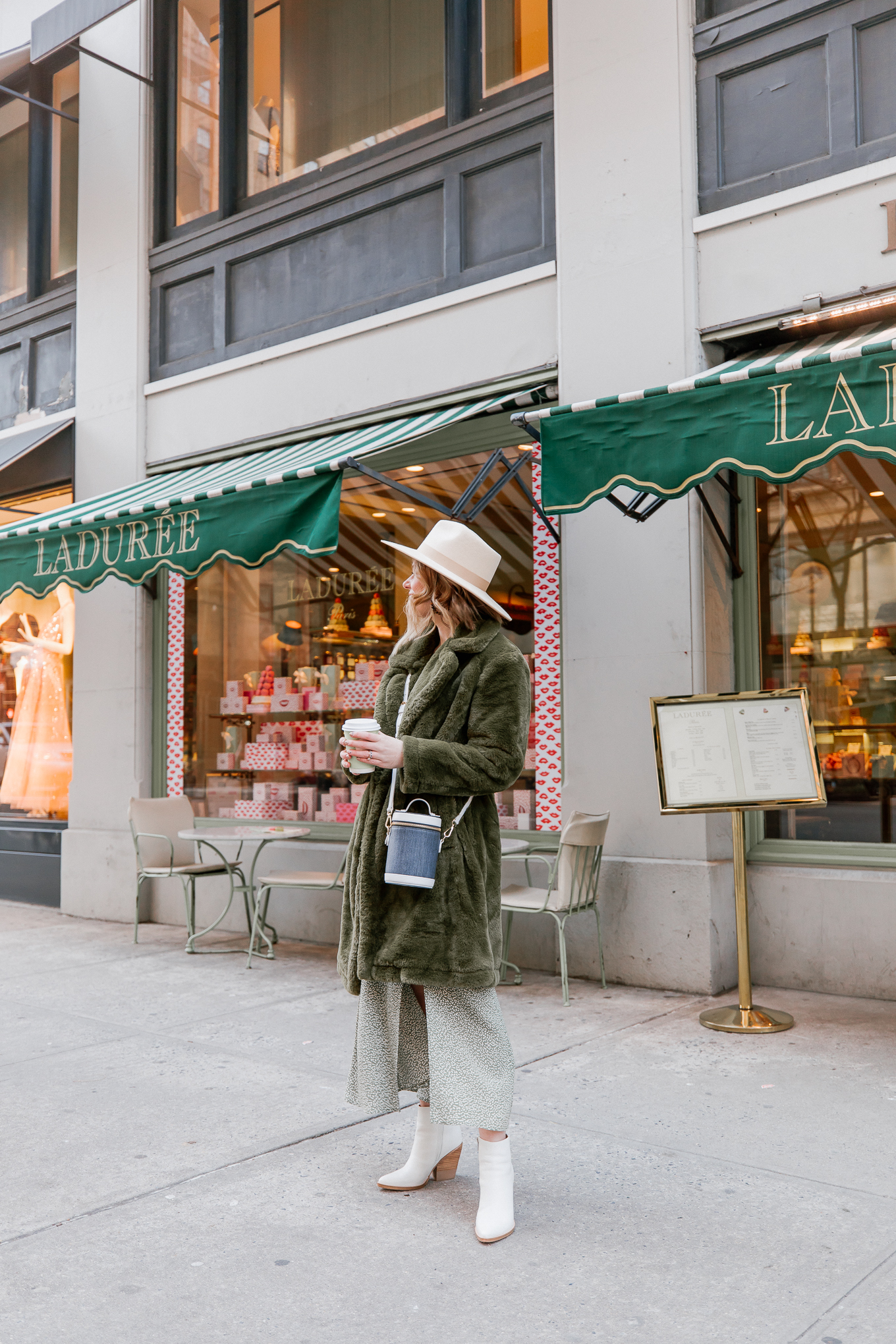 I'm a dress gal, through and through. Ever since I was a tiny tot I have preferred wearing dresses over anything else. Especially dreaded pants. Just ask my mom, there were many crying fits when pants were required and a dress just wasn't an option. However, lately I've been all about jeans or even, dare I say – pants! I think it's in large part due to the fact that I want to be as warm as possible! While also being in a bit of a fashion rut. HELLO a great pair of jeans and a sweater.
However, NYC & NYFW changed all of that!
While prepping for my trip to  NYC I found myself adding more dresses than anything else to my cart. They were what I was drawn to and ultimately what I really feel the most stylish in – which is what NYFW is all about, right? With temps in the 30s-40s a little creativity for warmth was necessary! Below you'll find five ways I made it possible to style spring dresses in the middle of winter…in NYC.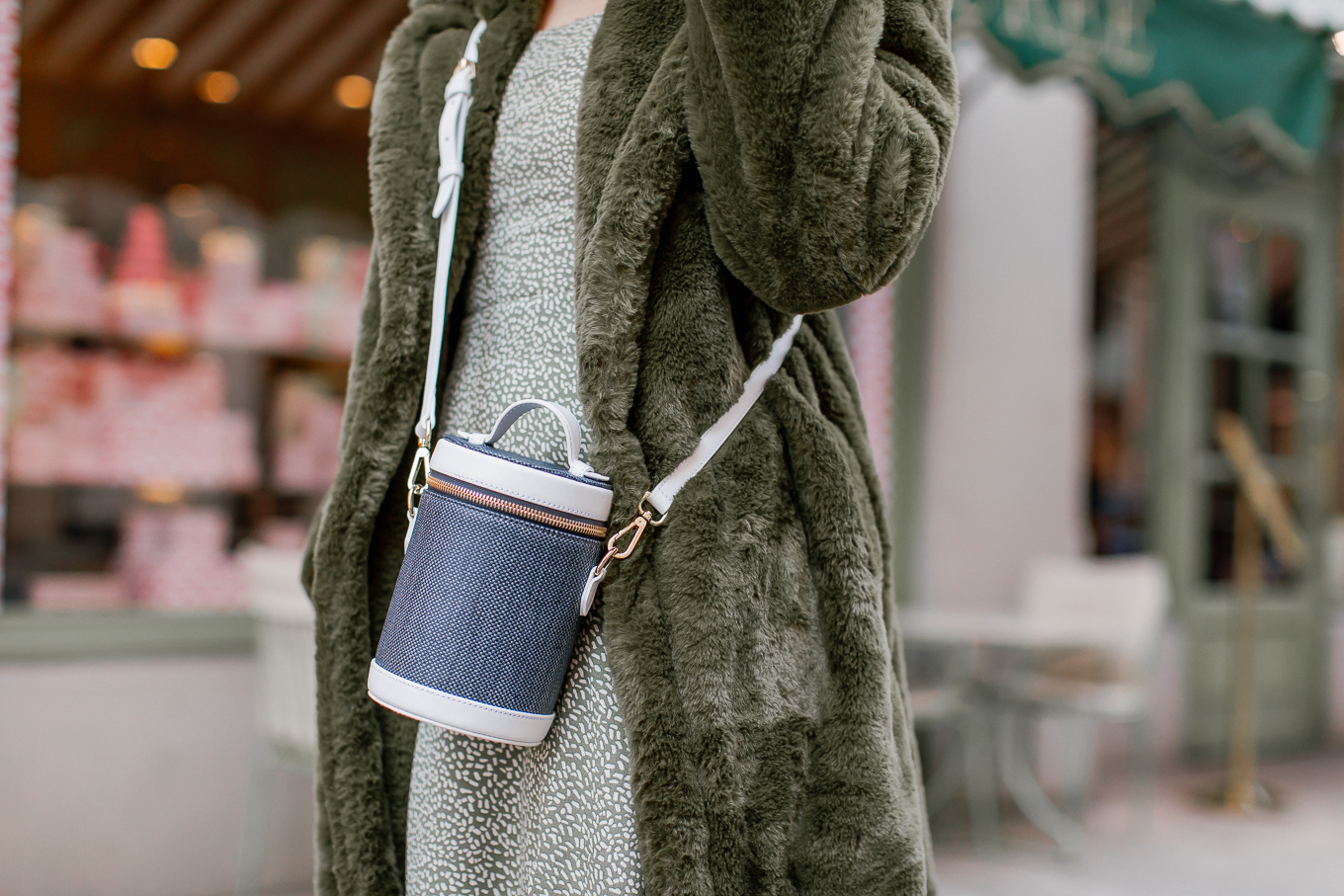 Tips for Styling Your Spring Dresses Before the Winter Season is up
Styling your spring dresses in the dead of winter calls for a bit of creativity and art. Due to the fact that you need as much warmth as possible but also don't want to look as though you threw on every article of clothing from your closet. Here are a few ways to style your spring dresses in the middle of winter while staying warm and looking stylish! 
1.Pair with boots
A great way to add a little extra coverage and warmth. Especially if you opt for tall or over the knee boots. Which look great with mini, midis, and at times maxis with high slits. If tall or over the knee boots aren't your style or don't work with the dress you're styling, pull on a fabulous pair of ankle booties and the coziest socks you have. Bonus points (and warmth) if they're wool. 
2. Throw on a faux fur coat
Yesterday I chatted all about the warmth a faux fur coat provides. Not to mention the overall cozy factor of them. You find yourself snuggling up in the coat and with that cannot help but feel warm!
3. Add a layer over or under your dress 
For my NYC trip I packed a bodysuit – first time wearing one, not sure what took me so long! It was the perfect extra layer to through underneath things. Unfortunately, I could not wear with the dress in today's post but did wear under the dress in yesterdays post. My recommendation, buy a couple (two to three) with various necklines so you can wear one with just about every dress. 
If you don't want to add an extra layer underneath, add one over top. Pull on a cozy oversized sweater or a chic cropped sweater. Either way it'll add extra warmth and up your cozy factor! 
4. Pull on a pair of tights
This one should be a no-brainer! No one wants bare (most likely very pale – if you're anything like me) legs out in the cold. Although truthfully I forgot to bring a pair and couldn't find one at any of the shops we stopped into. So it was in fact bare legs for me and I would zero percent recommend that! 
So scoop up a couple pairs of tights in various colors and/or patterns. Nude is always a good idea. Especially when going into the spring season and you want that lighter, natural look. 
When All Else Fails Add a Pair of hand warmers in your pockets
I chatted about the amazingness of hand warmers in my What I Packed for NYFW post. These little fireballs of warmth are absolute lifesavers! Keep them in the pocket of your coat and slide your hands in there for bursts of warmth. Doing so will instantly warm you up!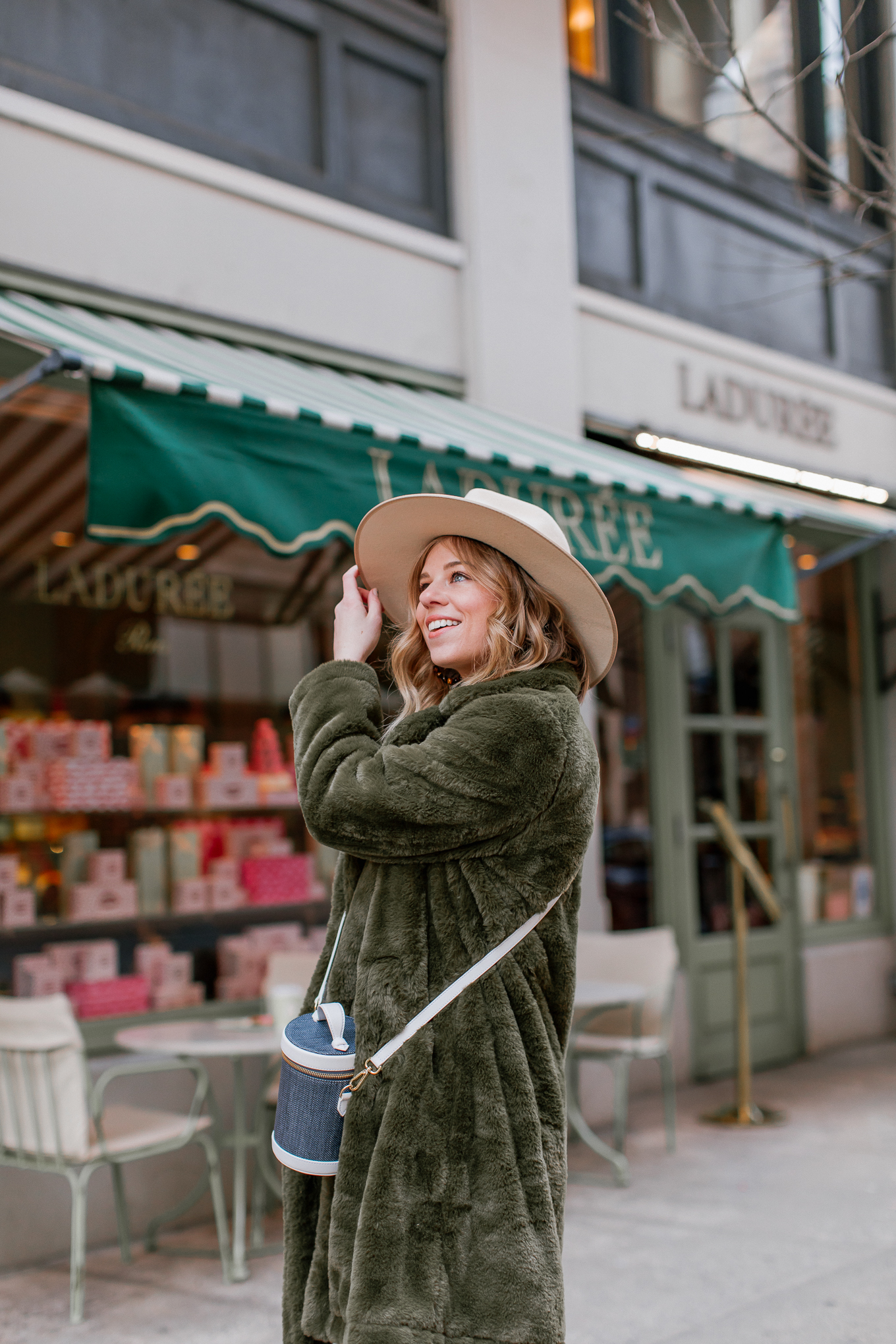 Want more NYFW content? Check out my NYFW page.