5 Fall Mantle Essentials for a Thanksgiving ready mantle! Thank you to Joss & Main for sponsoring this post!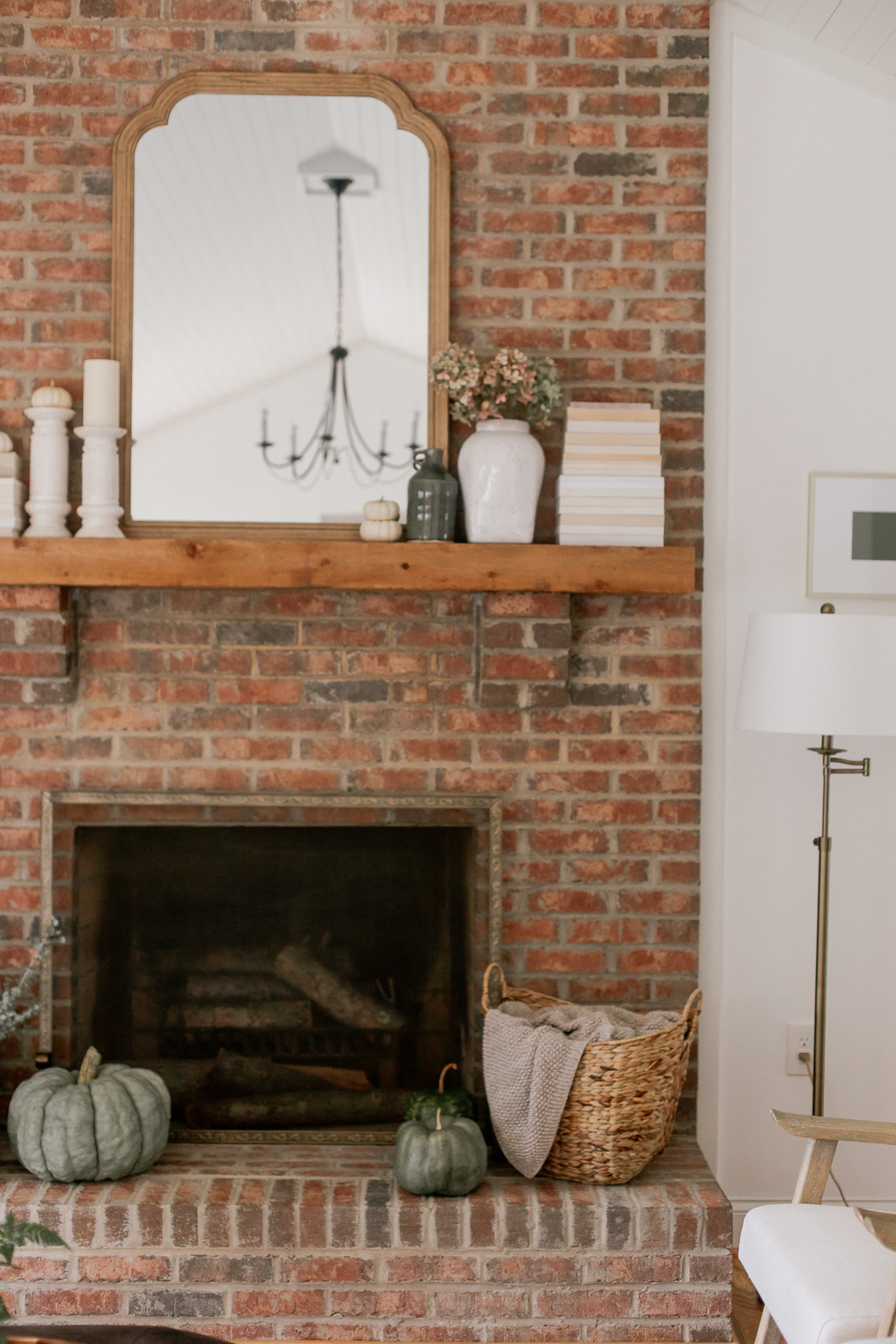 shop the post: candlestick set | jug vase |vintage vase |throw blankets | sea grass basket | antique brass floor lamp all c/o Joss & Main | similar mirror | fireplace screen
Joshua and I moved into our first home in late July 2019. We spent much of the fall season getting settled in as well as attending several weddings, bridal showers, and bachelorette/bachelor parties. Therefore, there was not a lot of time to decorate for the fall season or Thanksgiving holiday. This year, there was no question, I would be decorating our mantle for the fall season and have it ready for the Thanksgiving holiday!
Over the last year, I have learned a lot about my decorating style. I tend to lean towards neutrals with natural touches, antique brass metals, and wood accents. With our fall mantle, I wanted that style to be reflected and for the decor to compliment the rest of our home. With a few fall mantle essentials from Joss & Main I was able to create a beautiful fall mantle that perfectly compliments the rest of our home and will easily go from October fall days to Thanksgiving day with family.
5 Fall Mantle Essentials for a Fall to Thanksgiving Mantle
When creating the perfect fall mantle, there are a few essential items…
Pumpkins
As mentioned above, I tend to lean towards natural items so it was no question I would be going with real pumpkins for our fall mantle. The apple shaped green pumpkins and smaller darker green pumpkins were picked up at a local farm. While the large green pumpkin and adorable white pumpkins were purchased at Trader Joe's. They had so many pumpkins to choose from – small, medium, large, fat, skinny, white, green, and orange.
Faux pumpkins are a great option as well! Especially if you live where it is quite warm or want to keep them for a longer extended period of time.
Candles
Candles add such a warm and inviting touch to any space. I especially love layered candles on a mantle for a warm, cozy feel. Candles at varying heights can add a great amount of depth and height to a mantle. This candlestick set from Joss & Main provides the perfect lighter touch with a vintage feel. Joss & Main has a wide variety of candlestick sets to match all styles. I am loving this distressed gold set!
One tip I have when it comes to candles & candlesticks, don't feel the need to layer them in order of size – sometimes layering them out of order is more pleasing to the eye. As you see on our mantle, I have the shortest at the end, tallest, and then medium height on the opposite end.
Greenery
My rule: always had greenery! No matter what season it is, you can never ever go wrong with adding some greenery when decorating a space. Eucalyptus is one of my favorites that I find myself gravitating towards almost year around. I love it even more as during this time of year. Fill a large vase or basket with dried eucalyptus – or fresh and allow it to dry in there. Or add some faux eucalyptus or dried/faux hydrangeas – can you ever go wrong with hydrangeas? The dried version looks incredible for the fall season! While ours are from our front yard you can find the faux version at Joss & Main. As well as this stem that looks very similar to the dried hydrangeas we have.
A Basket & Cozy Throw Blankets
The complete the look, find a basket (Joss & Main has an amazing selection of baskets) and fill it with several cozy throw blankets (again, Joss & Main a wonderful selection) to add some fabric texture for a warm and cozy touch.
With these fall mantle essentials, you're sure to end up with a warm, inviting, and cozy mantle that will easily transition from October to the Thanksgiving holiday!
WHAT are some of your fall mantle essentials?
Stay up to date on all things home on the Louella Reese Home page.