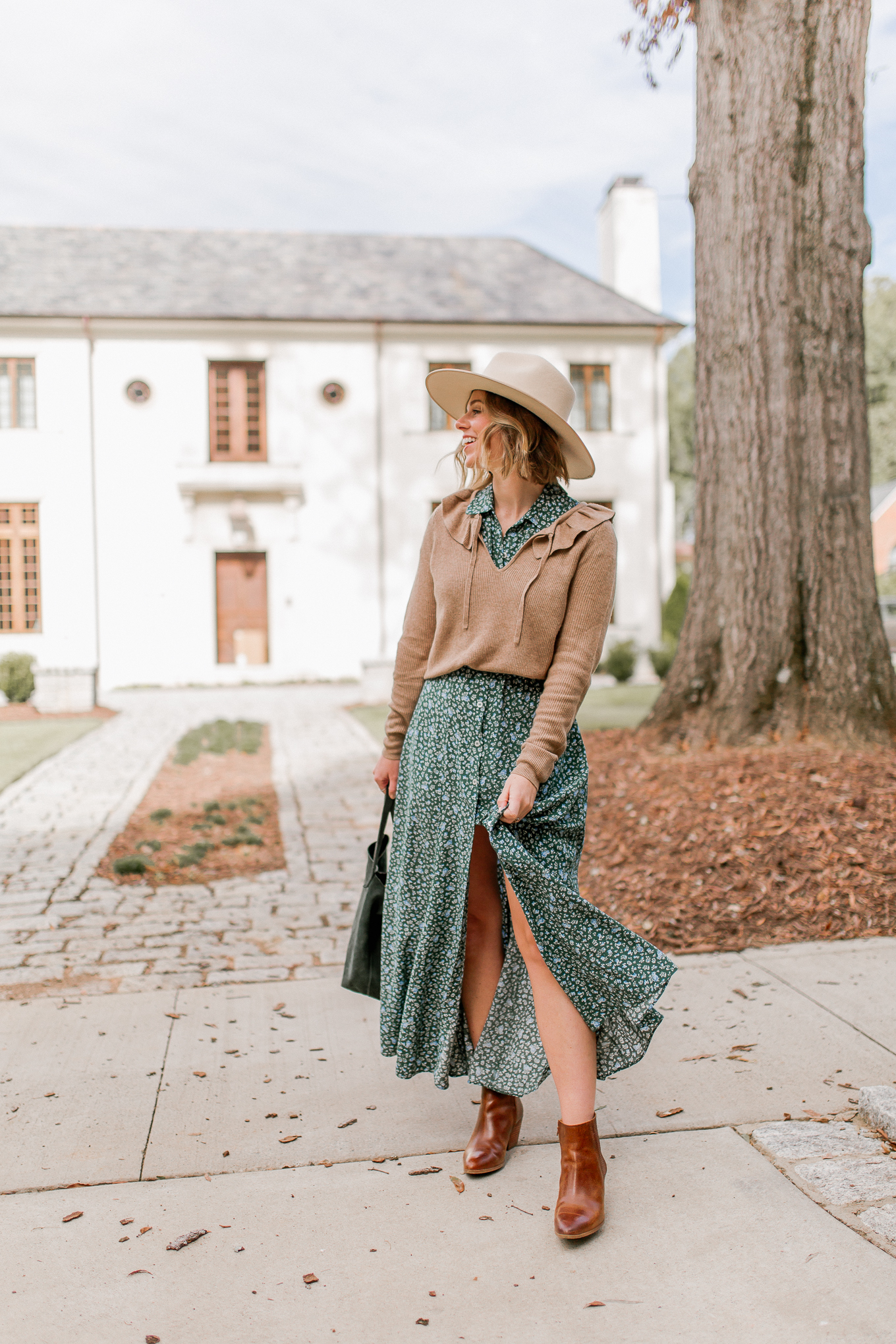 tie-front ruffle neck sweater | floral midi dress (previously styled here)| leather belt | tote (sold out, same bag in braided leather) | brown leather booties | wool hat

Have you watched or are you currently watching Yellowstone? If not, definitely make it a point to start the series this week. Or make it your next binge-watch show. Joshua and I have watched the drama series, starring Kevin Costner as the patriarch of a powerful, complicated family of ranchers since the series kicked off. The show is a modern western series that is suspenseful, intelligent, and beautiful on the eyes. We are both completely hooked – the second the last episode ends each season we're both counting down till the next one! The show is SO GOOD!
Channeling My Inner Beth Dutton from Yellowstone
One of the many things I love about the show is the style. Specifically Beth Dutton's style. Beth is the daughter of Kevin Costner's character, John Dutton and she is a total BA with incredible style. From chic workwear to incredible feminine western style. The latter is definitely my favorite of her style! Beth has me longing to live on a ranch in Yellowstone with a closet full of feminine dresses, cowboy boots, sweaters/jackets, and fabulous ponchos.
Fall tends to bring out the western/cowgirl side of me and recently I find myself having some Beth Dutton vibes! Most recently with the look featured here in today's post. I had total Beth Dutton vibes as I was strutting it in feminine floral shirt dress, neutral sweater, boots, and wool hat. It felt very Beth on the ranch to me!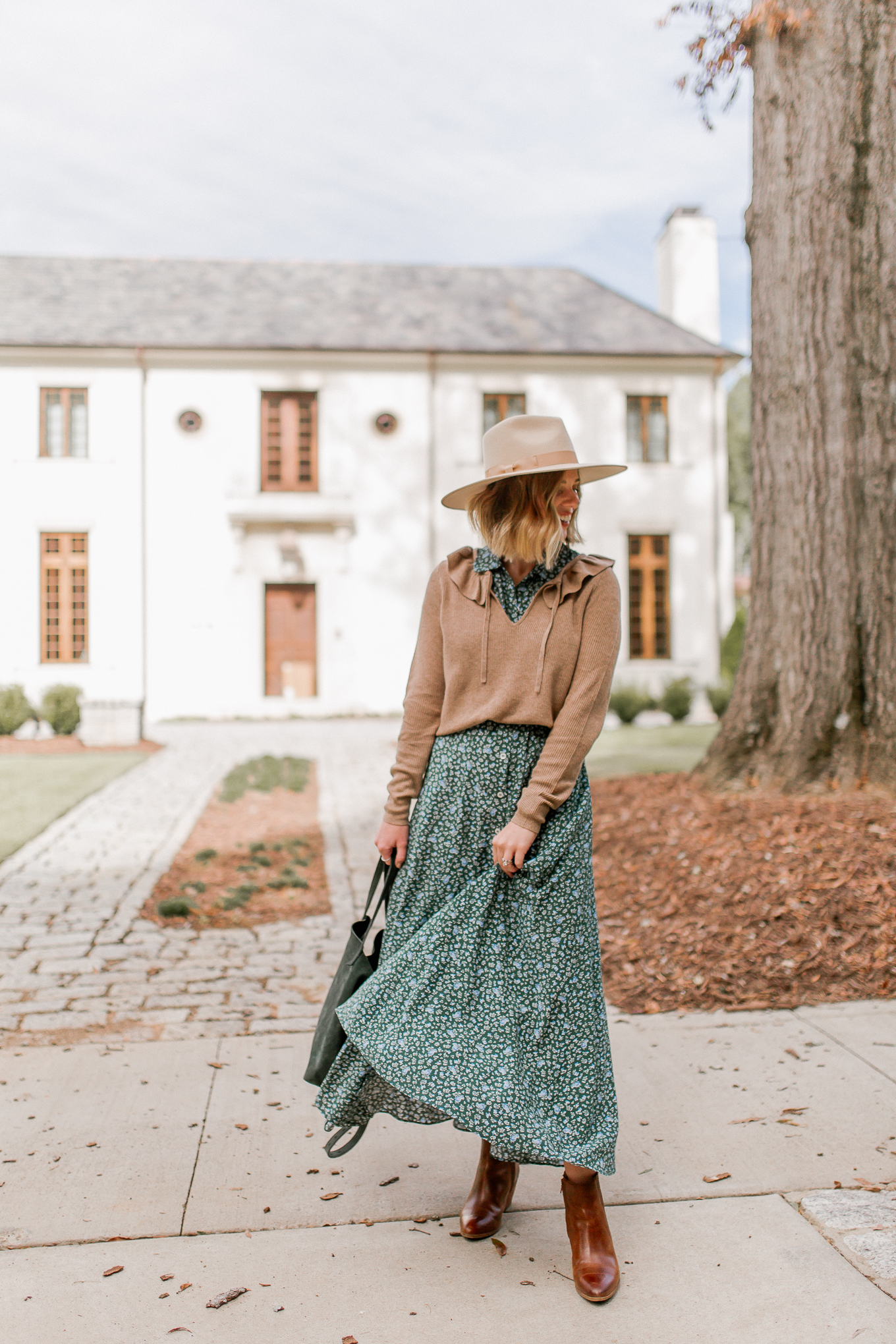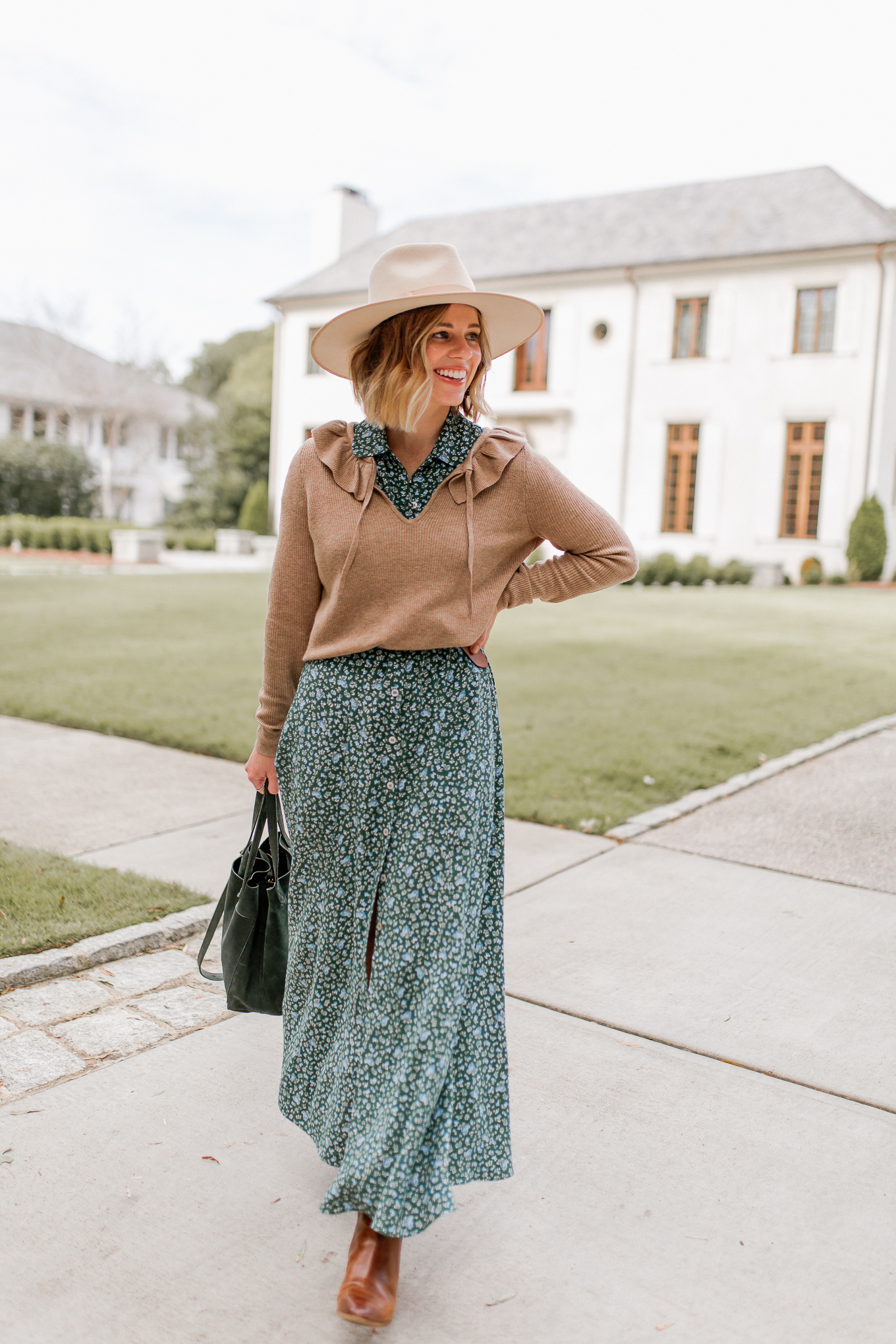 Essentials to channeling your inner Beth Dutton
Wool/Felt Hat
To be a cowgirl/live the ranch life you absolutely need a good wool and/or felt hat. Beth can often times be seen wearing one while on the ranch as well as going into town for important meetings that involve the ranch.
This ivory rancher goes with everything, love this darker green version for the fall season, and this darker brown style has major Beth Dutton vibes.
Floral Shirt Dresses/Slip Dresses
More times than not when Beth is around the ranch she's wearing some sort of floral shirtdress. From mini to midi to maxi. If not a shirt dress a simple slip dress in floral or plaid.
Could totally see Beth wearing this floral maxi with her go to boots and this one with a chunky cardigan sweater.
Cowboy Boots + Work Boots
Beth's go to footwear is an incredible pair of cowboy boots or rugged work boots. The girl isn't afraid to get down and dirty. I love the way she rocks feminine dresses with rugged boots so effortlessly.
A simple pair of cowboy boots will do the trick. Or a more rugged pair if you really want Beth at the ranch vibes.
Sweaters, Cardigans, and Ponchos
Over her dresses Beth typically wears oversized sweaters, chunky cardigans, or fabulous cozy ponchos. All perfect for layering over her feminine dresses for cooler mornings and evenings on the ranch.
This fabulous poncho has Beth written all over it (this more affordable option does as well), this leopard coat looks just like the one Beth has worn several times on the show, and this chunky knit cardigan is very similar to the styles she wears around the ranch.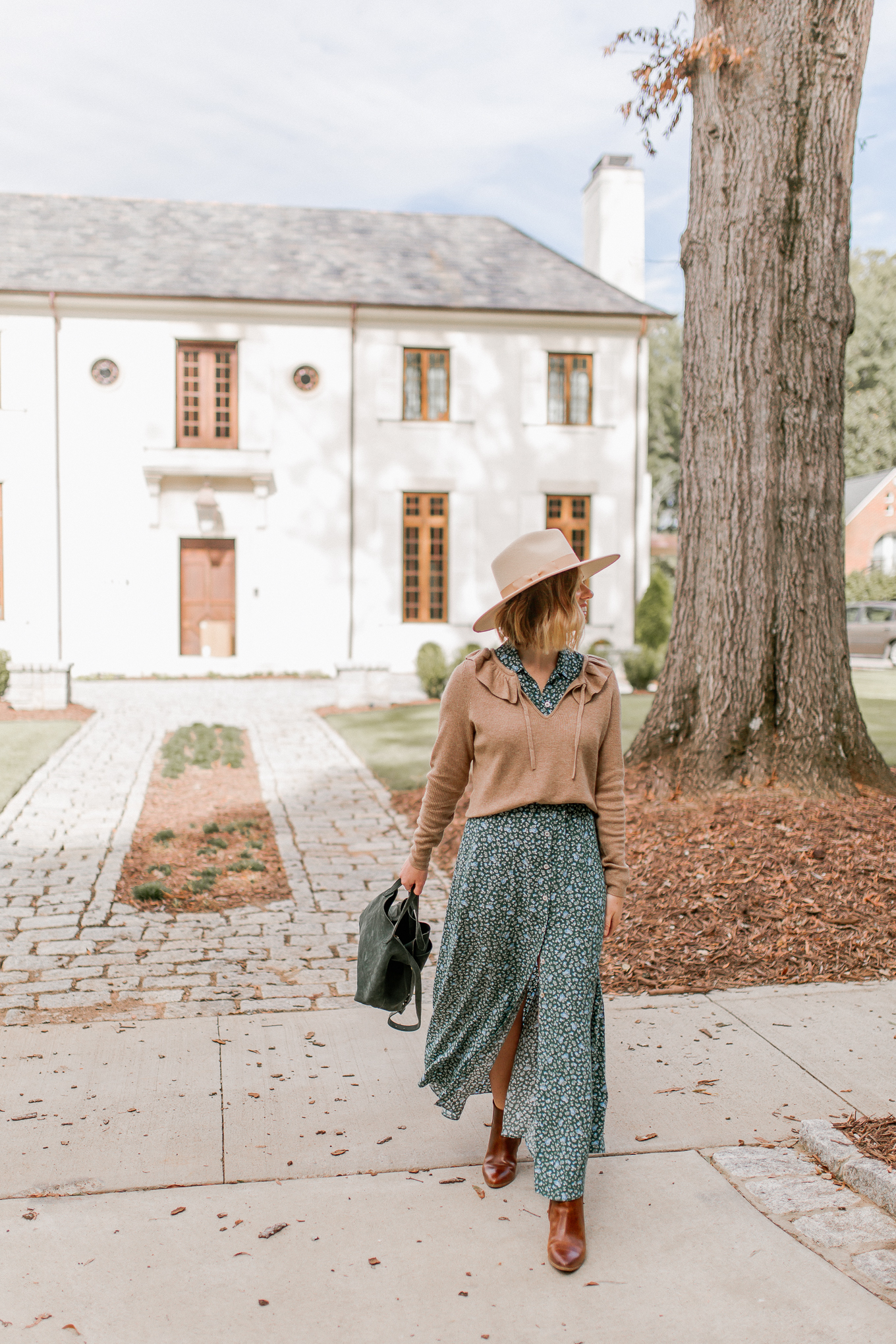 tie-front ruffle neck sweater | floral midi dress (previously styled here) | leather belt | tote (sold out, same bag in braided leather) | brown leather booties | wool hat

are you going to try your best Beth Dutton style this fall season?
Photos by Jennifer Austin Photography