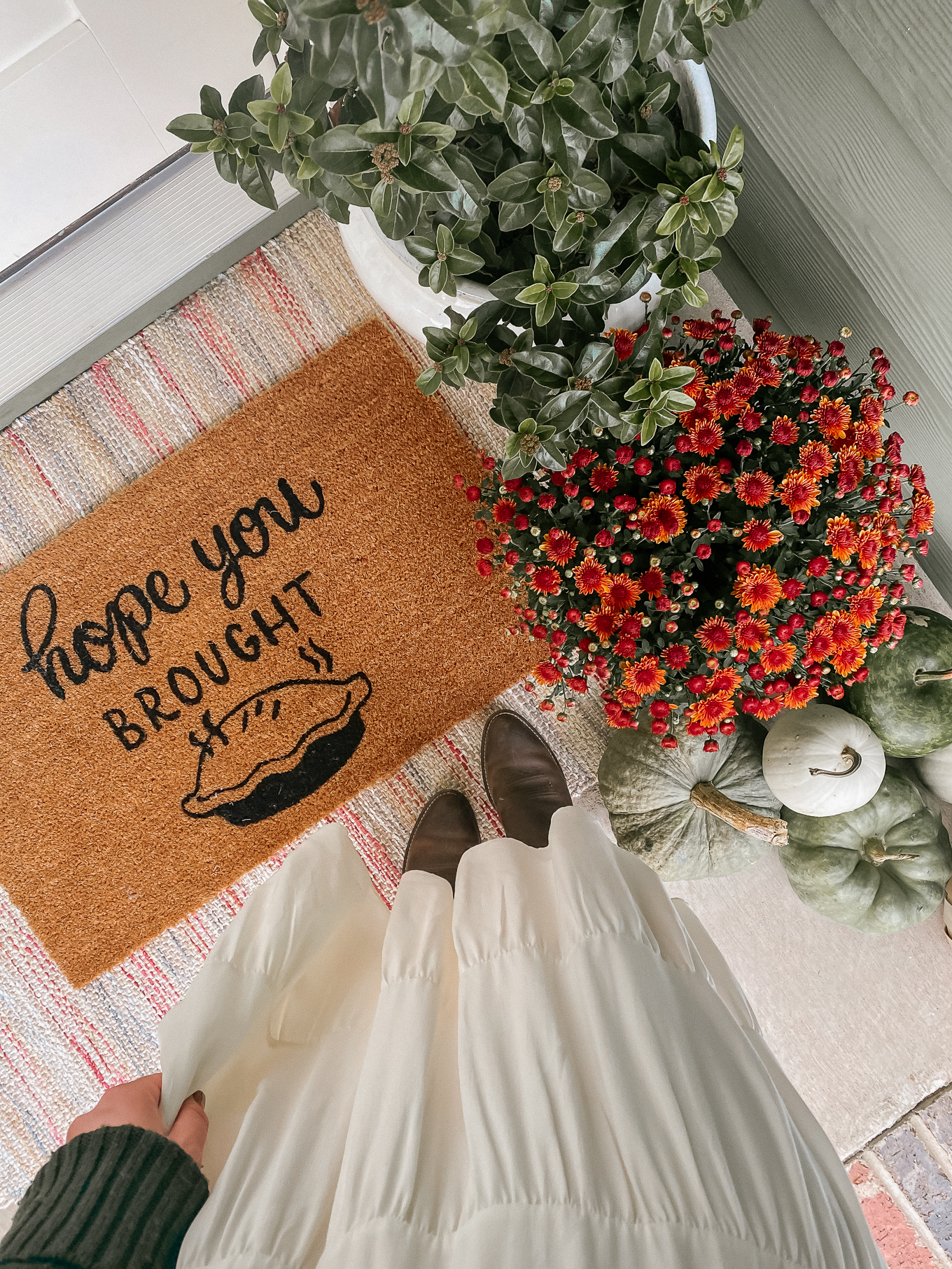 Truthfully, I never understood why people decorated outside for fall/thanksgiving. I thought Halloween and Christmas were the only events deserving of the effort. However, now that I'm a homeowner, I completely understand! Decorating for the season is just too fun! Especially this year when we haven't had too much to look forward – getting the space decorated for the season is something I very much looked forward to and couldn't wait to do.
While I now love decorating for the various seasons I still don't want too many items I need to store. Meaning, I don't want our shed filled with boxes for the various seasons (just Christmas). So with that said, I typically opt to use more natural pieces that expire by the end of the season (a nice way to say they can be thrown away). 
For fall, decorating with natural items is incredibly easy! Think pumpkins, mums, fall produce, and hay + corn husks. All are natural items that look beautiful paired together and can also be tossed at the end of the season. Although, the mums can last and last….IF YOU CAN KEEP THEM ALIVE. Last year I didn't have much luck with our mums but fingers crossed this year they'll survive. Little not so pro, pro tip: they LOVE water and sunshine! Keep them in the sun and water them very often!
Here is a look at our fall front porch this year…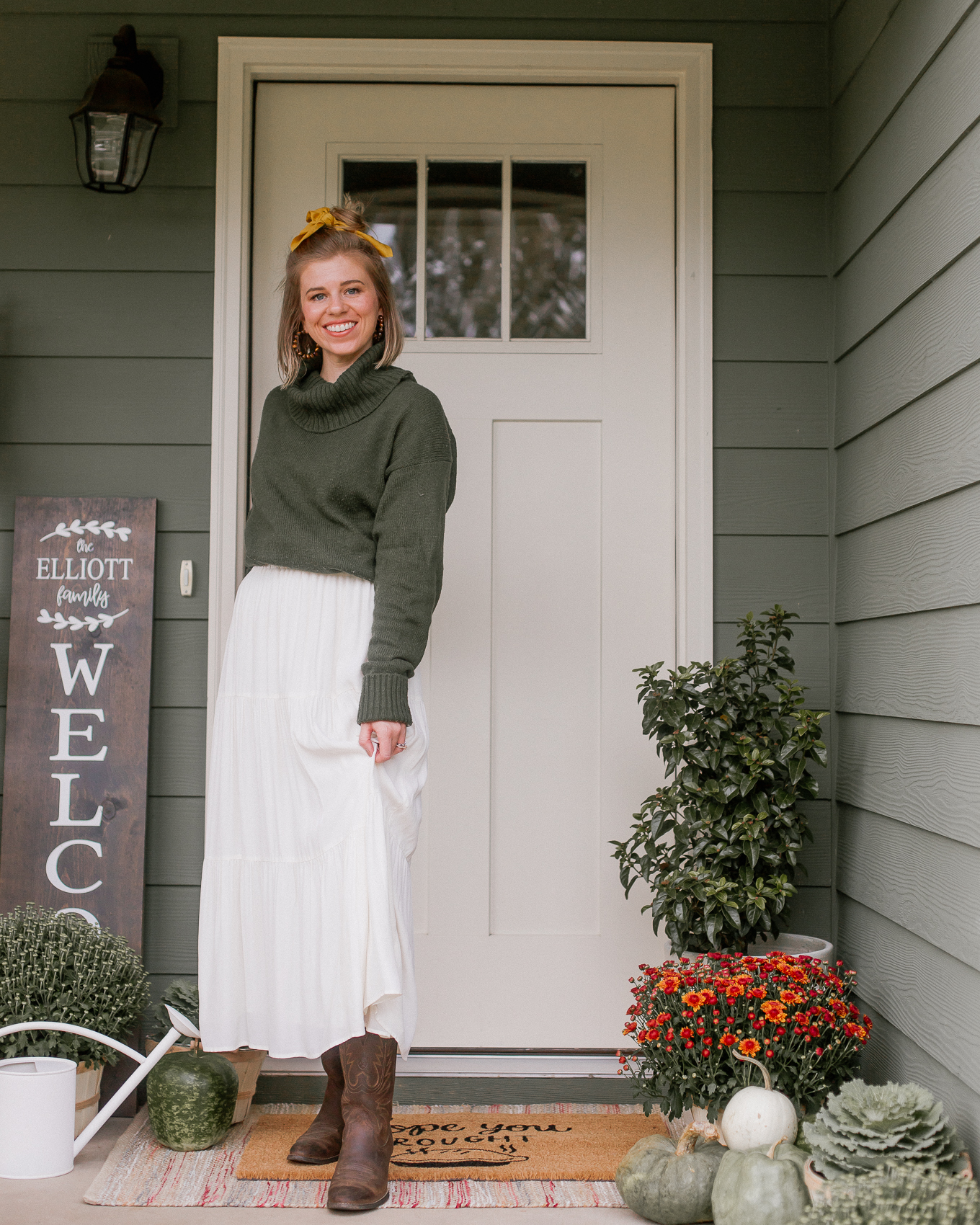 As mentioned above, I went all natural with the decor and decided to go for a warmer color theme this year – greens, browns, and burgundy. I love the warm fall vibe this space gives off as you walk up our front steps. Warm and inviting is the overall feeling I strive for when it comes to our home. So extending that out to our front porch made perfect sense! While I typically stay away from red tones (just not my favorite) for some reason this burgundy mum really drew me in! After scooping it up and seeing what it looked like against our house I decided to add a little more with the rug under the door mat. The pop of color really warms up the space and gives it major fall vibes!
Four Essentials for a Fall Front Porch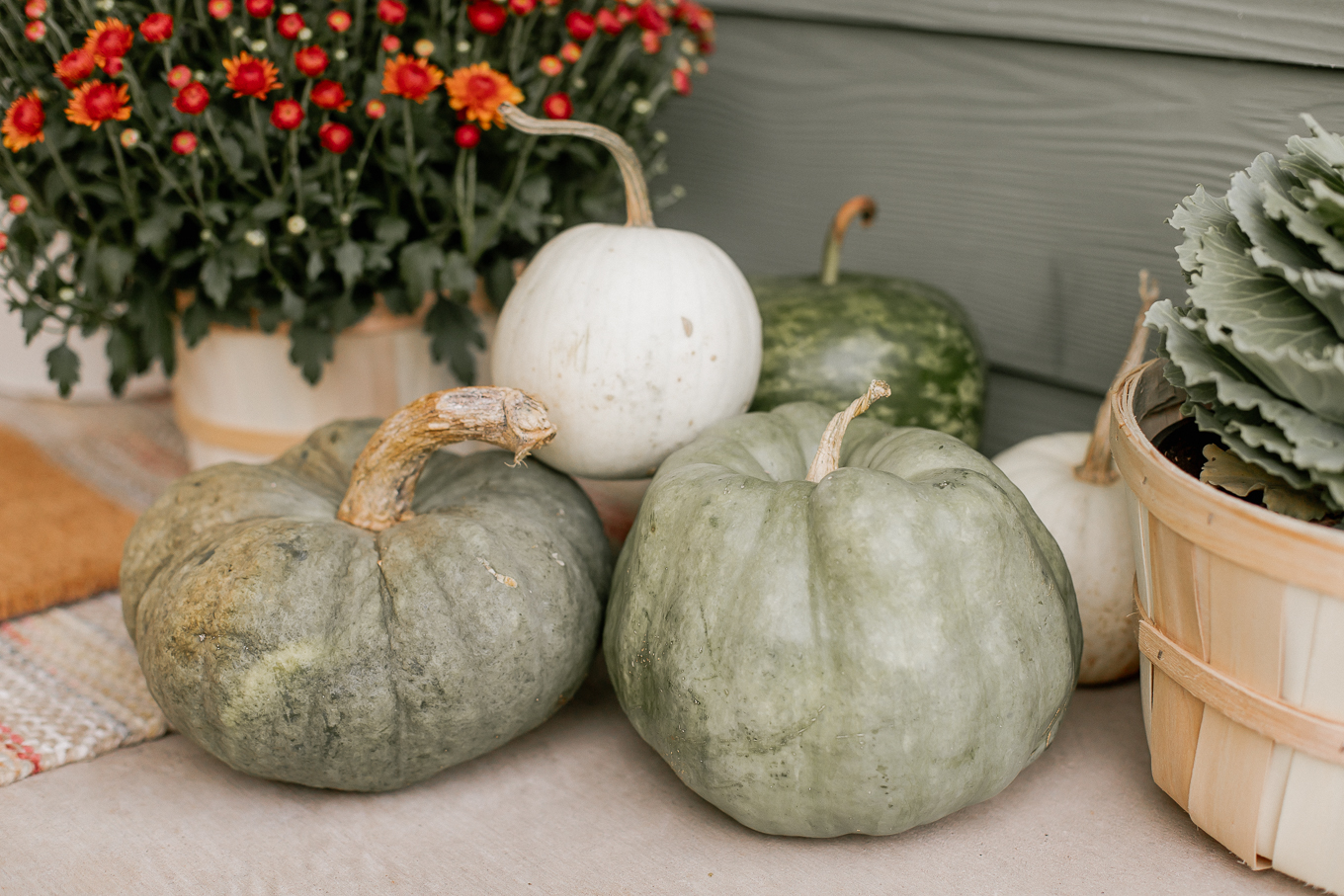 Pumpkins
An obvious have to have come fall. I personally love picking pumpkins in various shades of green and white/ivory to be a little different and also to play off the colors of our house. Having various shades, sizes, and shapes adds depth while also being more visually appealing to the eye. My recommendation is to figure out your color palette and scoop up a bunch of pumpkins that fall within that palette. Whether they're green, white/ivory, orange or pink – you can also go for all of them if you want a more playful look.
Cutesy Door Mat
I 100% think front porches call for a cutesy door mat! There are so many cute options available (sharing several options below) and they're just so fun for those that visit you. Or those delivering packages from FedEx, UPS, and Amazon. Our delivery guys absolutely loved the mat we had this summer, Please Hide Packages From My Husband. Every single one of them said something about it and a sweet Amazon delivery woman even hid one of the packages behind our welcome sign. They're a great way to welcome and entertain people – put a little smile on their face!
I thought this hope you have pie mat was just too stinking cute! And honestly fit us very well as we're both major sweets people – Joshua's favorite dessert is actually cherry pie. Finding one that fits your personality is the ultimate win!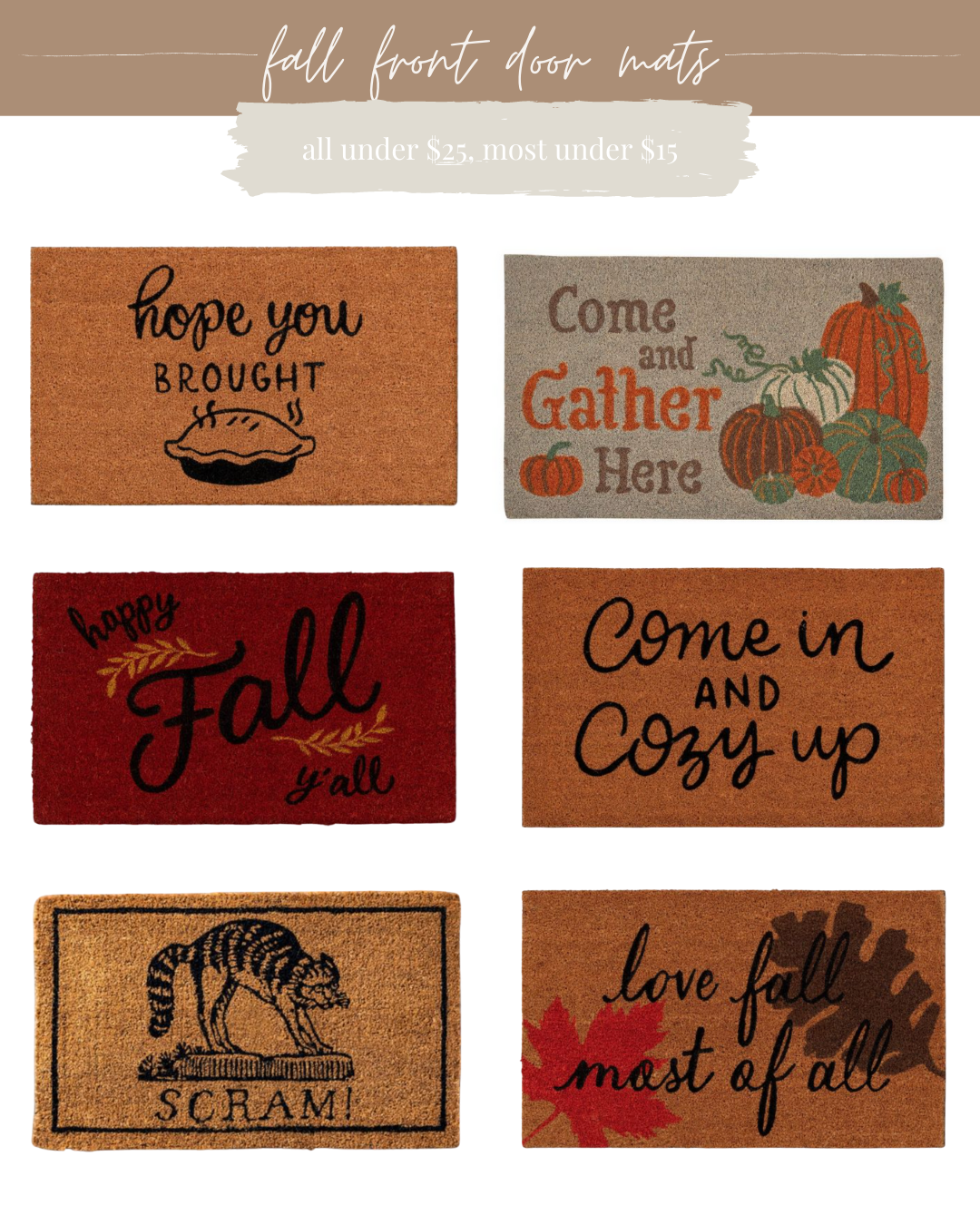 Mums & Cabbage
Mums are similar to pumpkins, in that fact that they are a fall must have! They're the unofficial plant of the season. I recommend selecting a few mums that fit into the color palette you chose for your space. The burgundy mums really have my heart this year! However, the yellow is also very beautiful and white mums keep things very simple. You can also opt for a few mums in each color, if you really want your space to scream fall. Incase you missed my little not so pro, pro tip: they LOVE water and sunshine! Keep them in the sun and water them very often!
Cabbage is also a great plant to add to the mix. It adds more texture and depth! Kale is another option. If you like to eat either, I would opt for the one you like to eat so you can benefit from it for more than just it's looks.
Baskets
Baskets are a great way to decorate and make things feel a little more fall. If you can find peck baskets they really provide fall vibes and that farmer's market feel. Often times you can actually pick them up at farmer's markets or pumpkin patches. If they aren't your style, there are a lot of pretty wicker planters available and look great for all seasons. I am loving this one from Studio McGee. 
Are you decorating your front porch for the fall season? What's your favorite outdoor fall decor? P.S. Want more fall content? Check out recent posts: Fall Drinks to Try at Home & my 2020 Fall Bucket List.