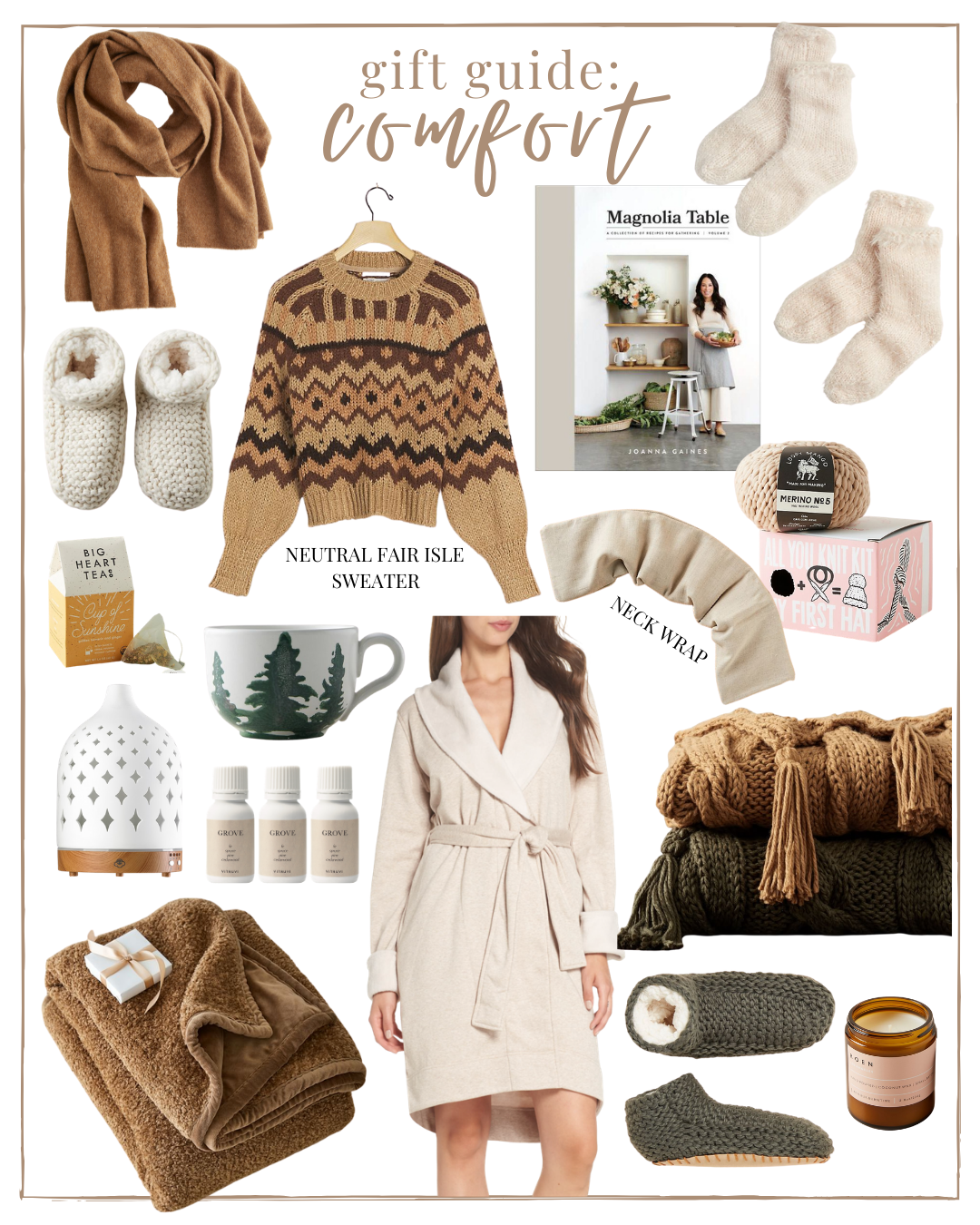 shop comfort gifts: wool scarf | knit slippers | fair isle sweater | magnolia cookbook | fuzzy socks | knit hat kit | comforting neck wrap | evergreen mug | sunshine turmeric tea | essential oil diffuser | diffusing essential oils | soft robe | knit blanket | teddy blanket | knit slippers | amber glass candle
2020 holiday gift guides are here!!!! I am honestly so excited about this years gift guide. In the past, I haven't been super into gift guides but this year, I am feeling the holiday cheer and am so excited to share it with y'all! Gift giving is my love language and I truly find joy in helping others find the perfect gifts for their loved ones. Obviously, the magic of this time of year goes so far beyond the materialistic stuff but it is part of the of the season joy. Spoiling those you love most and reminding them just how much you care! We all deserve a little extra joy in our lives especially this year!
Kicking things off with the gift guide that seemed most important this year – gifts that provide comfort! Several of these are items that I personally own and feel 100% positive will bring comfort to your life – in one way or another! They are also perfect for the homebodies in your life – aren't we all at least a little bit of a homebody right now? Here are a few of my favorites:
Comfort Gifts + For the Homebody
I don't think I've ever seen a neutral one like this. Perfect to wear throughout the holiday season and into the new year.
A few items I personally have that bring me comfort, this incredibly soft robe, essential oil diffuser, and magnolia cookbook. Come cooler days you can find my wearing my robe from morning to night. It is the softest, most cozy robe. The perfect medium weight to wear from fall to the end of winter. The essential oil diffuser lives on our kitchen countertop and is used often. I love how clean it is and the soft scent it spreads throughout our home. As far as the cookbook, it is hands down my favorite and most used cookbook. Joanna brings it with incredible recipes for breakfast, dinner, desserts and everything else in between!
Such a fun gift idea for the craft lover in your life! Or the fashion lover!
Bring on the cozy with this teddy faux fur blanket or classic knit throw blanket. Or create a comforting scent with a woodsy candle or essential oil diffuser + diffusing essential oils. Or allow them to sip the comfort with turmeric tea in an evergreen mug.
You can never go wrong with comfy socks or a cozy pair of slippers. These knit slippers are just about the cutest, coziest looking house shoes ever!
I may or may not have ordered this comforting neck wrap as an early Christmas present for myself…definitely not sorry about it!
Also, wanted to mention Equilibria women as a great gift to give this holiday season to create comfort.
My top recommendation would be the daily drops! Those have been what I have used most consistently and notice the biggest difference when taking. My personal favorite is the cranberry elderflower flavor (limited edition). I would also highly recommend the relief cream is you have someone on your list that deals with muscle aches or cramps often. You can use code LOUELLAREESE for 15% off your purchase from Equilibria!
Shop comfort gifts below:

want more holiday content? click through to my holiday page for recipes, gift ideas, holiday looks, and more.