With winter coming to an end and spring right around the corner, I have been craving change. Change in the seasons, change in my wardrobe, and change in our home. Obviously we have no control over when the switch to spring will officially happen and wearing spring clothes isn't very doable in 30-50 degree weather. Which leaves me with changing our home. Updating and refreshing spaces for the new season.
Our kitchen is the most frequently used room in our house, however, it has received the least amount of love when it comes to decorating. So I thought it would be the perfect spot to start! While adding decor to the walls is an option, I wanted to do something a little different. I decided on a countertop tea bar! Much like a coffee bar but for this tea lover, a tea bar was much more appropriate!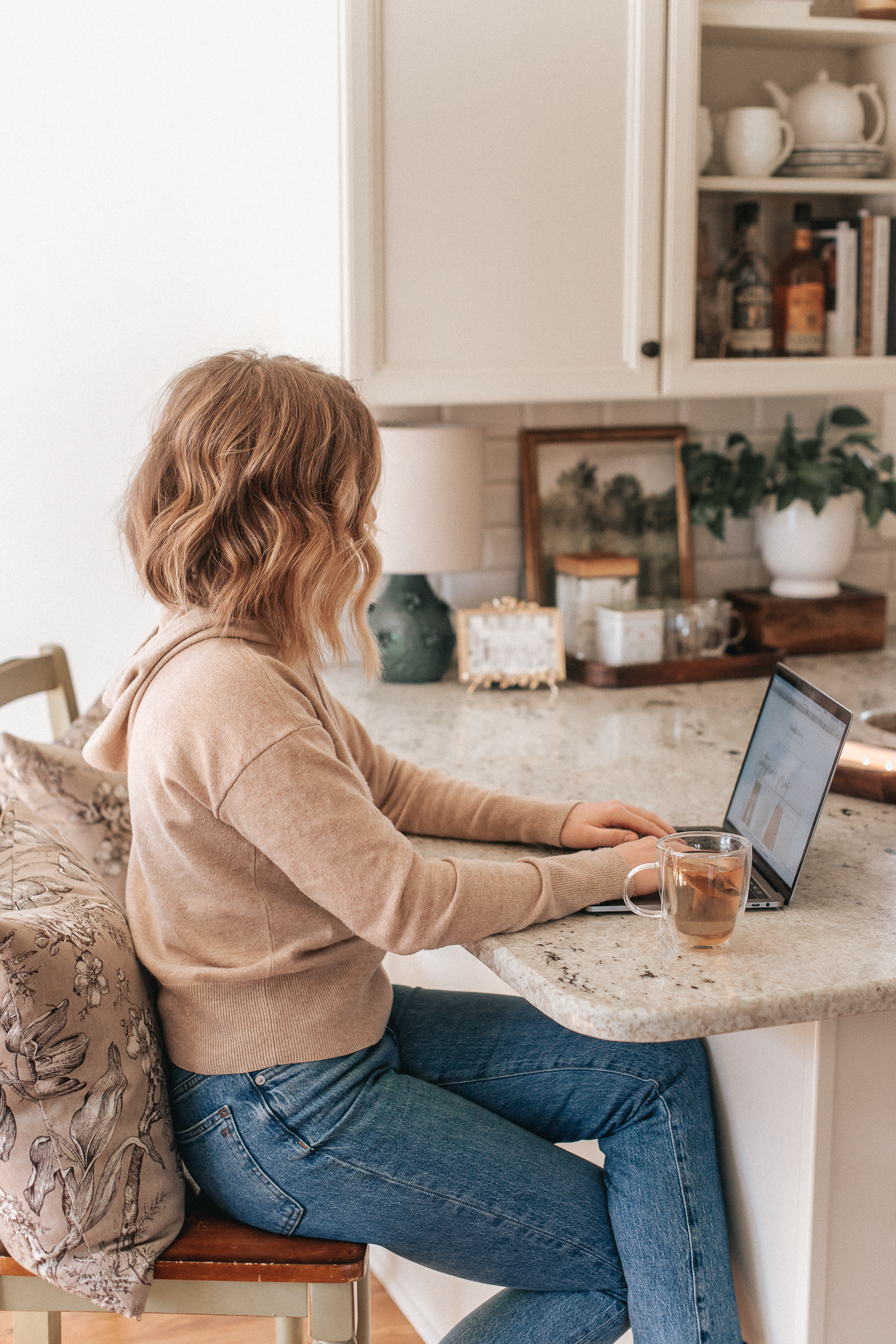 I knew I wanted this space to be functional for everyday use while also being aesthetically pleasing. After searching Pinterest a bit for inspiration I had an idea of what I wanted to create and jotted down a short list of items. Then it was off to Tuesday Morning, my favorite spot to shop when I need a variety of items while also wanting incredible deals!
If you haven't been introduced to Tuesday Morning yet, it is a one stop shop with a wide variety of trendy, unique home décor items and gifts. All 20-60% off what you find in specialty and department stores.
If you've been following me for any length of time you know I have a passion for the hunt when it comes to shopping. With Tuesday Morning I have the anticipation of discovery every time I pop in as each location (we have three near us) offers a unique assortment of must-have items. Not to mention every time I stop in the inventory has changed!
Now some of you may be thinking, "Yeah, that's where my mom use to shop", well I'm here to tell you this isn't your moms Tuesday Morning! Unless your mom is very on trend! When shopping you'll find trendy, unique items that'll have you experiencing a "I didn't know I needed this, but now I can't live without it" moment.
Now back to my shopping experience and creating a tea area in our kitchen. I am happy to report that Tuesday Morning not only had everything on my list but also several additional items I HAD to have!
After arriving home with my goodies I quickly put together my tea area. The base, a dark wood tray with rope detail. Which I ended up removing to better fit my personal style and the overall aesthetic of our kitchen. Love customizing pieces to better fit our home!
On top of the tray I placed three very on trend glass mugs. These were honestly my favorite find! I had been eyeing a set online for some time that was 3-4x the price. So glad I held out! Beside those I have a glass canister and a metal tin of tea. Fun fact: Tuesday Morning has a great selection of tea, coffee, jams, snacks, and cooking essentials. I filled the glass canister with my tea I already had at home.
To create a cozy area that really matched the rest of our home, I added a beautiful ceramic lamp with floral detail. While I loved the lamp as is, I decided to paint it to make the piece pop more in our light kitchen. I love how it turned out! The DIY project was incredibly simple – all that was needed: a can of spray paint, painter tape, and an open air space.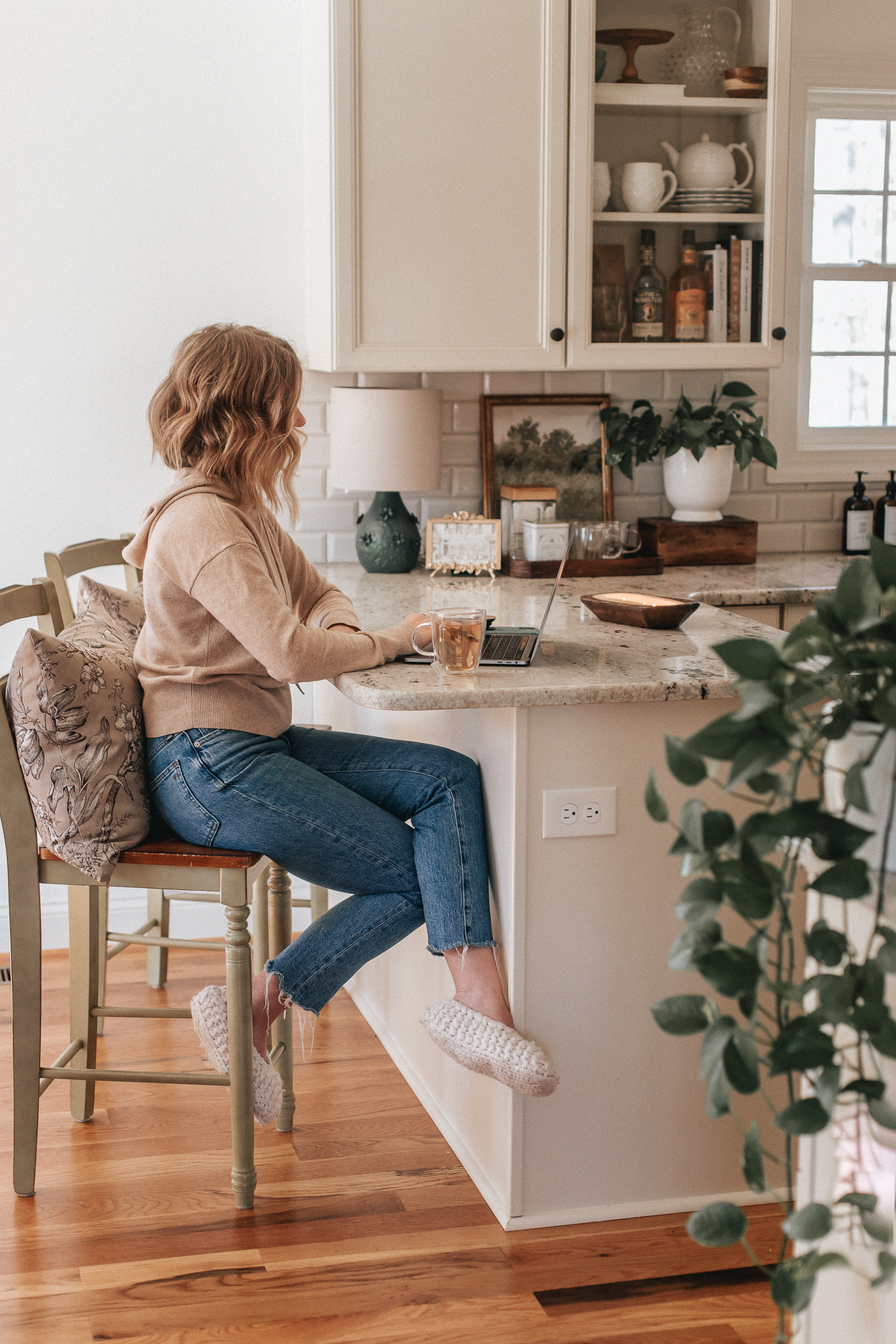 Beside the lamp I placed the prettiest antique gold floral picture frame. This piece looks 3x or more what it cost at Tuesday Morning and gives that vintage feel I absolutely love!
Lastly, beautiful tea spoons for mixing your tea. I kid you not, I gasped when I opened the box to check these out while in store. They are just so pretty! I will certainly have these for years and years to come! Cannot wait to bring them out in the future when we're entertaining!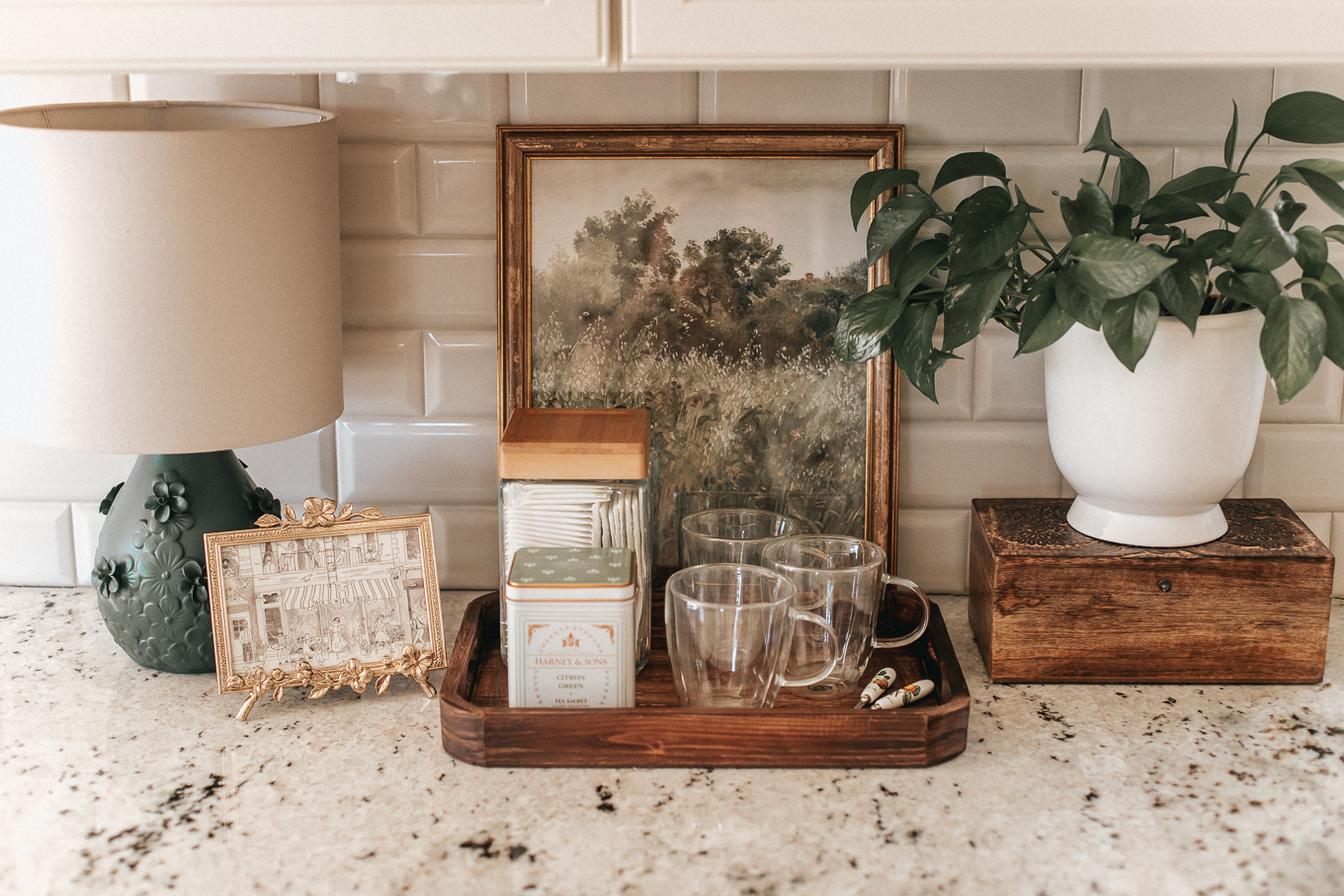 Now when I have my cup of tea in the morning rather than take it to my office, I sit at our island and enjoy this pretty, cozy spot. psst. I also scooped up the pillows on our barstools at Tuesday Morning!