This post contains affiliate links, meaning that if you choose to click through and make a purchase, I will receive a small commission at no cost to you. Thank you to Tailwind for sponsoring this post, all opinions are my own.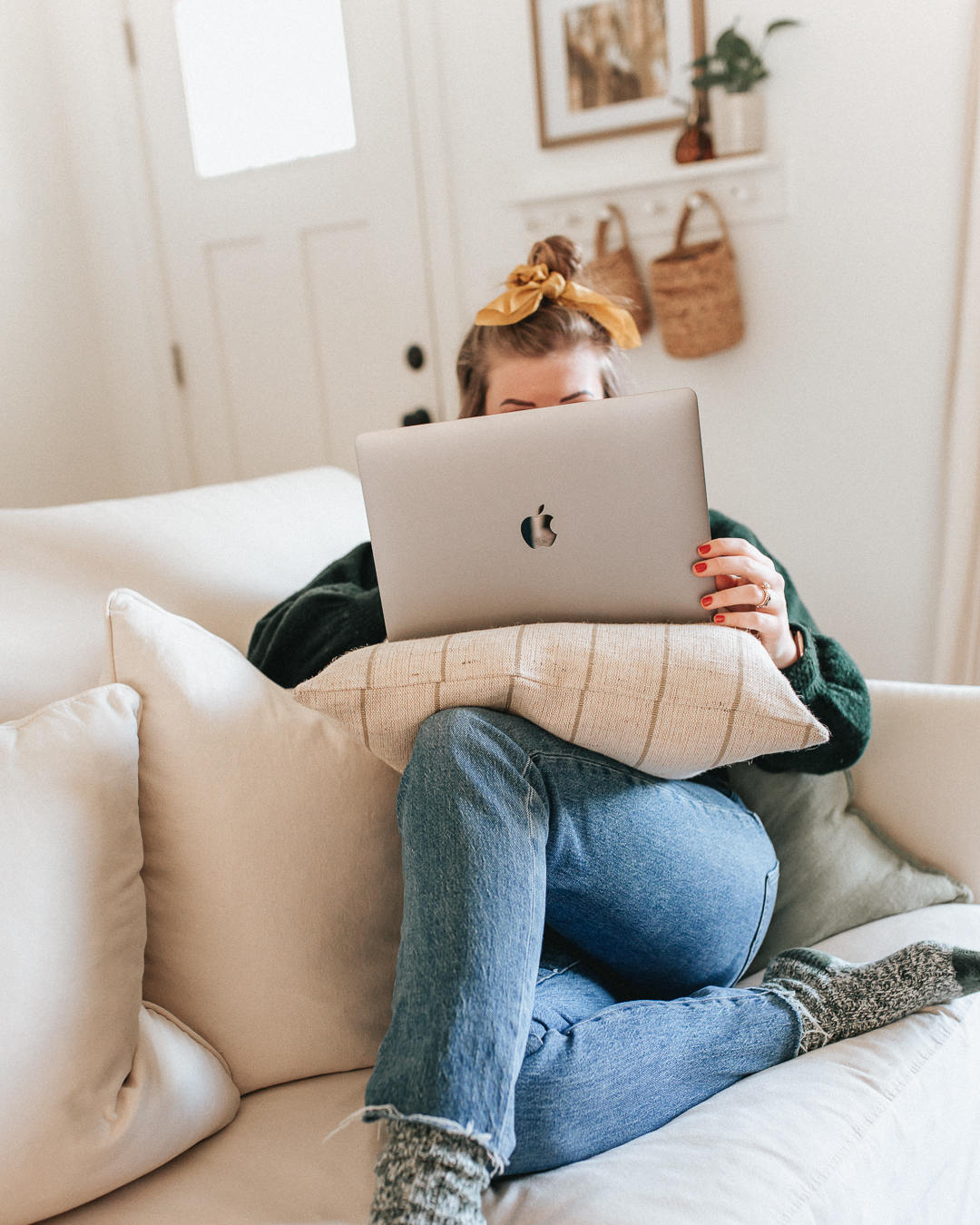 What is Tailwind?
Tailwind is the #1 Pinterest & Instagram scheduler and analytics tool. One of the main drivers of my blog traffic is Pinterest. It also helps to increase sales via my LiketoKnow.it account. To maximize traffic, drive sales, and save time, I use Tailwind to schedule all of my Pins. One of my favorite things about Tailwind is that I can plan out a week or more worth of content in one sitting, and Tailwind will publish my Pins at the best times for my audience.
The easiest way to do this is to install a Tailwind bookmarklet which is a browser extension that can be used on Chrome, Safari, and Firefox. You can then pin from your own site and other sites as well. When you click the bookmarklet, it will auto populate all images that can be pinned as well as the description. You can then select whatever Pinterest boards you want it to go to as well as Communities (more on this below). I sometimes want one image to go to several boards depending on what I'm pinning Tailwind makes this super fast and easy.
Below is a photo on my site I wanted to pin, you can see the Tailwind schedule button. You simply click this, after installing the Tailwind browser extension, and schedule your Pin.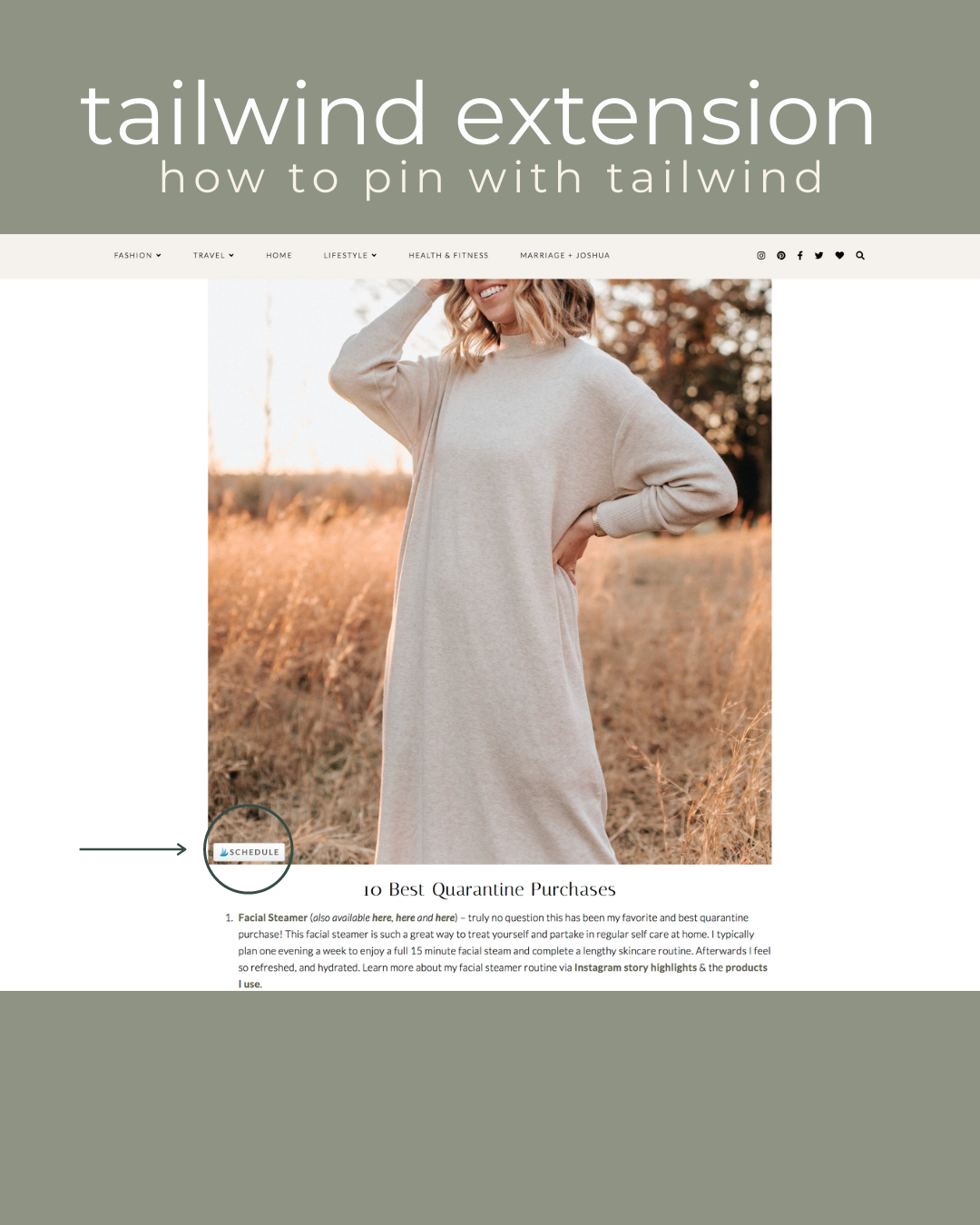 What Are Tailwind Communities?
Tailwind has something called Communities where you can join like-minded groups. You have the ability to add your own content to these communities to be pinned as well as pin other people's content to your boards. These Communities are like big support groups. Support groups that can really help increase your content's visibility on Pinterest. They're a great way to reach eyes you may have never otherwise reached.
I have personally set up two Communities – one for life & style bloggers and another for travel bloggers. These have been so helpful over the last couple of years to gain additional traffic to my posts! I recommend creating a couple yourself and inviting like-minded content creators. As well as asking others if they have Communities you can join.
What Is A Smart Schedule?
A Smart Schedule is one created by Tailwind to help members share their Pins at the best times for engagement. Tailwind takes the guessing work out of when to post pins for the optimal engagement! They create the Smart Schedule for you and as you schedule pins the time slots are filled.
Below on the left side, you can see an example of the best times for me to post, this is my Smart Schedule created by Tailwind. As you can see there are additional time slots available if I decide I want to increase my posting regularly or on a specific day.
How to Best Utilize Tailwind
So I gave a few spoilers above but want to go into a little more detail about my experience with Tailwind and if I think a subscription to the scheduler + analytic tool is worth it. So let's dive into my honest Tailwind review and how to best utilize Tailwind!
First and foremost, to build off what was mentioned above, I love Tailwind Communities. They have been beneficial in driving traffic to my site, saving time, and having content consistently being posted on Pinterest. Which I have found to be extremely important in increasing your Pinterest monthly views, impressions and saves.
With that being said, I aim to have 10-20 pins going live each day and like to have one to two weeks of content scheduled at a time. If I am going on vacation or have a few busy weeks ahead, I may plan my content out for a full three to four weeks.
As mentioned, one of the main reasons I absolutely LOVE Tailwind and could not recommend it more is the fact that it saves you time! Tailwind allows you to batch work. Spend 30 minutes to two hours scheduling Pins for the next week to four weeks and then be totally done with it until it's time to refill your scheduler. Or plan to spend 30 minutes per week scheduling Pins so you're consistently mixing in new pins. I personally prefer the latter option. Unless, I'm traveling or have a very busy schedule – that's when I'll try to schedule out my Pins for the next several weeks.
Aside from saving time and allowing you to consistently produce content without having to really think about it, I love that Tailwind provides analytics. You can easily see what's being saved most, what's being clicked most and so on. It's a great way to see which blog posts you may want to work on to update with better pins, or update the blog post so it's more helpful than when originally written.
An additional positive to Tailwind is that they also offer Tailwind Instagram. Which is available on desktop as well as mobile. With Tailwind Instagram you can generate a smart schedule based on what time of day your Instagram audience is most active. With the smart schedule you can set time perimeters and number of times per day you'd like to post. For example, I set the time perimeters to 8:00am and 7:30pm – I know with my schedule I cannot post before 8:00am and would prefer to not post any later than 7:30pm. Additionally, I select two times per day for posting. That way if I need to get in two posts or I miss one of the times, I have another available.
You also have the ability to upload your images, create captions, set up a post reminder, and add hashtags. Tailwind Instagram will provide relevant hashtags based on your caption. You can see niche, good, best, and competitive hashtag options. Tailwind Instagram also gives you the ability to save hashtags to use for future posts.
I am quite honestly addicted to Tailwind Instagram as I love that it gives you the ability to plan out your instagram feed and have your caption + hashtags all in one place.
What is Tailwind Create? & How to best utilize Tailwind Create?
Tailwind recently came out with a new tool called Tailwind Create. This new tool allows you to create, schedule, publish, and analyze Pins all in one place! & I am loving it! With Tailwind Create you can create designer worthy Pins for all of your blog posts. With just three simple steps you're able to go from idea to Pin – enter your URL, add images (may auto populate too), and select Pins designs. These designs can be customized to better fit your brand, aesthetic, and personal taste. You can also add brand colors and fonts to auto populate!
I love that each design was built with Pinterest's creative best practices in mind – and honestly they're beautiful. Tailwind Create provides so many designs I would have never thought of on my own but also perfectly align with my brand! The two images above were created with Tailwind Create for this blog post. I added my brand colors, the fonts I typically use, the images and the URL for this post – Tailwind did the rest!
Is Tailwind worth it?
Do I think Tailwind Pinterest and Tailwind Instagram are worth it? Yes, yes I do! Anything that simplifies things, saves you time, or has the ability to increase traffic/sales for your business is worth it in my opinion. And Tailwind does all three!
Invest in your blog, and sign up for Tailwind today!
Hope you found this how to best utilize Tailwind guide to be helpful! Have you tried Tailwind yet? If so, comment below and let us know you utilize the Pinterest and Instagram scheduler & analytics tool!
Want more blogging tips, click through to my most recent post on blogger events: when to go, when to stay home.