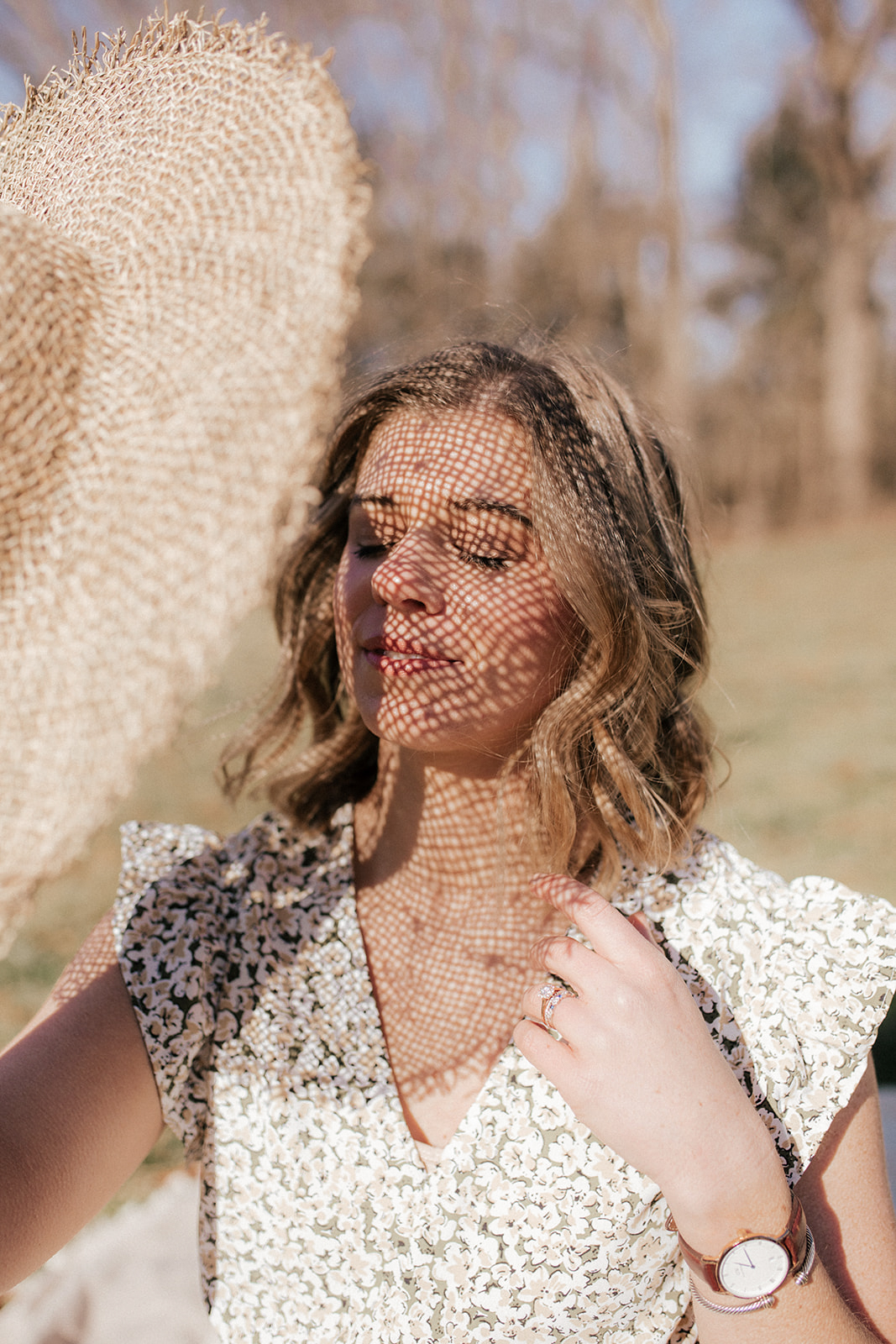 With sunshine filled spring days around the corner, I wanted to share one of my most recent favorite finds and round up few of the best options for clean facial sunscreens! Over the last year or so clean beauty has become a passion of mine and incredibly important to me. I love researching products and using those I know contain good, safe ingredients. When it comes to sunscreen that can be a bit tricky! One of the main reasons, so many companies advertise their products to come across as clean and/or safe. When truthfully they are not!
A perfect example of this, a little over a month ago I ordered a Supergoop sunscreen after hearing so many rave reviews about it. I had also heard/seen via social the sunscreen being described as a clean beauty product. You can imagine my surprise when I received the sunscreen, flipped it over and realized that four of their four active ingredients are those suggested you stay away from (more on this below). Bottom line, this particular one is not clean. I will say it looks like they just came out with a new mineral sheer sunscreen that contains none of those ingredients. So if you're a Supergoop lover I would recommend switching to their new mineral sheer sunscreen OR trying out one of the three I'm sharing below.
After doing some research I found a few of the best clean facial sunscreens options available and wanted to share with y'all! For research on clean beauty products I use the EWG's website and the app ThinkDirty. If you're interested in clean beauty products or learning more about how clean or dirty specific products are I would highly recommend downloading the ThinkDirty app. You can easily look up just about any product and/or scan the barcode of the product to quickly find out it's overall rating as well as individual rating of each key ingredient it includes.
Two things to remember when it comes to sunscreen…
WEAR SUNSCREEN! Every. Single. Day. Not only do you need to wear sunscreen on beautiful sunshine filled days but also those moody cloudy days. It is possible to get sun on cloudy days, in fact a sunburn can sneak up on you quite quickly! The same goes for whether you are planning to be in or outdoors. The reason for this is that sunscreen not only protects us against harmful UVA rays from the sun but also those harmful blue light (UVB) rays from phones, computers, and tablets.
Speaking of UVA and UVB rays, you want to opt for broad-spectrum sunscreens as they are most effective in protecting your skin from both types of rays.
Three Clean Facial Sunscreens to Try this Season
EWG RATING: EWG VERIFIED
This sunscreen is the one I have been ranting and raving about via Instagram stories over the last month or so. As mentioned above, I went on a BIG clean face sunscreen hunt after ordering Supergoop only to realize when opening that is contains a lot of no no ingredients. More on those ingredients below. This sunscreen is a EWG Verified product – "EWG Verified" is the best rating that the EWG can give, so you can be confident that this is a safe product! It is a great option for dry to normal skin types and lightweight enough to wear under makeup. The squalane in Boissance's formula helps to moisturize the skin and fight fine lines, while the water lily soothes and calms redness. It uses zinc oxide for UVA/ UVB protection.
Fun fact: Squalene is produced naturally by your own skin cells. But the amount of squalene your body produces declines with age (starting at at 27 for women). As a result, your skin becomes drier and rougher.
The moisturizer is also naturally present in olives, rice bran, and sugarcane. Plant squalene is too unstable to be used in skin care products. Therefore, before it can be used in skin care products, squalene must be hydrogenated into squalane, which is a stable form of the molecule.
EWG RATING: Brand new, not on EWG yet
If you have followed me for any length of time you know I absolutely love Beekman 1802 products. Beekman 1802 focuses on skincare that's clinically tested, scientifically proven, and made for sensitive skin. Their products are made of effective clean formulations that work with your skin, not against it. Trust me, I have incredibly sensitive skin and it has loved every single Beekman 1802 product I have tried.
This primer is weightless, totally invisible and fragrance-free with SPF 35. Formulated with natural mineral Zinc Oxide, this 2-in-1 sunscreen and makeup primer acts like a physical shield against harmful UV rays and protects skin from blue light. It's also completely oxybenzone-free and won't irritate sensitive skin. It is also made to blend into all skin types with no white cast.

The addition of goat milk provides ultra conditioning fatty acids that boost skin hydration levels and help prevent TEWL while you're out in the sun. The Probiotic Lysate strengthens your skin barrier and decreases skin sensitivity help to guard skin against UV damage.
EWG RATING: EWG VERIFIED
Another EWG Verified product. The zinc oxide in this broad spectrum sunscreen provides protection, while the antioxidants help protect skin from pollution and the chicory root extract supports skin's moisture barrier to lock in hydration. Like the Biossance sunscreen, this sunscreen contains squalane. As you can probably tell from the name, it is a great lightweight option that's formulated to blend in to all skin types with no white cast.
Sunscreen Ingredients to look for…
Zinc should be the only ingredient listed under "active ingredients"
Familiar/recognizable ingredients
Five often seen ingredients to look out for & stay away from…
oxybenzone
octinoxate
octisalate
octocrylene
homosalate
Additional ingredients to steer clear of…
fragrance
anything ending in -paraben
phthalates
sodium laureth sulfate
avobenzone
Shop Clean Facial Sunscreens

Each month I will be sharing a specific beauty product and highlighting a few of the best clean versions available! Stay tuned for next month's post on clean perfumes.
photos by Jennifer Austin Photography