Last week Joshua and I spent six days in Jackson Hole, Wyoming. A destination high on our travel bucket list for years (number one on my list). The old west town and surrounding areas did not disappoint – easily the most beautiful place I have ever visited. We chose to stay right outside of downtown which allowed us to walk to majority of our meals, shopping, and a few activities. Our ideal situation when on vacation. We did rent a truck for three days to venture out on a couple of hikes as well as explore the Grand Tetons. We also spent one afternoon on a horseback adventure. With a pretty packed schedule and a variety of activities packing took a little thought…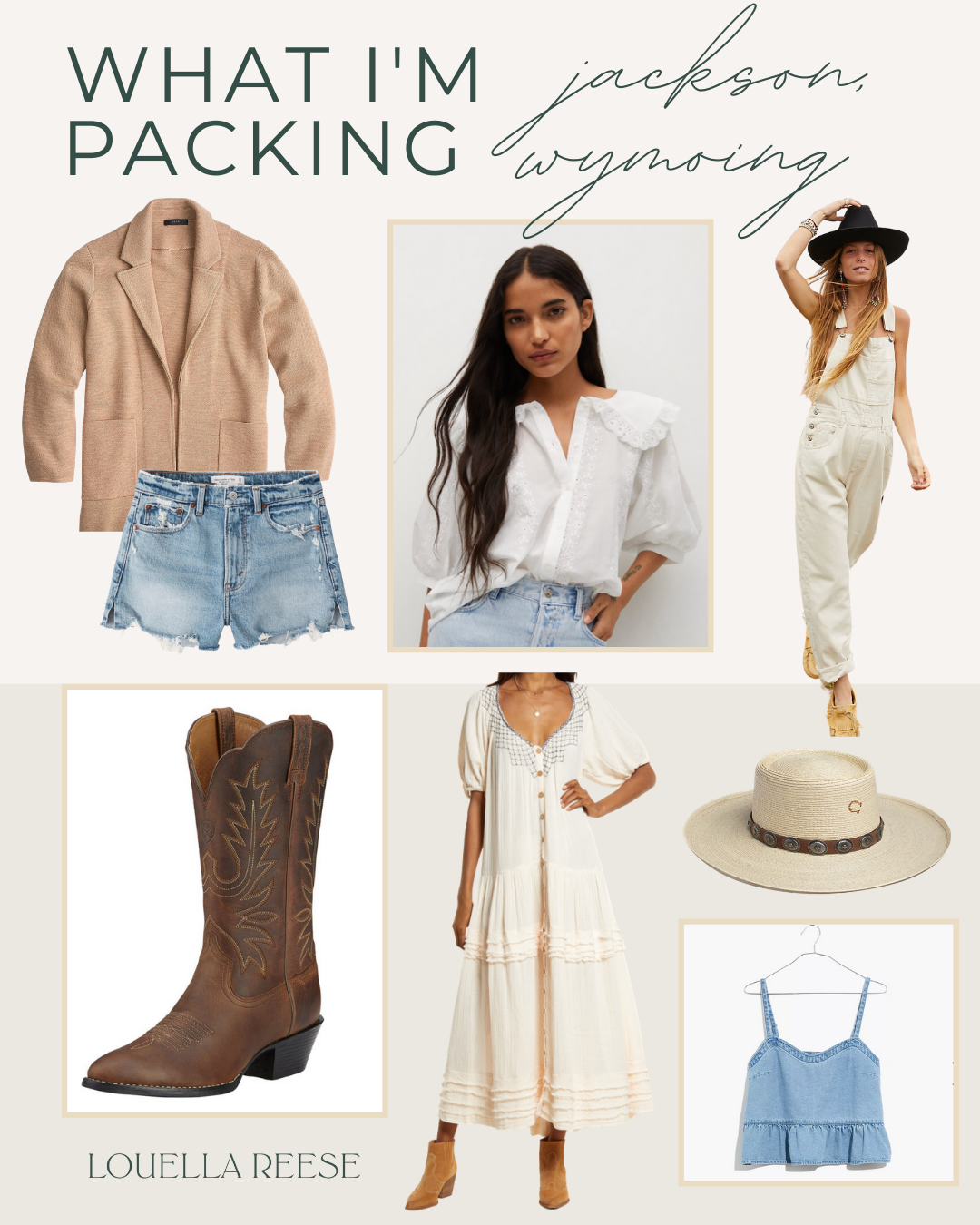 I shared a couple of items I packed in a recent Friday Five post but wanted to dive a little deeper into what was in my suitcase. Plus what I would absolutely recommend bringing!
Jackson Hole Wyoming Packing List
Footwear
I packed four pairs of shoes to bring with me…two pairs of sneakers and two pairs of cowboy boots. I ended up wearing one pair of cowboy boots a majority of time. Only lacing up my sneakers for our hikes and the slip-on pair for dinner one night. I even wore this pair of cowboy boots both travel days (which were extremely long) and felt comfortable + well supported. Wearing one of the pairs of cowboy boots freed up a little room in our suitcase too – would recommend doing the same if you can!

Accessories
For accessories, I brought two hats and one handbag. I purchased this slouchy crossbody bag the day prior to our trip. It ended up being the perfect size for carrying all of our everyday essentials plus a polaroid camera. A versatile option that can easily be dressed up or down and worn as a crossbody or shoulder bag. The bag is available in seven additional colors and comes with two straps – one the same vegan leather as the bag and another woven option.

Clothing
For clothing I packed a wide variety of items as warm days and very cool nights were forecasted. Several dresses, skirts and tops for afternoons in town and evenings out. A sweater blazer and denim jacket when an extra layer was needed. Also, a pair of overalls was a must! Truly the perfect item to wear when horseback riding – you don't have to worry about pulling your pants up or top down. I do recommend sizing down as these overalls are very oversized!

I will be sharing photos of our trip on Instagram this week and into next week. Take a look at my first post here. If I had to choose 3 MUST HAVE items when visiting Jackson Hole, Wyoming…a cowboy hat to block the sun + fit the scene (this one received so many compliments), cowboy boots to again fit the scene but also they're extremely versatile and a polaroid camera for a fun way to capture all of the incredible views.
Which of these items would be at the top of your Jackson Hole Wyoming Packing List?