A review of Charleston's newest and chicest boutique hotel, Hotel Bella Grace. As well as a mini travel diary and answers to your Charleston questions.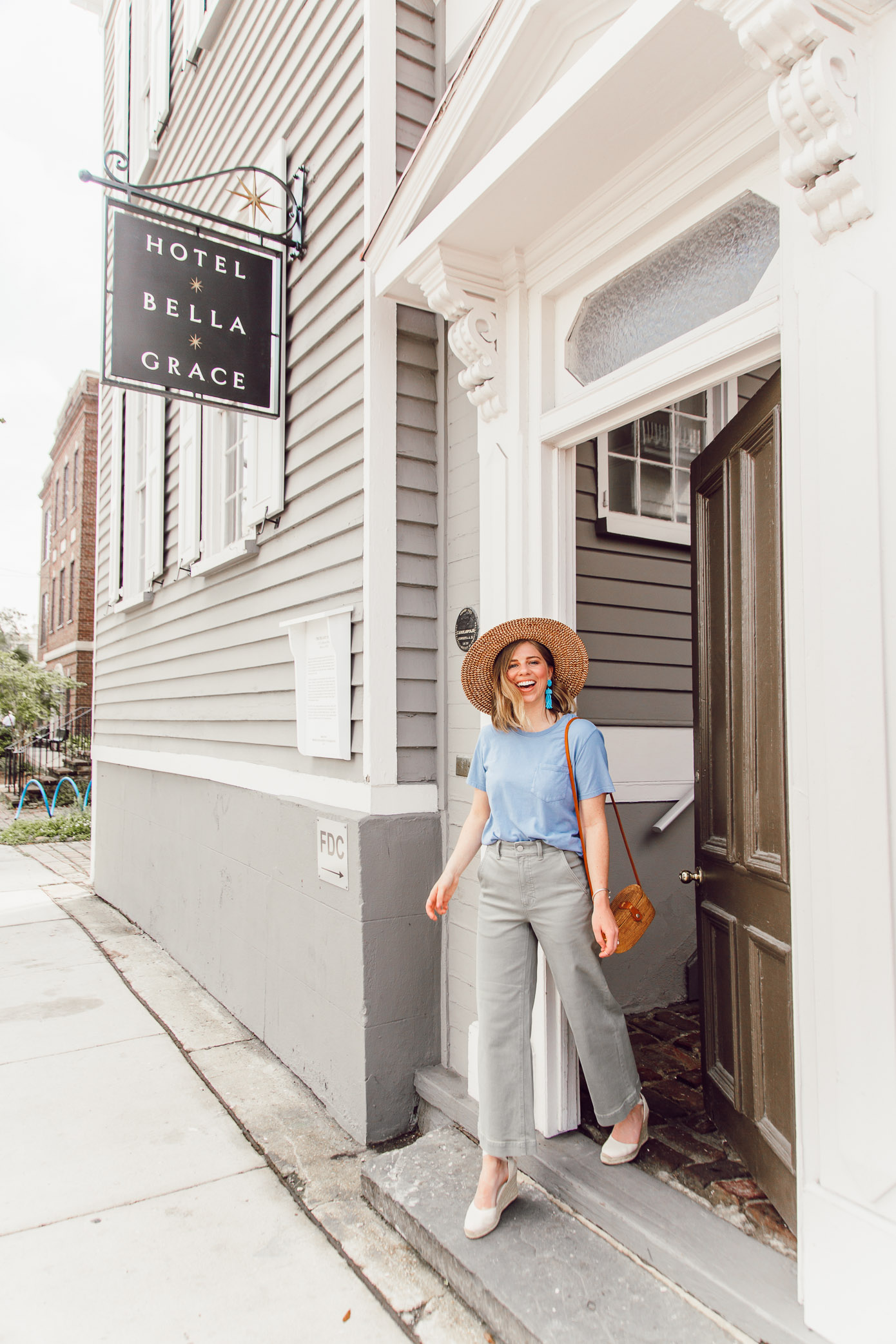 Earlier this month my mom and I had the opportunity to take a little girl's trip to Charleston. We stayed at the Hotel Bella Grace. Which is one of Charleston's newest boutique hotels located in the heart of downtown. Within walking distance to all of the best shopping and restaurants Charleston has to offer. We were instantly blown away by the decor and overall atmosphere upon walking into the chic hotel lobby. From the incredible art hung on the walls and light pendents hanging from the ceiling to the gorgeous crystal chandelier and sleek furniture. Each item we set our eyes on was more chic than the next. 
Right across from the hotel lobby is the The Delaney House where their food & drinks are served. The Delaney House offers a two story sitting porch full of Charleston charm. Not only is the exterior of The Delaney House impressive but each of the four rooms within the home are decorated in a unique design. You'll also find incredible light fixtures throughout – always be sure you look up! More on The Delaney House below too.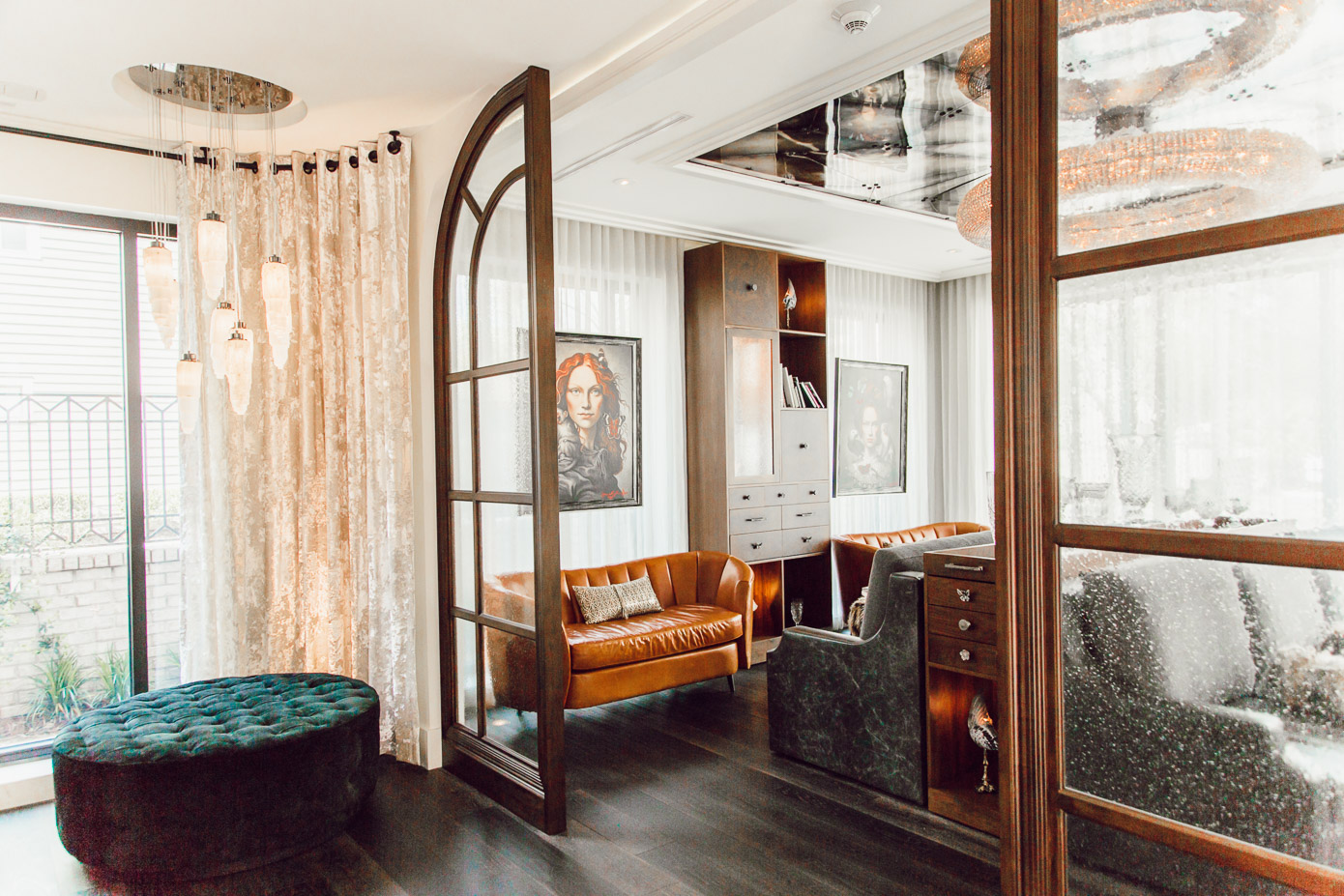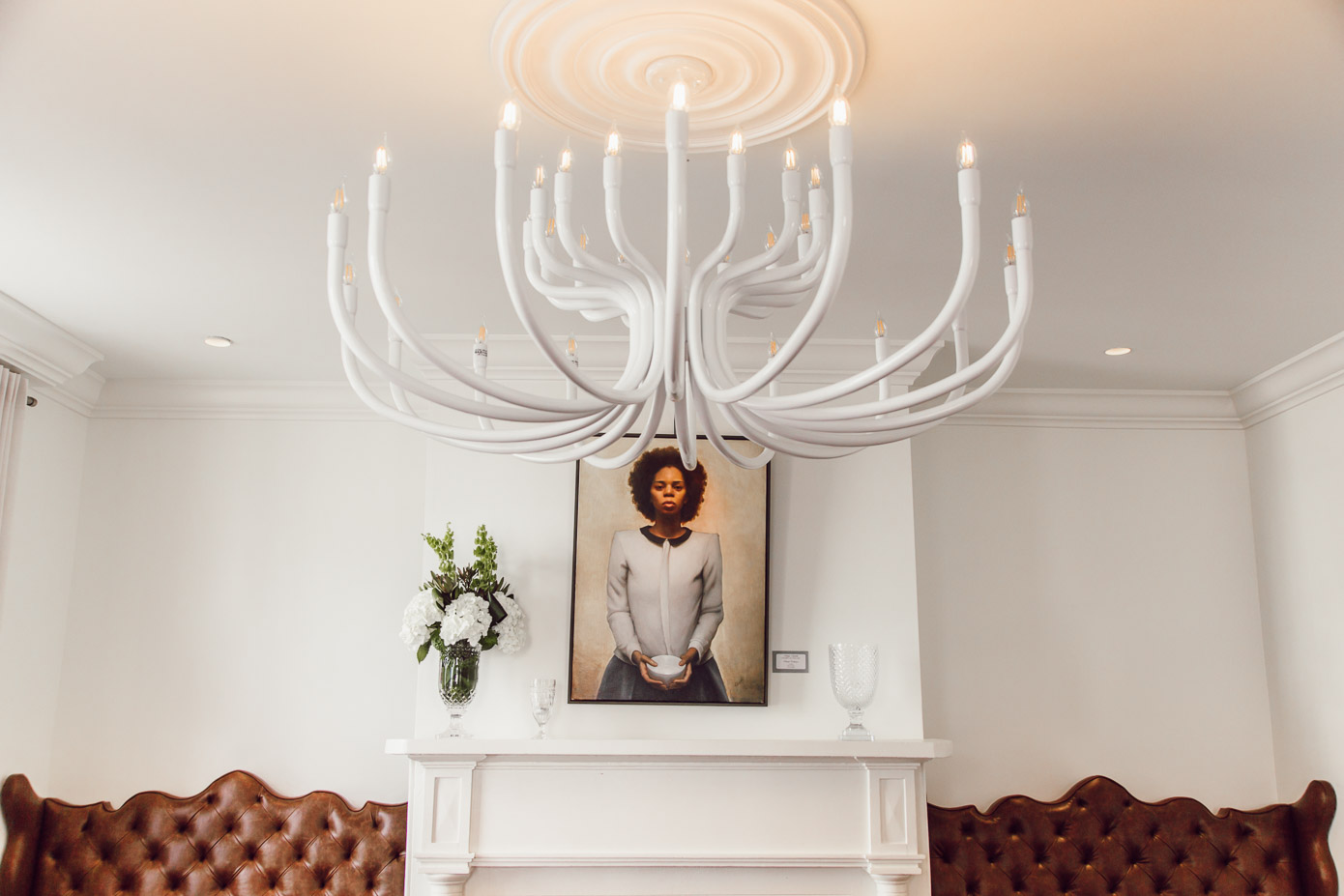 The decor only improves (as if that was even possible) when you enter your room. Sleek, chic, and a little artsy. Each room has a sitting area with velvet couches, statement rugs, and more impressive light fixtures + chandeliers. 
Aside from the beautiful decor, the staff at Hotel Bella Grace is just about the sweetest and most personable group you will ever meet. We throughly enjoyed chatting with them everyday! We truly could not have asked for a more wonderful stay and both of us are looking forward to heading back to Charleston soon…to stay at Hotel Bella Grace, of course!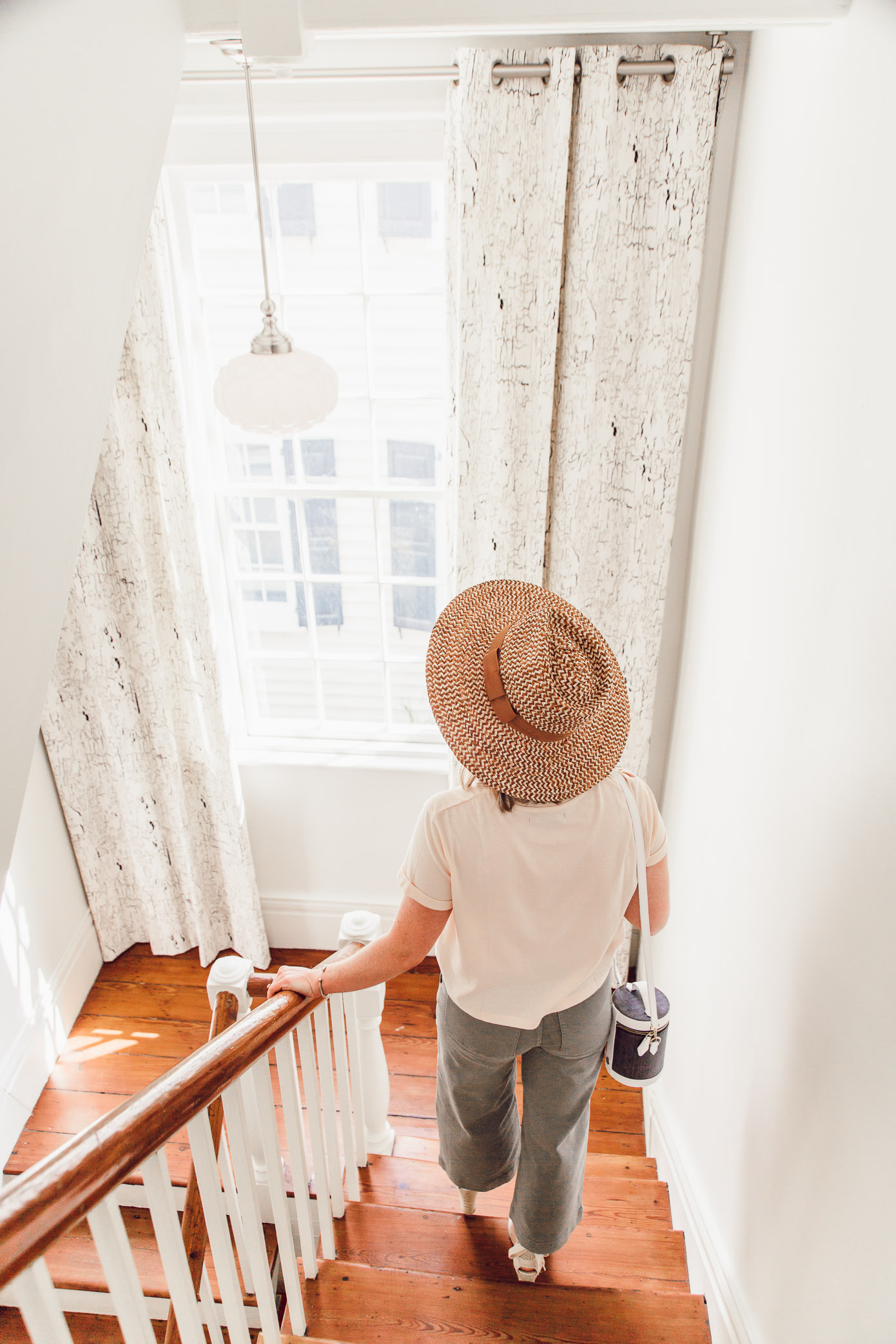 Charleston Travel Diary – Spring 2019
Day One 
Where We Ate 
The Delany House – This is the in property restaurant at Hotel Bella Grace. We stopped in shortly after arriving for tapas and champagne. Our favorite kind of meal! The Delaney House serves light bites and cocktails from 3pm-10pm every day. Think small plates and flatbreads. We tried the Roasted Red Pepper Hummus and it was absolutely delicious. 
Indaco – a new spot for us and I think a relatively new the Charleston this Italian spot is quaint, charming, and delicious. We indulged in all the carbs with fresh baked foccia bread for an appetizer and pizza for our meal. The bread and the crust of the pizza were delicioso! A wonderful spot for date night or family style dining with group. 
What We Did 
I met up with one of my best blogger gal pals, Hillary of Hillheady, shortly after dining at The Delaney House. We shot a couple of spring looks together with Kim Graham Photography – click to view our favorite spring maxi dresses. After that, it was back to Hotel Bella Grace to unpack and settle in. Following a little lounging we hit the pavement and made our way to King St. where we walked around a bit before stopping in to Indaco for dinner. With full bellies, it was back to our beautiful room at Hotel Bella Grace for us. We put on the cozy bathroom robes provided and had a little R&R time.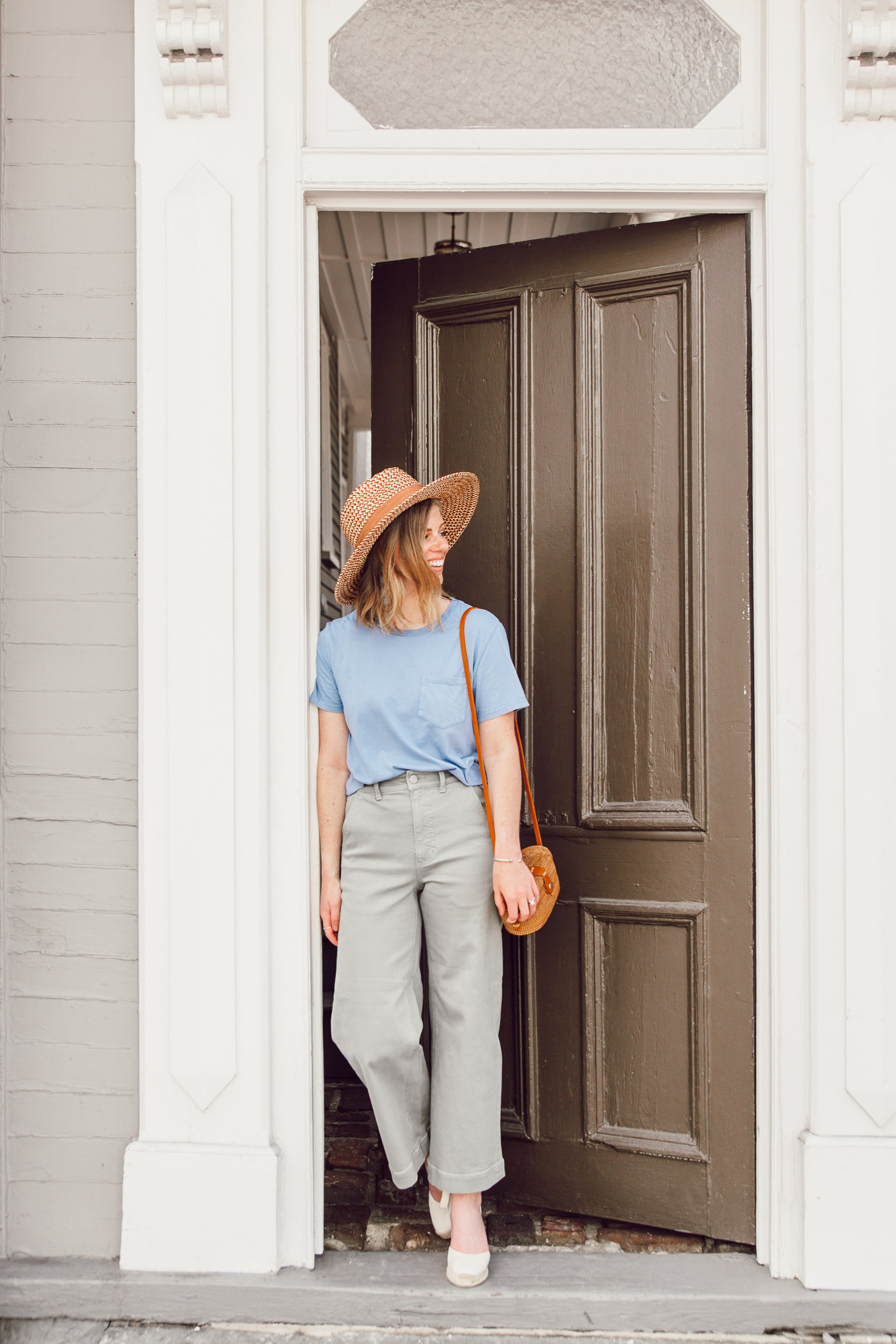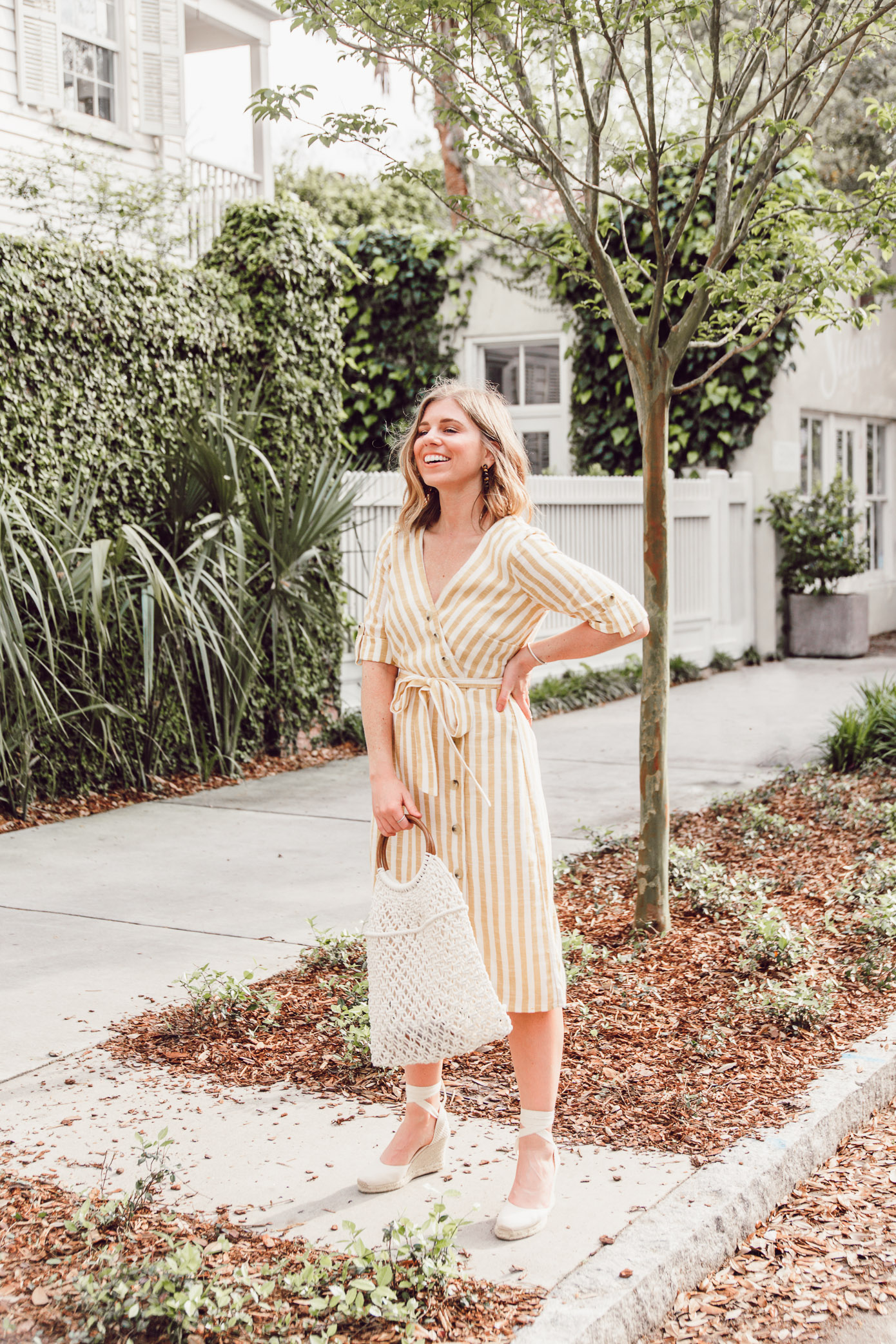 Day Two 
Where We Ate 
The Delaney House – During your stay at Hotel Bella Grace you receive complimentary breakfast every morning at The Delaney House. Which includes an omelet bar, a wide selection of fresh baked goods, fresh fruit and juices, and bottomless mimosas. Yes, you read that right, bottomless mimosas! 
Basic Kitchen – this restaurant had been on my list for some time. After seeing several photos of the food here on Instagram, I was convinced it was the place for me. And oh was it! My mom and I were in absolute heaven. From the casual atmosphere to the home brewed kombucha and health conscious menu. We truly had the hardest time deciding what we wanted! We both agreed we could have ate there for every meal and been completely satisfied. They focus on clean, natural eating and every dish is more appetizing than the next!  
Rue De Jean – this is one of our go to spots in Charleston. I believe my mom and I ate here on our very first trip to Charleston together. Ever since then, we have dined here at least once per visit. While we love to try new spots, we also love knowing we'll have an amazing meal. Which is exactly how we feel about Rue De Jean. This French cafe & bar has a wide variety of dishes from fresh seafood to burgers + pomme frites to sushi. We usually order the fried goat cheese salad or brasserie burger + pomme frites to split.
What We Did 
After grabbing breakfast at The Delaney House, I spent and hour shooting with Kim Graham again (aka the photos you see here). After that, it was back to King St. for my mom and I. We spent the afternoon going in and out of local boutiques. One of my favorites,  The Skinny Dip Charleston. They have the cutest clothing from a variety of designers + brands. As well as beautiful accessories, paintings, and cards. I left with the cutest/funniest card to give Joshua for our anniversary (in October, very well prepared haha). We then headed upstairs to their rooftop where we sipped glasses of frosé. I'm going to say this is an absolute must do! The frosé is yummy and their patio is adorable – perfect for a little shopping break. 
The second half of our day was spent popping in and out of shops before heading back to Hotel Bella Grace. I then met Hillary for tea and sweet treats at The Harbinger Cafe & Bakery. A spot I had been dying to go visit! Seriously, texted Hillary about it almost weekly. Their blue and white dishes constantly had me swooning! In real life, they didn't disappoint either. Nor did the adorable atmosphere of the cafe. An absolute must visit in my book! A perfect spot if you're looking to spend and afternoon chatting or getting some work done.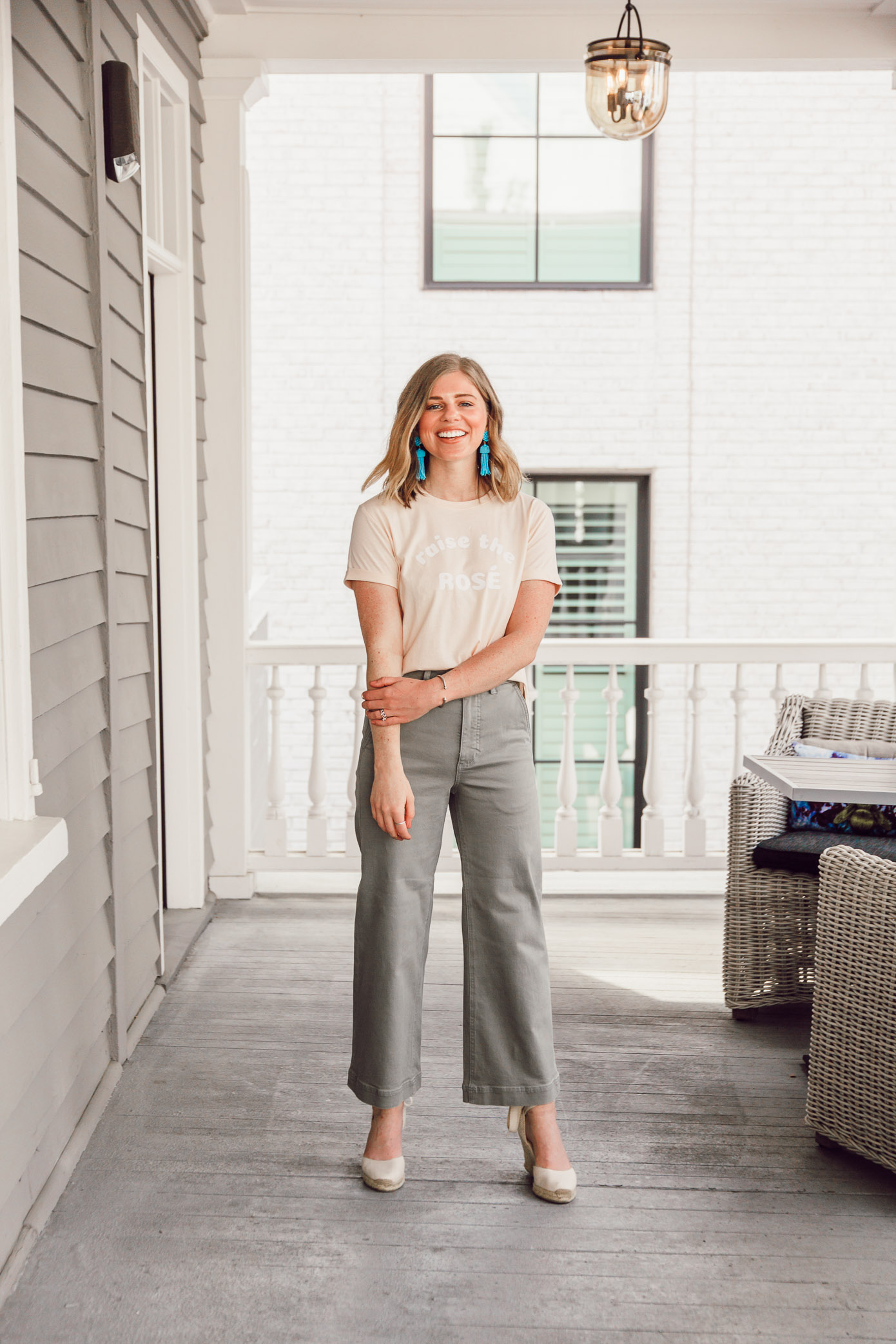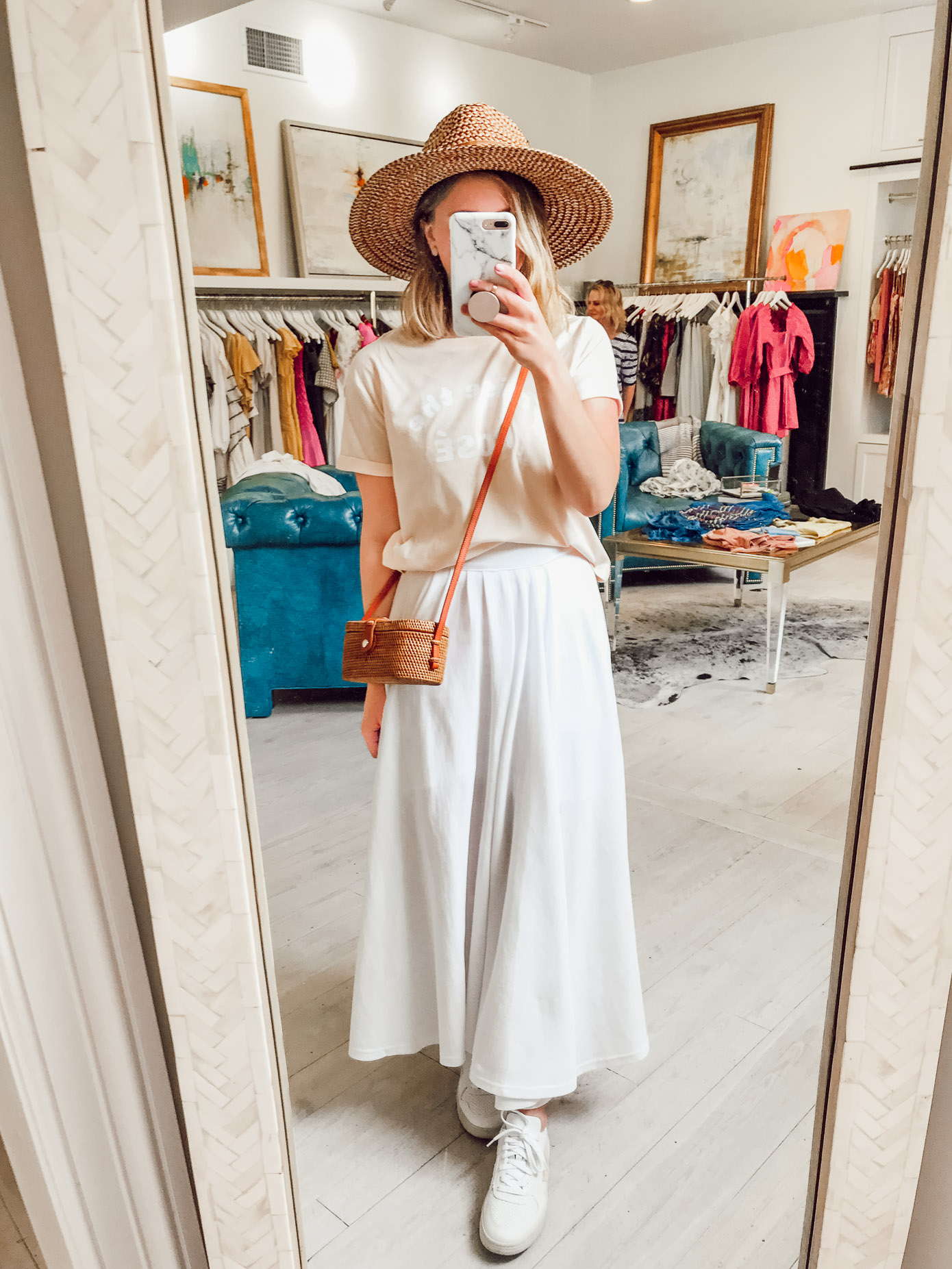 Day Three 
Where We Ate
Sugar Bakeshop – Stopping into Sugar Bakeshop for cupcakes was an absolute must for me! Last time I visited they were closed and prior to that stopped in only to realize they had closed an hour earlier. So this trip my top priority was indulging in one (or three) of their incredible cupcakes. Sugar Bakeshop is a short three to five minute drive from downtown Charleston. 100% worth the short drive!  The bakeshop is open from 10am-6pm Monday-Friday and 11am-5pm on Saturday. Closed on Sundays. Oh and be sure to try the Vanilla Blueberry, it is incredible! 
What We Did 
Sadly, the rain they had been predicting for the past two days finally made it's way. So we decided to head back to Charlotte.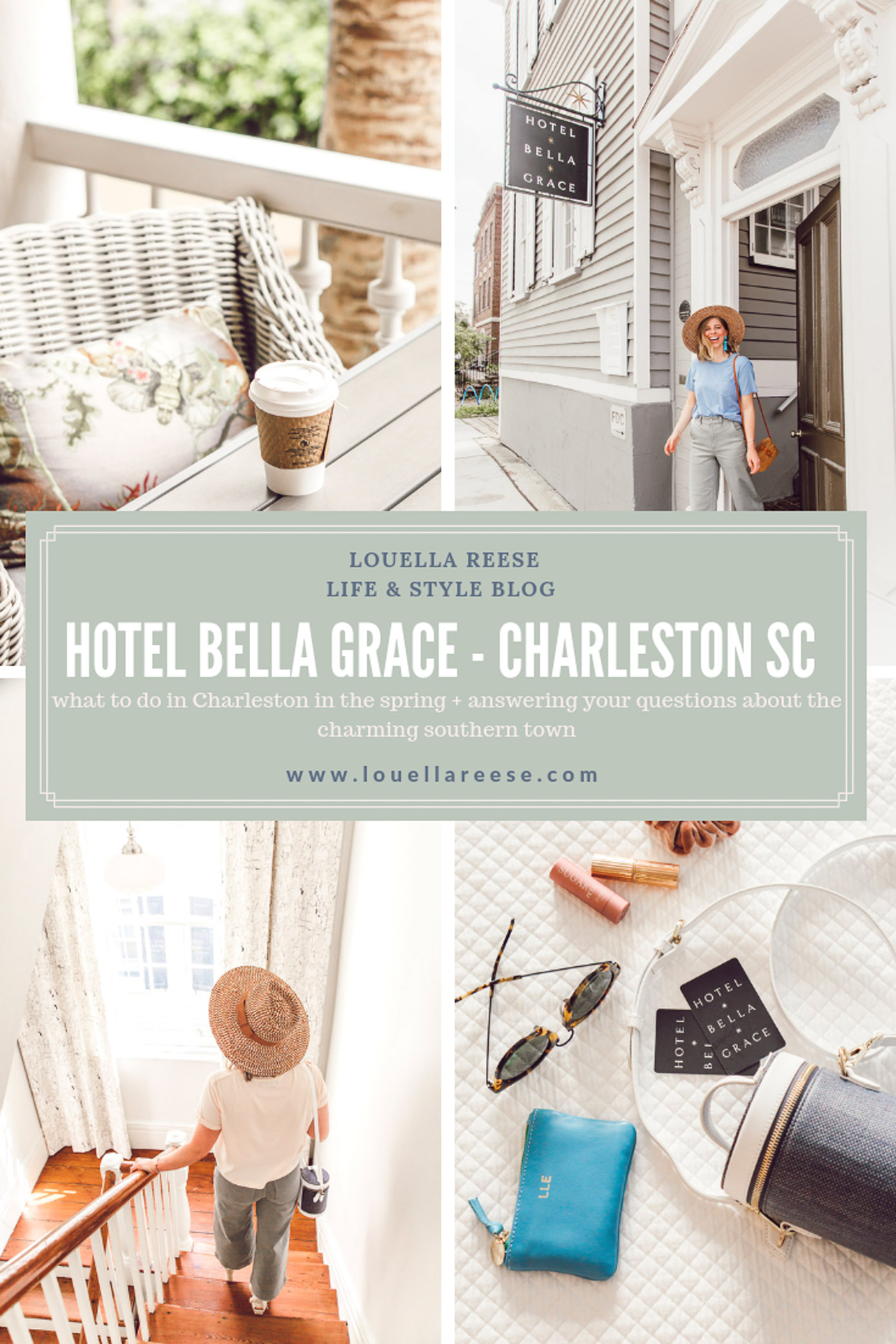 Answering Your Charleston + Hotel Bella Grace Questions 
Is Hotel Bella Grace a family friendly hotel? 
I would say the atmosphere and decor of Hotel Bella Grace is very mature and gives off romantic vibes. Therefore, I would say it is more fitting for a romantic getaway or couples vacation. However, the rooms are spacious and do offer full sleeper sofas. So there is plenty of space for the tots to join in on the fun. 
Does Hotel Bella Grace have room service? A pool? 
They do not offer room service however, their restaurant is literally just steps from the elevator. Here you can grab breakfast from 6-9am every morning as well as light bites + cocktails from 3-10pm. Additionally, 35 of the 50 rooms offer sleek built-in kitchen amenities, as well as a personal concierge service with grocery shopping services available. We actually brought leftovers back several times as our room had a full refrigerator and microwave.
There is no pool on the property. 
Favorite places to dine in Charleston? 
Basic Kitchen
Rue De Jean
Poogan's Porch
Callie's Hot Little Biscuit
Eli's Table
Favorite/cutestest cafes + bakeries in Charleston?
The Harbinger Cafe & Bakery
The Rise Coffee Bar
Sugar Bakeshop
One Broad Street
Things to do on a girls trip?
Number one recommendation is to take a sunset booze cruise around the beautiful Charleston Battery, The Fighting Lady, and the Ravenel Bridge. I did this on a bachelorette party last summer and had the best time! It is such a beautiful, unique way to see Charleston. The cruises are usually about an hour and half and you can bring your own beverages. 
Have a beach day! I feel like a lot of people forget about the fact that Charleston offers so many cute beaches. There's Kiawah, Folly, Sullivan's Island, Isle of Palms, and Seabrook Island. All are just about 12 miles from Charleston and have their own unique vibe. 
Do a candle pouring class at Candlefish. Learn how to pour candles and create your perfect scent! Such a fun, unique activity to do with your girl friends! Classes are about an hour and you can bring your own wine. 
Thank you to Hotel Bella Grace for hosting us! All views and opinions are of course my own.