Sharing the recipe for my new favorite low carb snack, nutty high fat protein bark.
With FASTer Way to Fat Loss I am constantly trying to come up with new recipes to try on low carb days. Aside from baking, creating low carb recipes is my absolute favorite. It can be a little hard and definitely requires some creativity, which I love! Of course, I love whipping up sweet treat recipes most. Those that I can have in the afternoon or late evening when my sweet tooth is calling!
With low carb days it is all about healthy fats and protein. So as mentioned above, creativity is a must when it comes to creating something sweet that contains those two nutrients without a lot of carbs as well. I recently came across this ultimate Keto trail mix while at HomeGoods and figured I would give it a try. Now I am completely hooked! Typically I have one serving size of the trail mix (1/4 cup) with 1/8 cup of peanuts and 1/4 cup of dark chocolate chips for an afternoon snack on low carb days.
The other week I was behind on my fats and protein for the day while also finding myself a little bored with my go to snack so I decided to spice things up a bit. I melted some coconut oil and peanut butter then mixed in the ultimate Keto trail mix, peanuts and dark chocolate chips. I decided to throw the combination in the freezer. Lucky for me it turned out quite well and ended up being an incredibly satisfying snack.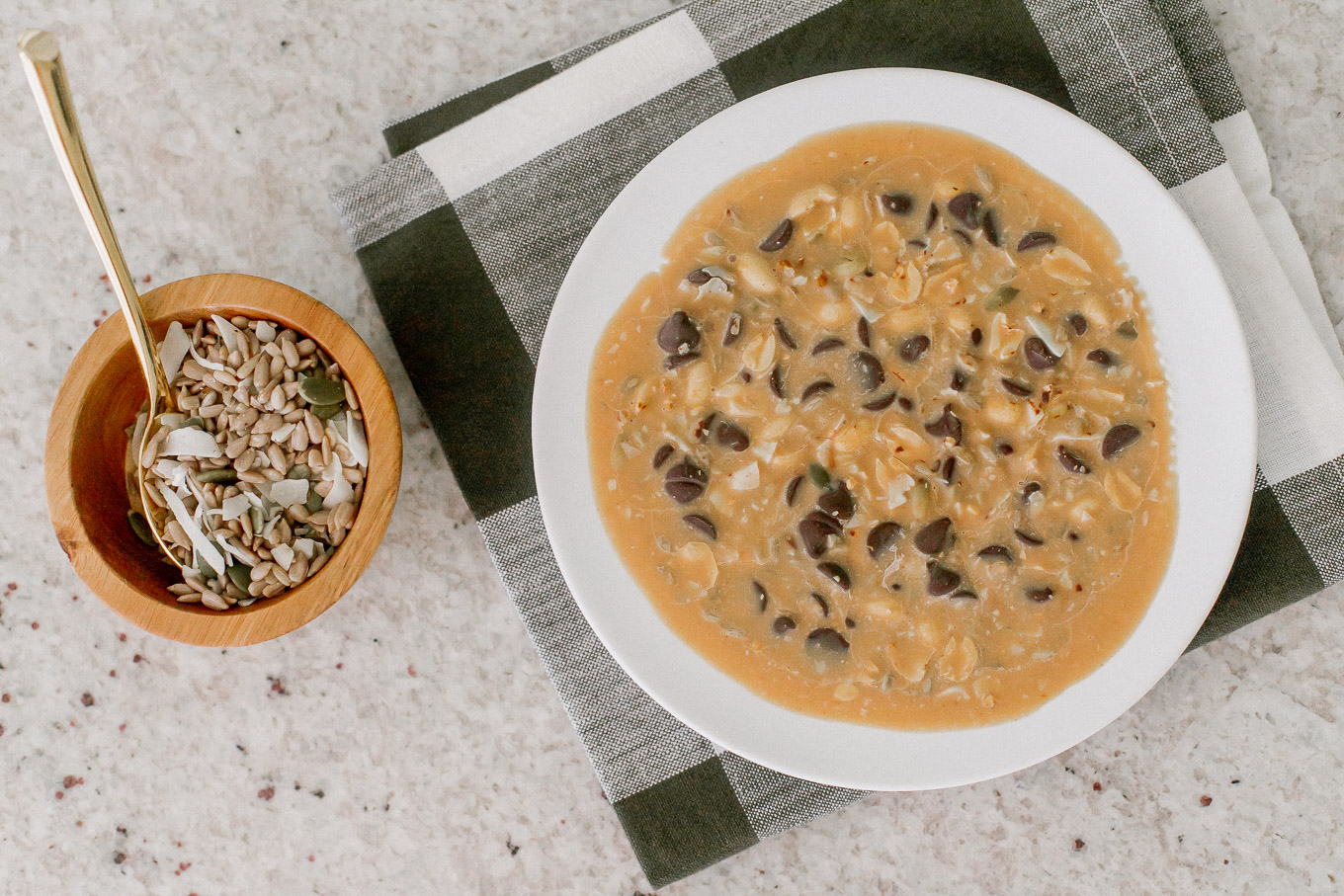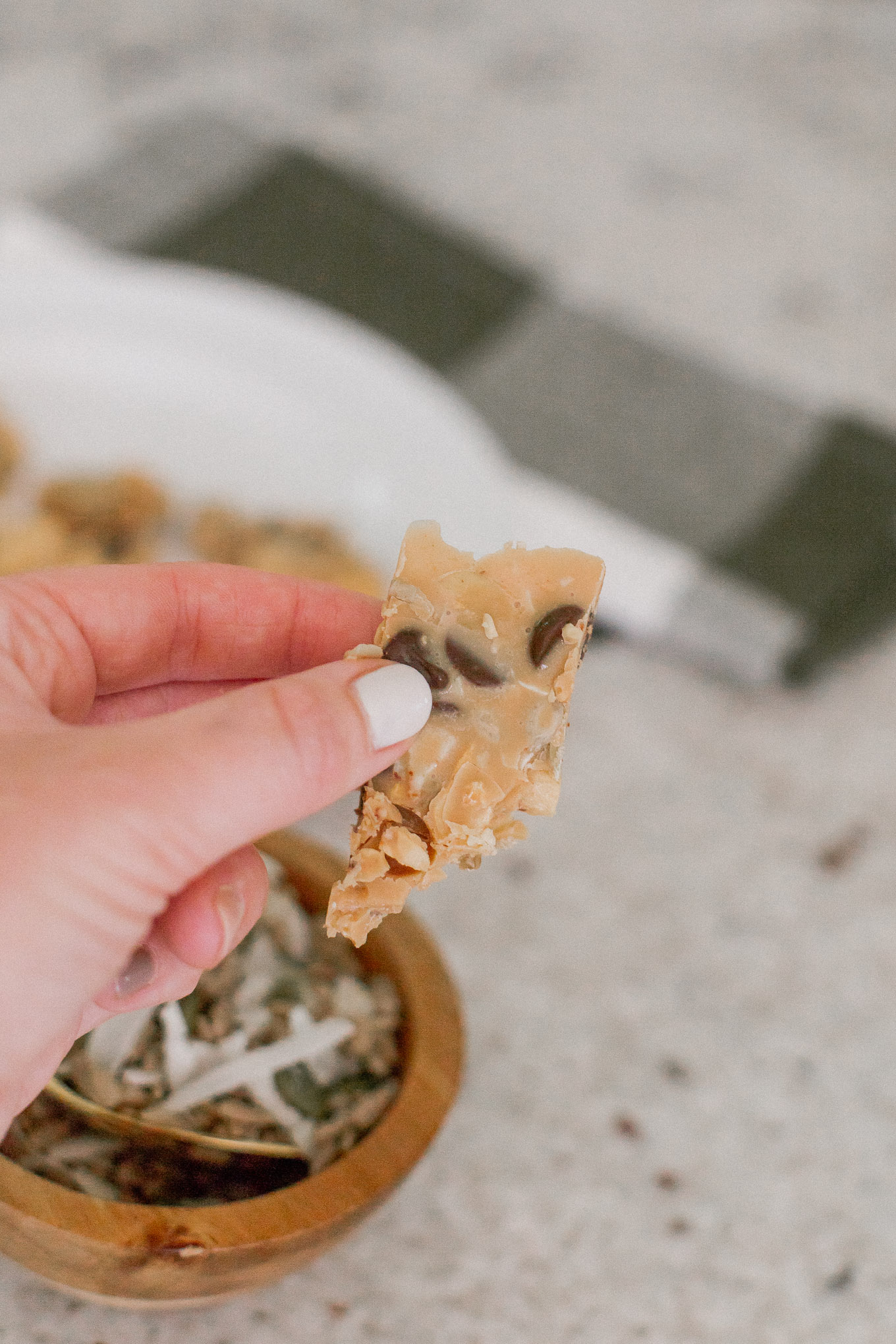 How to Make Nutty High Fat Protein Bark
This recipe is incredibly easy to make. Only requires one bowl, a spoon, parchment paper and a plate. Aside from the recipe ingredients. I usually mix it up about 20-30 minutes before snack time – which for me is typically around 3/4pm. It completely holds me over and leaves me satisfied until dinner at 7/7:30pm. You will notice in the photos I did not use parchment paper, we ran out, but I 100% recommend doing so. It will keep your plate clean and make breaking up the bark even easier.
If you're snacking on the bark and notice it's starting to get pretty messy due to melting, just stick it back in the freezer for 3-5 minutes to harden back up. This recipe makes one serving size. Double and store in airtight container in the freezer for later in the week if you want to skip prepping it twice.
INGREDIENTS
1 tablespoon creamy peanut butter
1 tablespoon coconut oil
1/4 cup dark chocolate chips
1/8 cup peanuts
DIRECTIONS
In a small microwave safe bowl combine peanut butter and coconut oil. Microwave for 30 secs. Stir until well combined.
Place ultimate nutrition keto trail mix, dark chocolate chips, and peanuts in bowl with peanut and coconut oil mixture.
Mix until all ingredients are well combined.
Cover a salad plate or dessert plate with parchment paper. Make sure to choose a plate that has a small lip – cannot be entirely flat.
Pour contents of bowl onto parchment paper lined plate.
Place plate in freezer for 15-30 minutes – until coconut oil and peanut butter mixture freezes completely.
Break up bark and enjoy!
Nutrition
calories: 600
carbs: 29g minus 10g of fiber = 19g net carbs
protein: 14g
fats: 56g

will vary depending on the nut butter you use and chocolate chips
Find more FASTer Way to Fat Loss Recipes here.