After sharing yesterday's post about traveling during the Coronavirus, I thought I would dive into post travel self care. This is actually a topic I have been meaning to write about for some time but now actually feels like the perfect time to do so. Let me start off by saying, I am not encouraging travel right now but do understand a lot of people are choosing to visit family members, take local vacations, or renting a home somewhere with family/friends and staying put. No matter what kind of travel you are doing, now or later, there is always a little recovery time. Our bodies need time to recoup after driving/flying, being busier than normal, eating differently, and being around others. So today I am diving into seven post travel self care tips and recommendations. These are things I do after returning home and have found to be very beneficial in keeping me healthy and helping me to recover/get back on track quickly!
I have also added a couple of notes in reference to the Coronavirus and how to best take care of yourself and also others.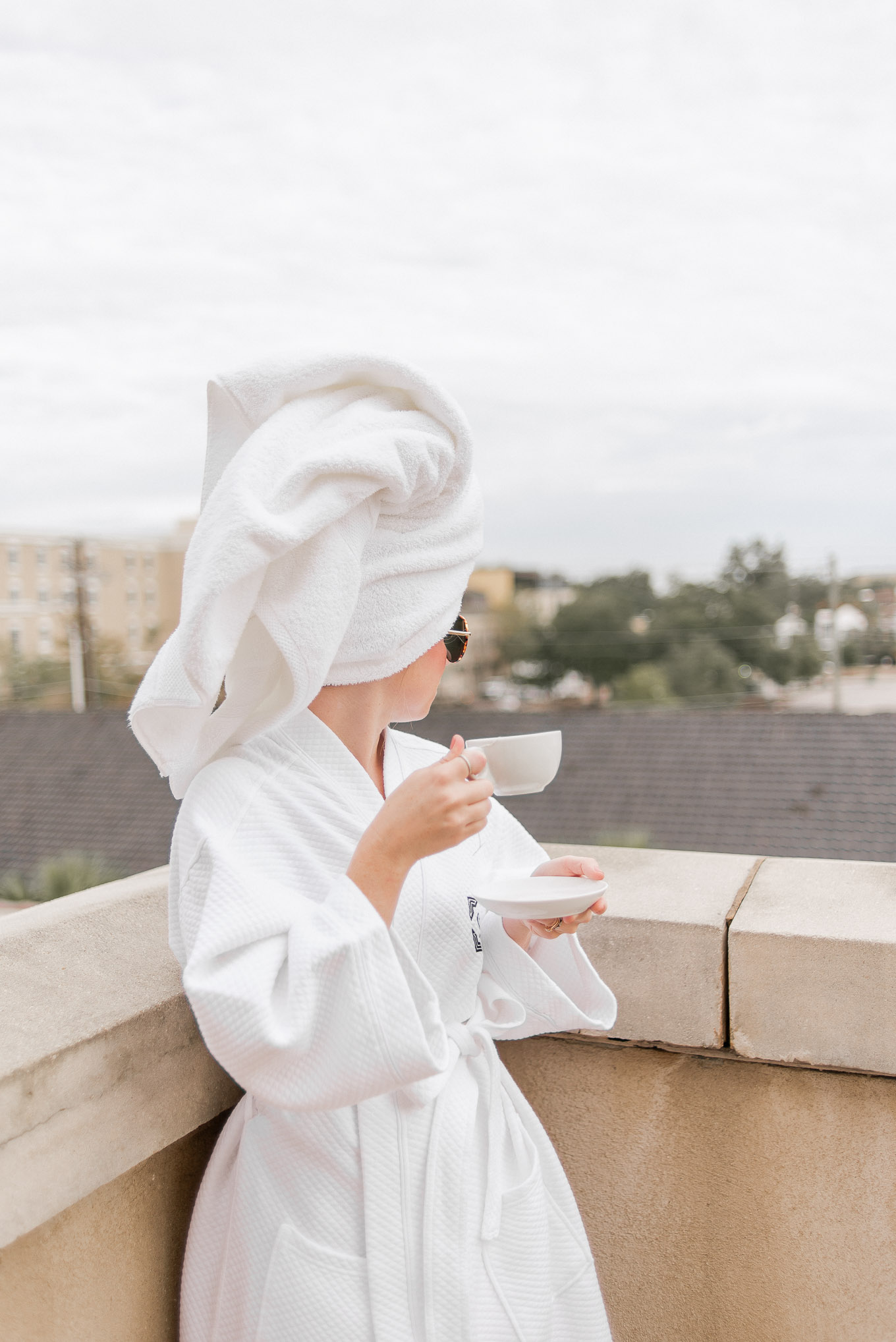 Post Travel Self Care: Tips, and Recommendations
Do a Face Mask
The very first thing I do after arriving home is wash my face. Oh does it feel SO GOOD to wash everything from travels off my face and get clean! Then I love to apply a charcoal mask. Specially this clay charcoal mask. This nutrient-rich kaolin clay mask with activated charcoal purifies and balances, absorbing excess oil and drawing out impurities. Salicylic and lactic acids aid in a gentle exfoliation, giving skin a smooth, polished look with a minimized appearance of pores. Perfect for post-travel needs!
Truly nothing feels better to me than a clean, detoxed face after traveling! Plus it is a great way to get your skin back on track after being in a different environment and dealing with the stressors of travel.
Drink as Much Water as Possible
I try to drink as much water as possible while traveling but it is never as much as I would normally drink. And we really should be drinking even more than normal when traveling. So once I arrive home a water bottle is in my hand or next to me at all times. I make a goal to drink a certain amount for the next 48+ hours. Then make sure to make it happen!
Rehydrating post travel is so important, especially if traveling by plane. Airplanes typically have low humidity levels due to their artificial climate control methods. On some flights, this humidity level can fall to 20% or less.
Additionally, a body that is properly hydrated will tend to restore nutrients quicker, preventing illnesses. Hydrating yourself will help to flush out toxins and also improve your energy levels!
Lastly, drinking water is important during + post travels as skin can become dehydrated along with the body and result in dry, flaky skin. Keep skin looking moist and healthy while even reducing the appearance of fine wrinkles and lines simply by drinking enough water!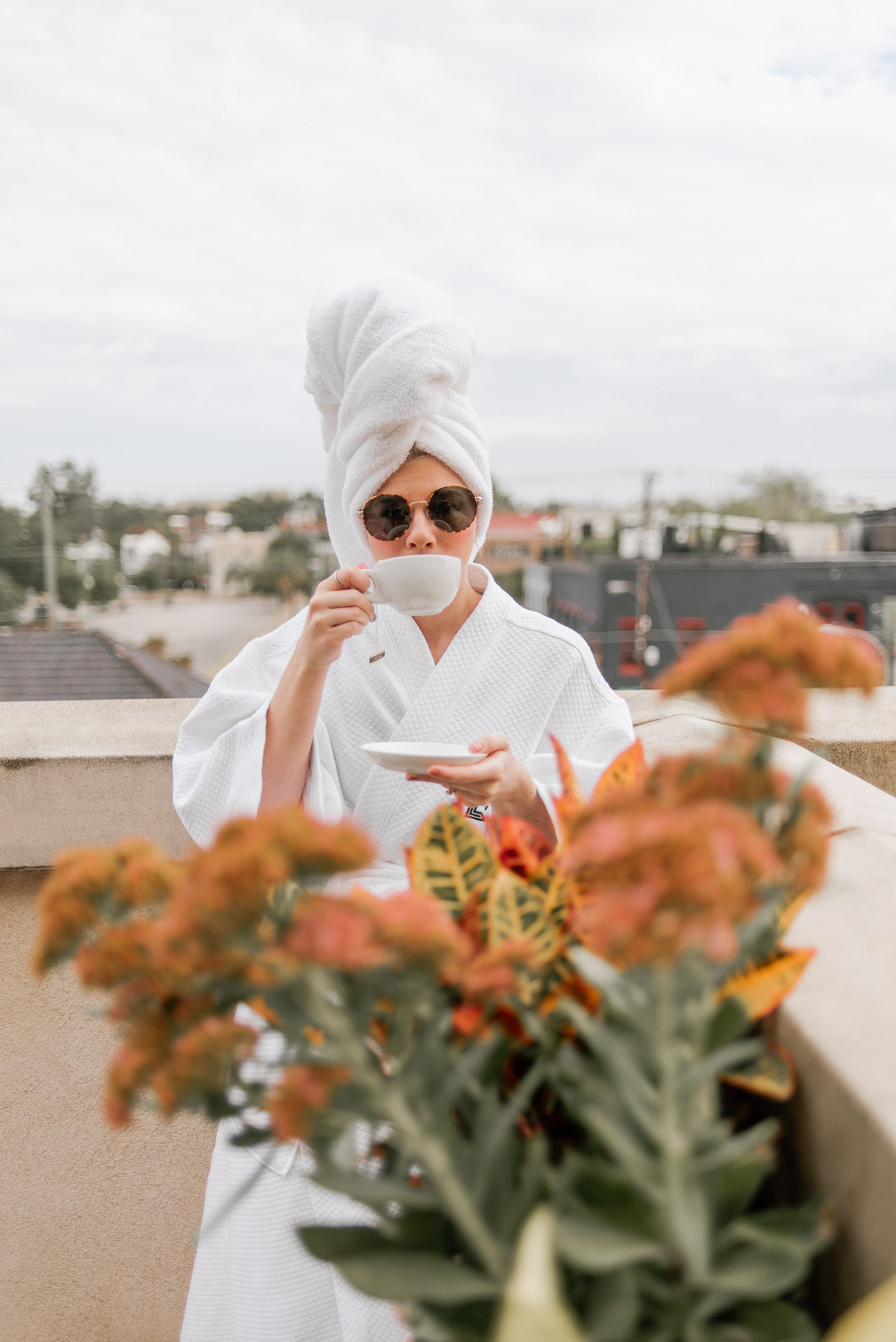 Get to bed early
Chances are I didn't get my regular amount of zzz's while traveling. On top of that, I am usually busier while traveling. Whether it's simply being around people and socializing more or actually having a full day/evening of actives. Either way I typically arrive home worn out. So getting to bed early to catch on sleep is an absolute must!
Lack of sleep can increase our risk of getting sick and prolonged sleep deprivation has been associated with diminished immune functions which leaves us more prone to catching colds, the flu, and everything else in between. We all know what we don't want to catch right now!! Sleep loss also influences our body's ability to fight an illness once it sets in. So getting your sleep post travels is extremely important – now more than ever!
Ease back into Working Out but DO workout
I won't lie, I NEVER eat as well while traveling as I do at home. In fact I use it as an excuse to get the extra scoop of frozen custard or side of fries or just about anything else unhealthy. I have a feeling some of you may be like me when it comes to food choices during travel as well! So getting back into a workout routine is essential to keeping the pounds off, not experiencing that weighed down feeling, or feeling down on ourselves.
Personally, I love to jump right back into working out/being active. If we arrive home in the morning than I make a major effort to get a workout in that afternoon/evening. If we arrive home in the afternoon/evening I will wait till the next day to get moving. However, I like to ease back into working out/being active due to what I mentioned above, being tired and needing to hydrate! I don't want to push my body too hard right away and end up making myself sick. So a long 30-60 minute walk around the neighborhood is usually my workout of choice for the first post-travel workout. Possibly the second as well or maybe a great virtual yoga class.
Take Vitamins
Another way to boost the immune system and make sure I stay healthy! Similar to my diet, I typically fall off the vitamin wagon a bit when traveling. Only remembering to take them every other day…if I'm lucky. So having them out by tea kettle in the morning is a must have for me. That way they are in plain sight and I can be sure to get back on track with taking them.
Currently, I take a multi-vitamin + probiotic, immune boosting vitamin and elderberry syrup (one tablespoon a day).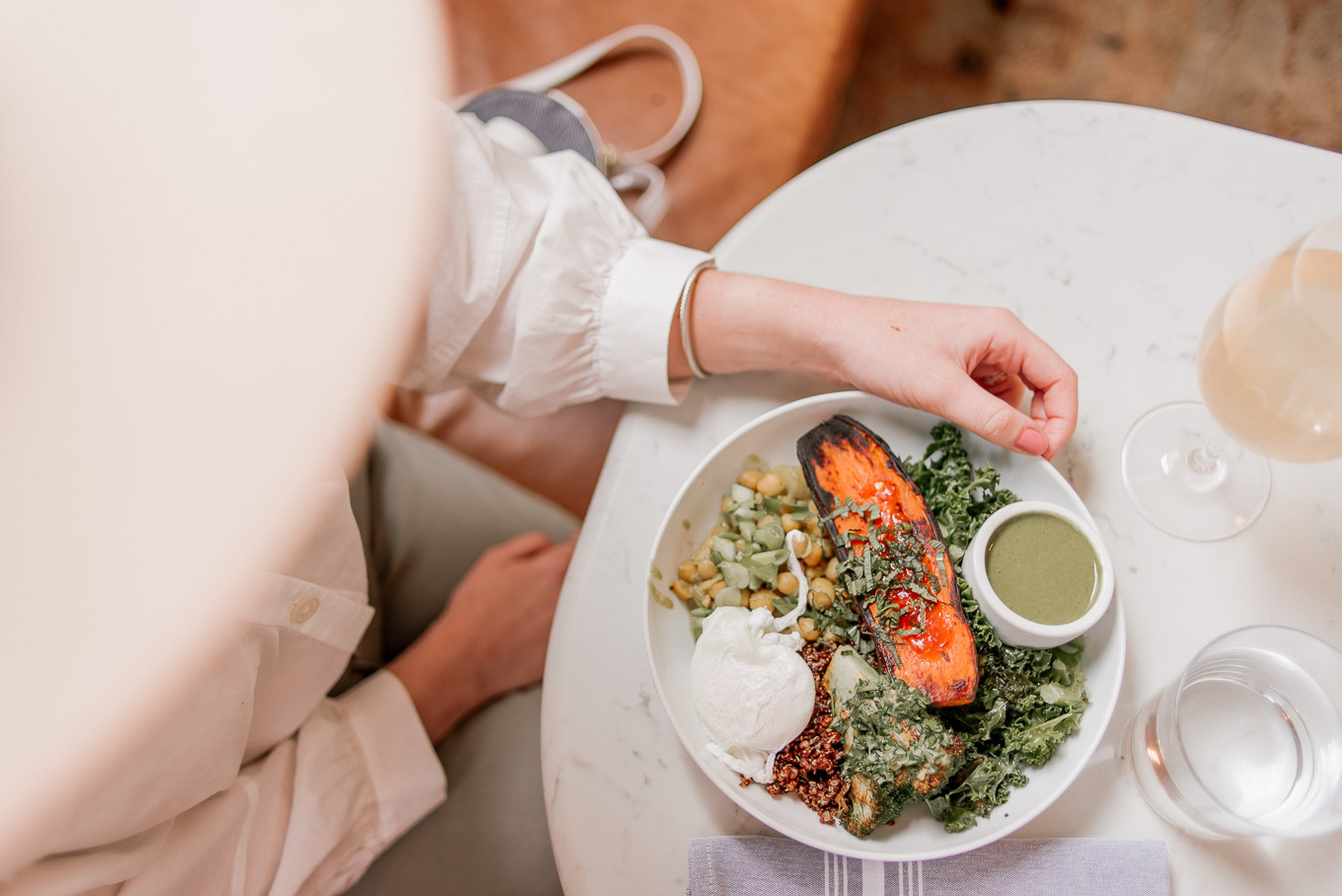 Prepare Healthier Meals
Now mentioned twice, let's make it a third, eating healthy isn't the easiest or most fun choice while traveling! So I like to plan out some healthy meals for when I return. If we aren't going to be gone for too long I will stock the fridge with some fresh goodies or throw some fruit in the freezer to make smoothie bowls when we return. Preparing ahead time allows me to get back on track faster and also not have to worry about what the heck we'll eat when we get home!
My recommendation is to stock up on healthy snack options. Snacking seems to occur more often post travels. I love fresh fruit, snap peas, beef jerky, almond butter, and kodiak cake bear bites. Oh and a kombucha is a great idea – helps get your stomach back on track!
Limit Interaction/Plans
This is most important right now! With Coronavirus I believe it is important to limit your interactions post travels to protect yourself, since your immune system may not be as strong. As well as to protect others, in case you did pick something up on your travels.
When we visited Beaufort and Hilton Head, SC last month we limited our interactions for 14 days. Only heading to the store when needed and seeing a few family members – at a distance. Post our recent trip we are planning to do the same! Just to be careful!