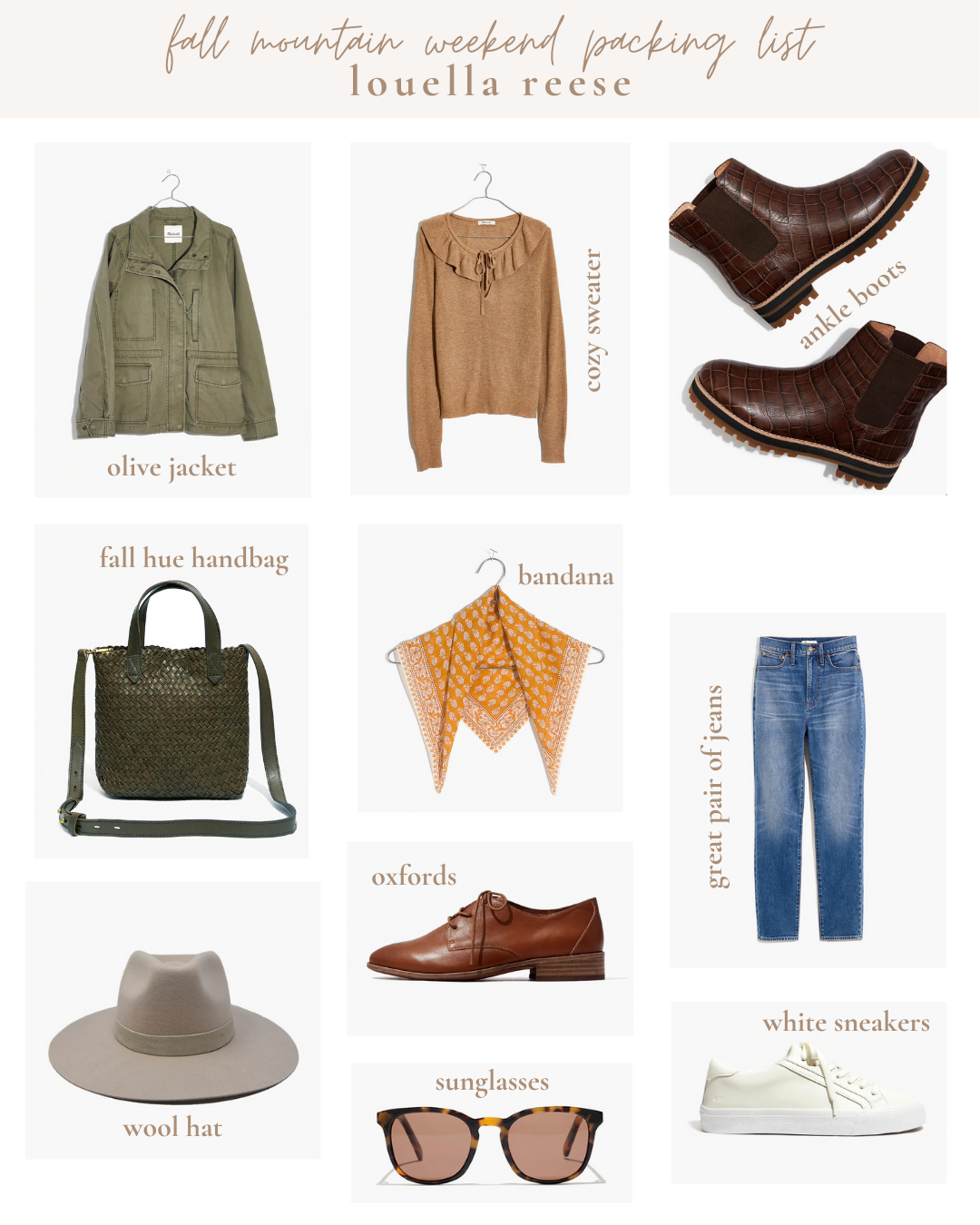 Shop the post: olive jacket | cozy sweater | ankle boots | fall hue handbag (mini version) | bandana | jeans | sneakers | oxfords | sunglasses | wool hat
Later today Joshua and I will be on our way to Highlands, NC for a long weekend. We are going to celebrate our anniversary and soak up the beautiful fall weather in the gorgeous North Carolina mountains. I cannot wait for four days with my guy doing all of the fall things. Before leaving I wanted to share my fall mountain weekend packing list in case any of you are headed to the mountains this fall.
When packing, I always make it a point to create a mini-capsule wardrobe. Meaning I bring pieces I can easily mix and match throughout the trip to maximize the number of outfits and minimize the number of pieces I need to pack. This packing list is no different and includes all of the fall hues! These are all pieces I absolutely love and would truly recommend!
Fall Mountain Weekend Packing List

This olive jacket I have had for years – the perfect light jacket for the fall season. Not to mention the perfect hue too! Fit is true to size, I have a size small.
This camel sweater instantly grabbed my attention with the sweet feminine details of the tie-front and ruffle neck. Fit is true to size, I have a size small. Also bringing this soft top and autumn inspired poncho for layering.
A comfortable pair of ankle booties is a must! This is the pair I packed for our fall mountain weekend. However, I am totally loving this croc embossed pair! So chic!
A great pair of jeans is essential! This pair has been my go to for the last year. Obsessed with the demi-boot cut. Super flattering and looks equally as great with sneakers, booties, and flats.
A fall mountain weekend calls for a fall-inspired bandana. Tie around your handbag, neck, or ponytail. A versatile piece that puts the finishing touch on any look!
An easy tote is always my go to when traveling. Especially one that offers a crossbody strap! My favorite fall tote bag was brought back this year in a beautiful braided leather – in the same forest color. Another green bag I will be bringing for our date nights.
Another must have accessory…a wool hat! This lighter version is the one you always see me styling. Loving this muted, more affordable option! Also bringing this floppy panama hat.
When fall arrives so does my preppy side – especially when heading to a mountain town like Highlands. Therefore, my favorite oxfords are definitely included in my suitcase.
Can't take a road trip (or hike) without a pair of sunnies! I'll be packing my new Johnny Fly sunnies – use code LLE20 for 20% off your order.
Sneakers are another essential for me when traveling! I love exploring and walking around as much as possible so a great comfortable of sneakers is a have to have! This is the pair I am bringing. Also loving this simple pair.
And in case you missed it, here's what was on the blog this week: September 2020 Recap, 2020 Goal Check-In, and Fall Drinks to Try at Home & Local Charlotte Coffee Shops (plus a fall look).
Hope you have a wonderful rest of your week & weekend!