Summer is the perfect time for warm weather get-togethers with friends and family. There's something about gathering in your own backyard that always creates the most special memories. Over the past several months I have personally have found my love for entertaining. I very much enjoy creating a menu, putting a space together, and entertaining our friends and family at our home. With the warmer weather and summer right around the corner I look forward to doing so in our outdoor spaces. Specifically our back deck and into the yard.
Creating outdoor spaces you love is so important as they're truly an extension of you home. I like to think of them as an additional room, another blank canvas to decorate and incorporate into our daily lives. This summer I plan to spend as much time outdoors as possible. Soaking in calm summer morning, the hot summer sun, and those refreshing evenings with a slight breeze. Before doing that, the outdoor space needs to be created!
With that, I wanted to share a few items for outdoor spaces I'm loving right now and believe you will as well!
9 Items for Outdoor Spaces I'm Loving Right Now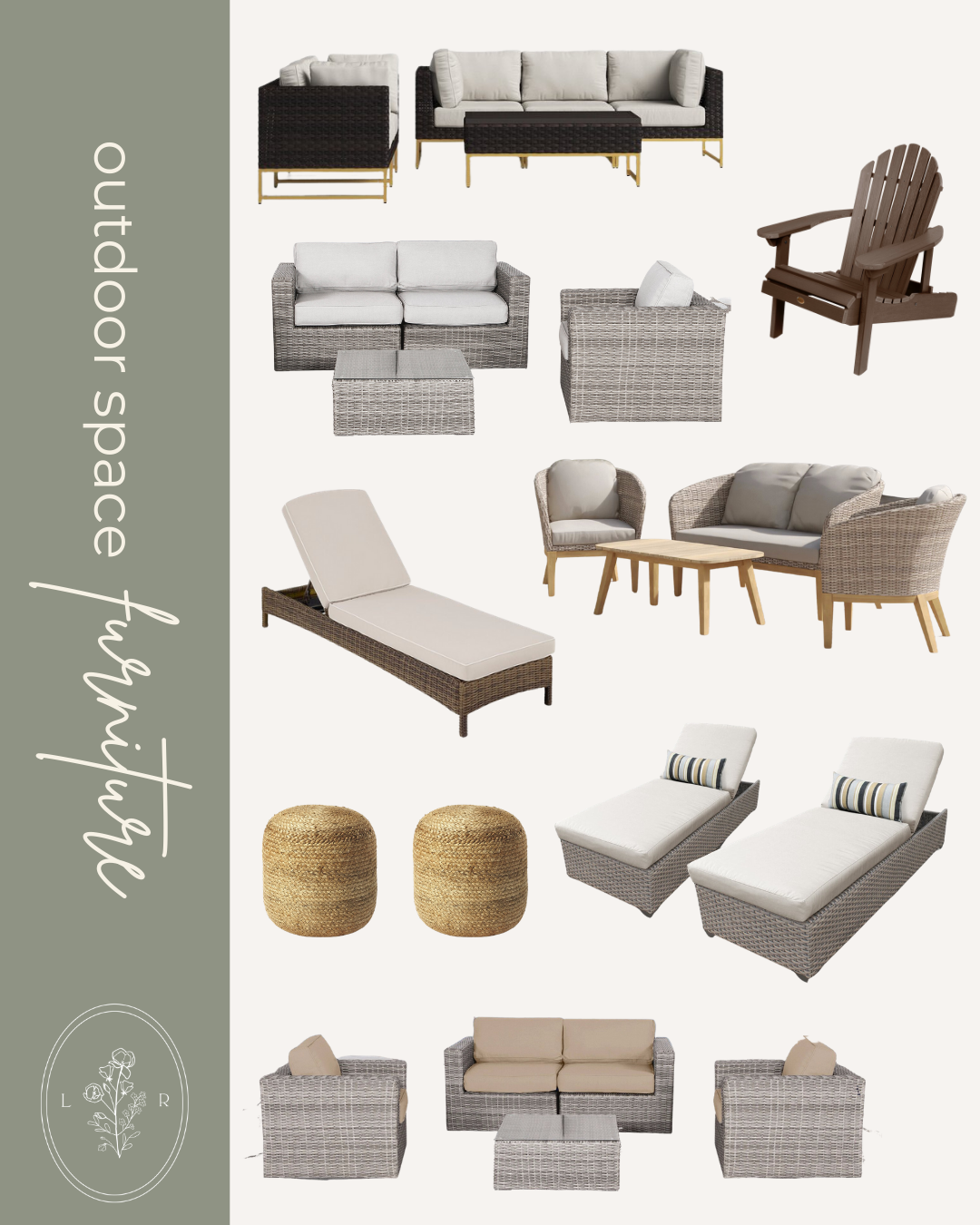 We recently ordered four adirondack chairs for our backyard to be used around our fire pit. This versatile chair features a reclining option that allows you to adjust the angle of the chair back for maximum relaxation. We selected the weather acorn color but I'm also loving the whitewashed option. Adirondack chairs are such a timeless outdoor seating style. Perfect to place around fire pits, on back decks and by the water.
Recently chaise lounges have been catching my eye. Maybe because I cannot wait to lay in and soak up the summer sun. This neutral chaise lounger is the ideal if you're interested in something simple and classic. Loving this set as well as a great neutral option. If you're looking for a chaise + side table set this one set was made for you.
If you're looking for additional comfort and more a conversational setting, my top pick is this set with a loveseat, two chairs and coffee table. An ideal set for entertaining family and friends in a laid back setting. Another great option is this set with gold accents. For a more intimate setting this similar set with one vs. two chairs is a ideal option. Also loving this pairing with two chairs and matching ottomans.
Shop the items
Want more home content? Head over to my home page or check out my most recent home post, how to create a countertop tea bar.