When I polled my instagram audience earlier this summer on the topic of denim shorts I quickly learned I was part of the majority. The majority that felt finding the perfect pair was nearly impossible. While it seemed so many of us felt this way it was also apparent that everyone still wanted to find that perfect pair! So I decided to go all in – ordering four styles in multiple sizes from Abercrombie. There are two reasons I selected Abercrombie denim shorts:
The affordable price point – all styles are right around $59. They're actually on sale & clearance now with prices between $29.50-$39.99.
Word of mouth recommendations – so many people have said the fit of Abercrombie's denim shorts competes with styles from brands 2-4x the price.
I felt confident that if I ordered several styles in several sizes and tried them on in the comfort of my own home I would find the perfect pair. While also being able to provide feedback to y'all on the fit of each style – so you could hopefully find your perfect pair as well!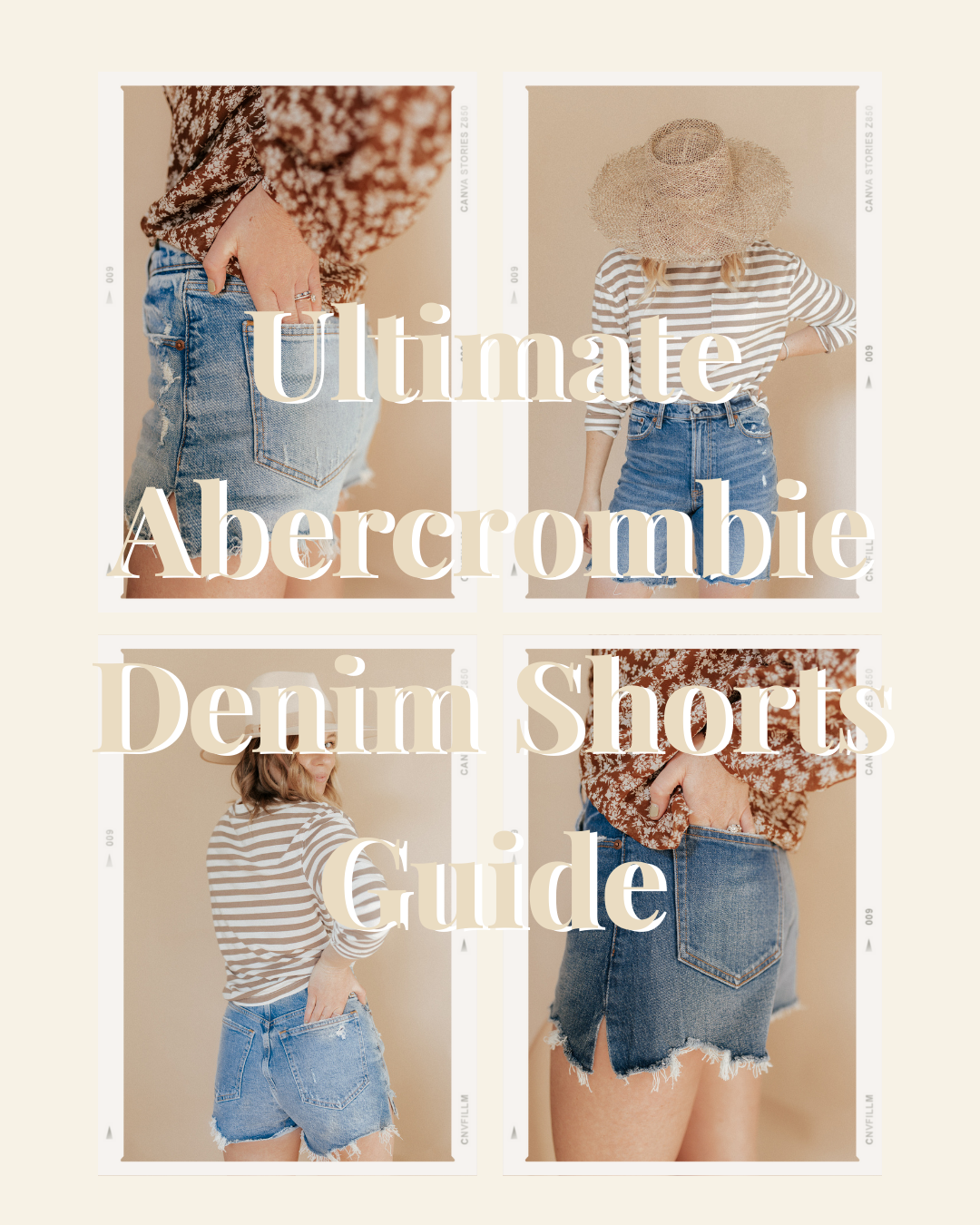 So let's dive in and find you a pair of denim shorts you'll be excited to wear…
Abercrombie Denim Shorts – High Rise Styles
To me this is the style you see most often – the most on trend style. They are high rise with a cheekier fit. Now I'm not saying your cheeks will be showing but they are on the shorter side. Slightly more conservative daisy dukes you could say. The fit is very flattering and comfortable! They do ride up a bit while walking and when you sit down but I didn't find I was pulling them down constantly like so many denim short styles I have tried in the past. Due to the fact that they have a slightly looser fit they aren't clinging too you which I believe keeps you from feeling as though you do need to pull them down constantly.
Fit: fits true to size for a close fit, if you want a more oversized/comfortable fit I would size up one size.
Washes: dark, medium destroy, medium with repair, medium-light ripped, light, white
This is the same style as above but with Abercrombie's Curve Love fit. This fit is for those that have a smaller waist compared to your butt + hips. The fit highlights your smallest point and accentuates your figure. Praise Abercrombie for realizing not all bodies are exactly the same!
Fit: fits true to size
Washes: dark, medium destroy, medium, medium-light ripped, light ripped, light, white
This style isn't what I would typically go for but since I was in the mood to test the waters, I added them to my cart. This style is high rise with a longer fit in vintage stretch denim fabric. They fit a little closer than in the photo on Abercrombie.com but there is still room so they look relaxed and feel comfortable. They're the perfect short for those that want a longer fit with a little more coverage. They're incredibly flattering when paired with a tucked-in or cropped top. Especially when paired with heels sandals, platform sneakers or wedges.
This particular style is close to being sold out but they have a very similar style available – the high rise dad shorts.
Fit: fits true to size
Washes: light-medium, medium
On-trend 90's-style denim shorts made in a looser fit with more room through the hip and thigh. I found them to fit quite a bit looser than the other styles while also being slightly shorter than the High Rise Mom Shorts. To be completely honest, I didn't love them. They were the only style I wasn't in love with. However, I think it is totally personal preference and of course, how they fit your body.
If you like a looser fit through the hip and thigh with a slightly shorter look, I would highly recommend trying this pair. As recommended below, I would say order a size down. With denim shorts though, I do like to try at least two sizes so I can truly see what sizes fits me best and feels the most comfortable. So for the 90s High Rise Cutoffs I would recommend you order your true size and down one size. Then do a walking test as well as a sitting test to see how you feel about the length.
Fit: fits a little large, I would recommend sizing down one size.
Washes: white, light, medium, black
Abercrombie Denim Shorts – My Top Pick
I LOVE this pair so much! The first week after receiving them I think I wore them every day. They're flattering and oh so comfortable! They're truly the first pair of denim shorts I feel GOOD in! After trying the classic High Rise Mom Shorts and the Curve Love High Rise Mom Shorts I decided the latter was more flattering, comfortable and overall had a better fit for my body. I am so thankful I ordered both styles as it really allowed me to figure out what works best for my body and find my comfort level when it comes to denim cut off shorts.
Bottom line and lesson learned: order several styles in several sizes and spend some time in each one – sitting, walking, standing, and moving. This will really help you find your perfect pair of denim shorts!
shop Abercrombie denim shorts

Want more warm weather style inspiration? Check out my recent guides on straw hats and woven handbags.
photos by Jennifer Austin Photography