To continue with my clean beauty guides, today I am diving into clean serums and facial oils. As mentioned in my recent post on clean fragrances, clean beauty has become a real passion of mine. I love researching products, learning more about beauty ingredients and discovering new clean beauty brands. Recently my face has been craving additional hydration and a little extra TLC – which has had me reaching for clean serums and facial oils.
What's the difference between serums & facial oils?
The main thing to understand is that facial serums are used to target specific skin concerns, whereas oils are primarily intended to moisturize. Both can be derived from complex oil blends, but serums are typically more light weight and best layered under a moisturizer.
Facial oils are used to moisturize, balance, and protect our skin. While they can certainly be layered on top of serums to target specific skin concerns, their main purpose is to provide intense hydration. They can be applied as part of your skincare routine as well as throughout the day for added hydration.
Unlike cream moisturizers, oils are particularly effective because they mimic our skin's natural sebum production. If you have caused any sort of damage to your lipid barrier such as over-exfoliating, then a good facial oil is a must!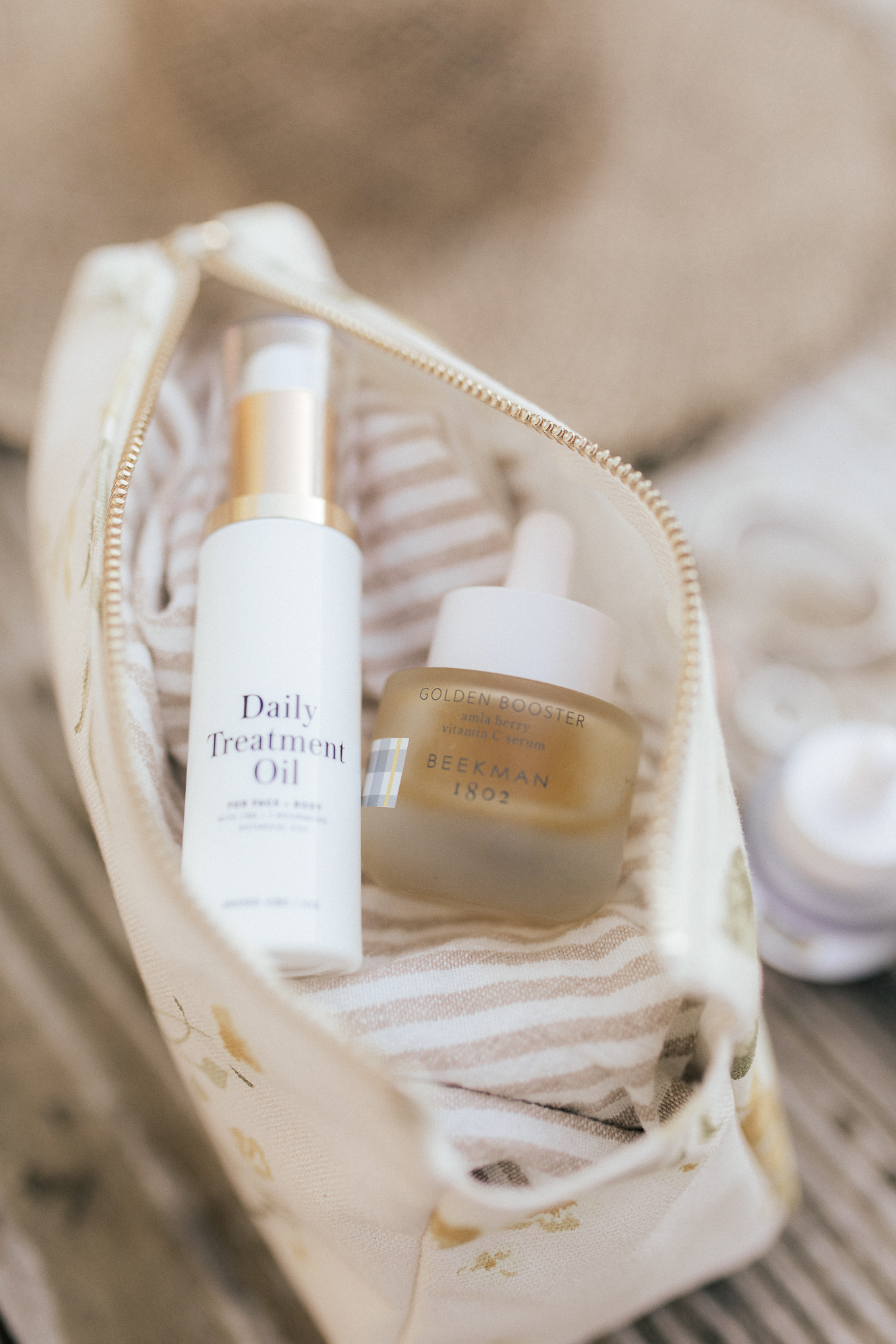 Five Clean Serums & Facial Oils I Have Used & Recommend
EWG RATING: Not yet on EWG – will update once added. However, Indie Lee always formulates their products without 1,300+ Banned Ingredients, including: parabens, mineral Oil, sulfate-based detergents, synthetic fragrance, petroleum-based ingredients, phthalates, phenoxyethanol, formaldehyde and GMO Ingredients.
Plump it up with this pure, intensive moisturizing squalane oil. Readily absorbed and olive-derived, this 100% squalane oil leaves the complexion soft, nourished and best of all, never greasy. Your skin's texture and tone will thank you.
This squalane face oil boosts moisture retention and helps diminish the appearance of fine lines, improving overall complexion. Great for all skin types, including oily, dry, and sensitive skin
available at indie lee, amazon, ulta and sephora
EWG RATING: Not yet on EWG – will update once added. Can view other Beekman 1802 product ratings though.
This innovative "dry" oil is designed to deliver featherweight hydration and calm skin for a sun-kissed glow, without feeling heavy or greasy. Great for those with stressed, fatigued, or over-sensitized skin.
Initial studies show that CBD is so effective because it mimics the endocannabinoids naturally produced by our bodies' endocannabinoid system (ECS for short). That means incorporating a CBD product into your skincare works with your body's efforts to destress your skin, reducing redness, calming patches of irritation, and unlocking your natural glow. Goat Milk hydrates skin to boost absorption of CBD.
available at beekman 1802
EWG RATING: Not yet on EWG – will update once added. Can view other Beekman 1802 product ratings though.
A supercharged serum powered by vitamin C-rich amla berry, which contains 20x more Vitamin C than an orange and is clinically proven to boost brightness, even out skin tone, and reduce the appearance of dark spots.
Formulated with plant-based Vitamin C and perfect for those with dry or sensitive skin looking for a completely shelf-stable Vitamin C serum that sinks into skin instantly and leaves a smooth finish without a trace of greasiness. Also helps protect skin from environmental damage.
available at beekman 1802 and ulta
EWG RATING: Not yet on EWG – will update once added. Can view other Beekman 1802 product ratings though.
An age-defying beta-retinol serum powered by bakuchiol, a plant-based retinol alternative that is 4x gentler than retinol and helps to smooth skin texture, diminish fine lines & wrinkles, and minimize pores. Gentle enough for daily use, safe for sensitive skin and first-time retinol users.
Typical retinols are not safe to use while pregnant or breastfeeding however, this plant-based retinol alternative is safe to use and is free of Vitamin A.
available at beekman 1802 and ulta
EWG RATING: Not yet on EWG – will update once added.
Packed with seven nutrient-rich botanicals, this luxurious Daily Treatment Oil nourishes and renews deep into the layers of your skin. Featuring 500mg of full-spectrum CBD to moisturize and heal along with powerful oils like Sweet Almond, Litsea, and Olive Squalane, this multipurpose oil will support a range of common skin concerns – from dry skin to sun damage to pore size.
available at equilibria – use code LOUELLAREESE for 15% off your first order.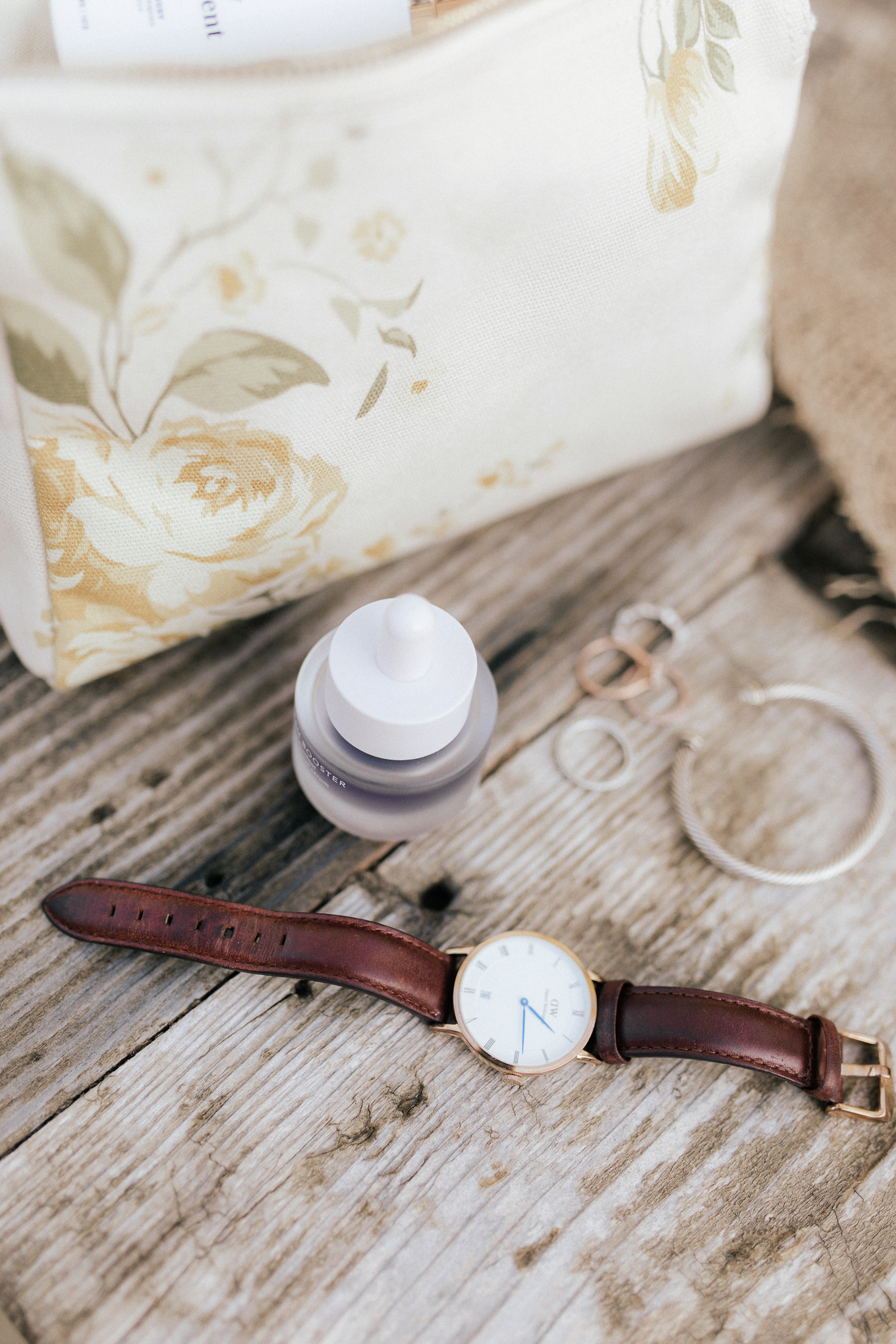 Ingredients to look out for & stay away from…
DEA (diethanolamine), MEA (Monoethanolamine), and TEA (triethanolamine)
DMDM hydantoin & Urea (Imidazolidinyl)
Mineral Oil
Parabens (Methyl, Butyl, Ethyl, Propyl)
Propylene glycol (PG) & Butylene glycol
Siloxanes – look for ingredients ending in "-siloxane" or "-methicone."
Synthetic fragrances
Triclosan
Additional ingredients to stay away from if pregnant…
Retinoids – Retin A, Vitamin A
Hemp/CBD
Kojic Acid
Licorice Root
Hydroquinone
shop clean serums & facial oils

Each month I will be sharing a specific beauty product and highlighting a few of the best clean versions available! Check out recent guides on clean facial sunscreens and clean fragrances.
photos by Jennifer Austin Photography