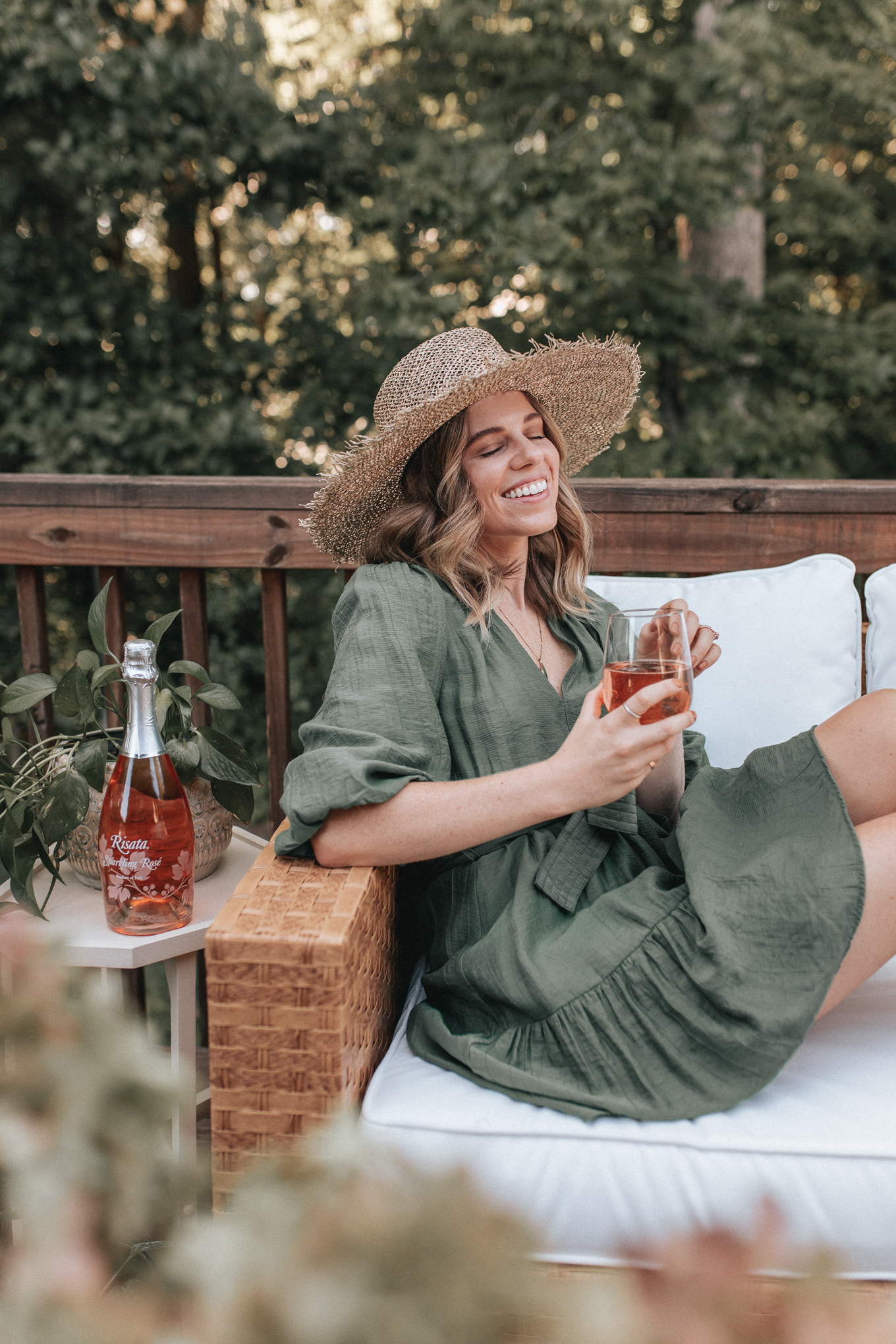 Thank you to Risata Wines for sponsoring this post. All view and opinions are of course my own. Thank you for supporting the brands that make Louella Reese happen!
With fall officially arriving earlier this week it's time to for one final farewell to summer. It is the perfect excuse to host friends or family and enjoy the cooler temperatures that arrive with transition of the seasons. Joshua and I have loved hosting friends and family for brunch these last several months. We are looking forward to continuing the tradition into the fall season. Enjoying more time outdoors dining al fresco. To say goodbye to summer and hello to fall we put together an outdoor brunch for a couple of our closest friends.
An occasion like this calls for Risata Wines – one of our favorites and definitely a go to when entertaining. To celebrate the occasion we chose to served Risata Moscato d'Asti and Risata Sparkling Rosé. These light, sweet and refreshing wines are the ideal selections for a farewell to summer event. To compliment the two we served fresh fruit, croissants with a mix of jams and orange cranberry tea scones.
A simple brunch to prepare the day of, day before or pick up fresh from your local bakery.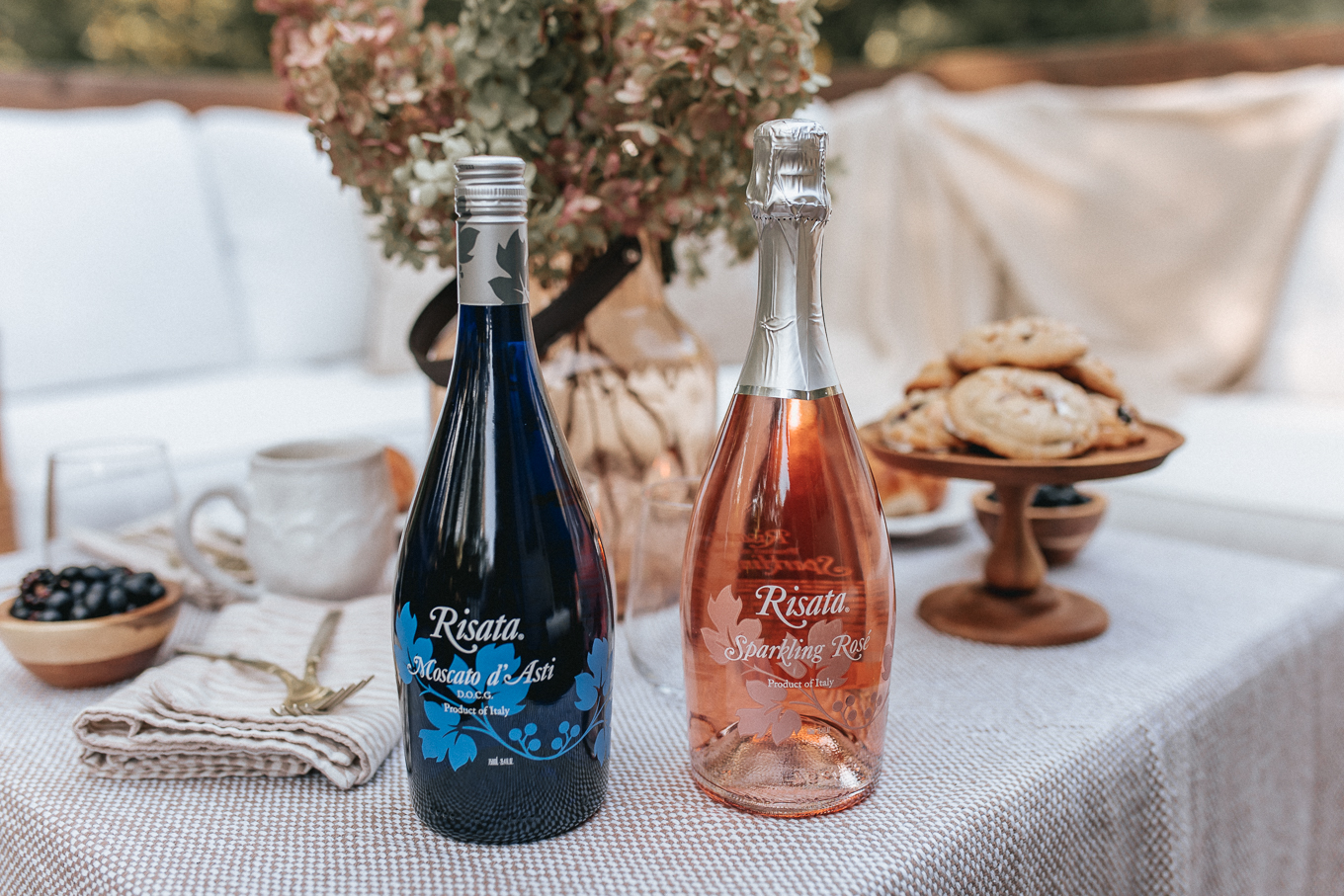 Outdoor Brunch Wines to Serve
I have shared Risata Wines several times, for good reason! Their Moscato d'Asti won Best Moscato d'Asti Gold Medal by The Beverage Tasting Institute last year (2020) with 92 points. While their Sparking Rosé has won several gold metals with 96 and 97 points. It is truly one of my favorites and one we reach for often when celebrating. Most recently, prior to our outdoor brunch, to celebrate our friends upcoming nuptials. When a celebration is in order it calls for a bottle (or two) of Risata Wines!
MOSCATO D'ASTI
Seductively sweet, boasting juicy stone fruit, tart citrus and floral honey flavors. The wine is fresh and fragrant.
RISATA SPARKLING ROSÉ
Crisp sparkling wine with aromas of strawberry, raspberry and delicate floral notes.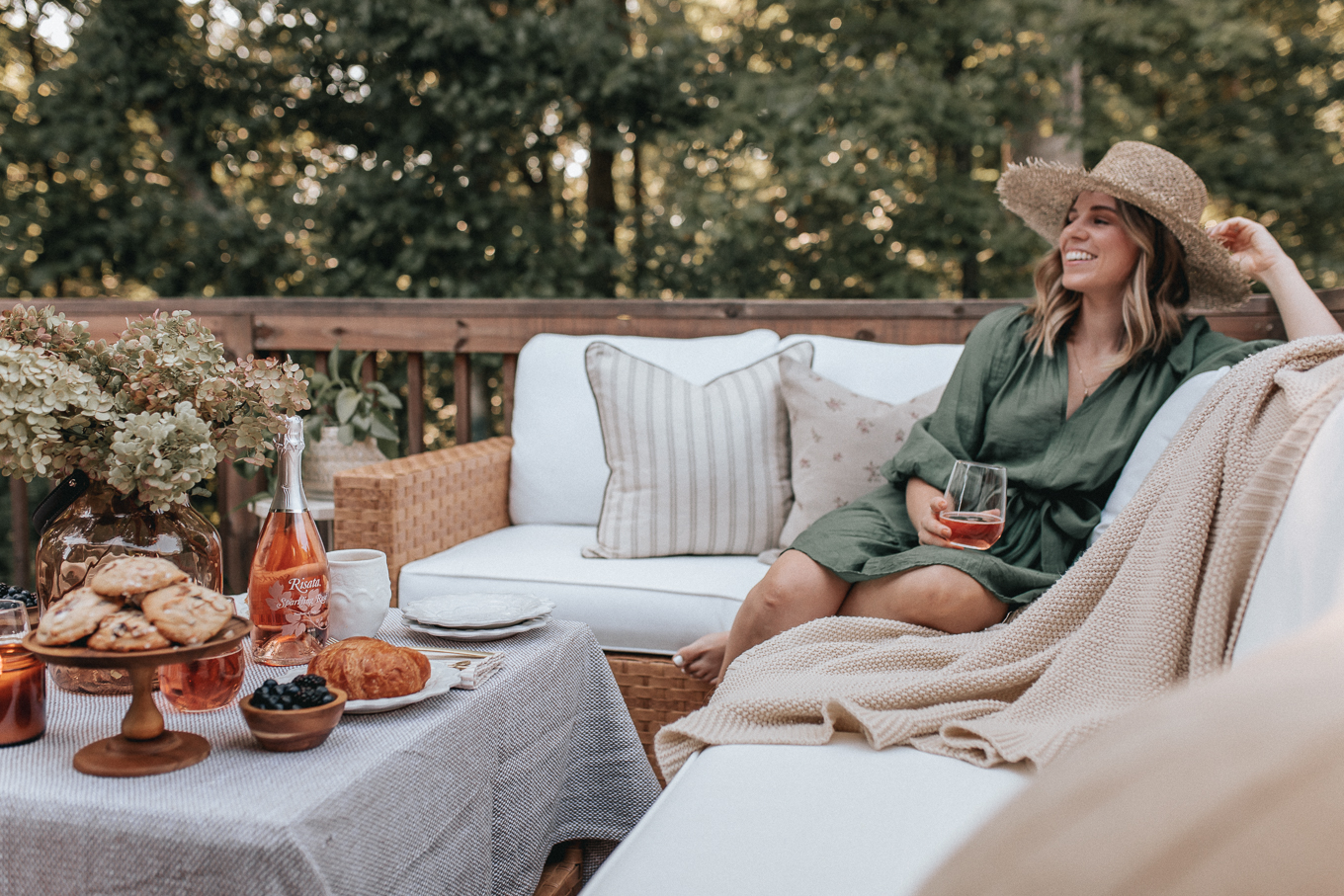 Orange Cranberry Tea Scone Recipe
INGREDIENTS
For the scones:
1 cup heavy cream
8 tablespoons coconut oil
2 cups all purpose flour
6 tablespoons coconut sugar
1 tablespoon baking powder
½ teaspoon salt
zest of 1 orange
1 ¼ cups chopped dried cranberries
For the glaze:
2 cups powdered sugar
1 tablespoon almond milk
3 tablespoons fresh orange juice 
DIRECTIONS
Preheat the oven to 400 degrees. Line a two sheet pans with parchment paper.
Measure 1 cup heavy cream and place in the freezer for 10 minutes while proceeding with recipe. Melt coconut oil in the microwave, 30 seconds at a time, stirring in between. Set aside to cool a bit.
Whisk flour, baking powder, coconut sugar, zest and salt in a medium-size bowl. Add the chopped cranberries and stir until well combined.
Combine heavy cream with the melted coconut oil. Stir with a fork until coconut oil forms small clumps.
Add mixture to dry ingredients in medium bowl and stir until all flour is incorporated. The batter will be very thick, like a cookie dough. You want all flour bits to be well incorporated but do not over mix.
Cover spoon with a bit of melted coconut oil to make it easier to scoop dough and prevent sticking. Scoop scones in mounds onto prepared pan. Space the scones 2-3 inches apart.
Refrigerate scones for at least 15 minutes or up to an hour.
Bake for 20-22 minutes or until light golden brown. Immediately transfer to a wire cooling rack.
While the scones are baking, make the orange glaze. Combine the powdered sugar, almond milk and orange juice in a medium-size bowl. Whisk well until smooth to make a thick, but drizzle-able glaze. *If your glaze is too thin, add a bit more powdered sugar. If it becomes too thick add a little more milk.
Drizzle the glaze over scones. Let scones sit for 15 minutes to let glaze set before serving.
Pair with a glass of Risata Moscato d'Asti or Sparkling Rosé and enjoy!
Find where to purchase Risata Wines near you here. You can search by wine varietal, distance and whether you're looking for a store or restaurant that serves Risata Wines.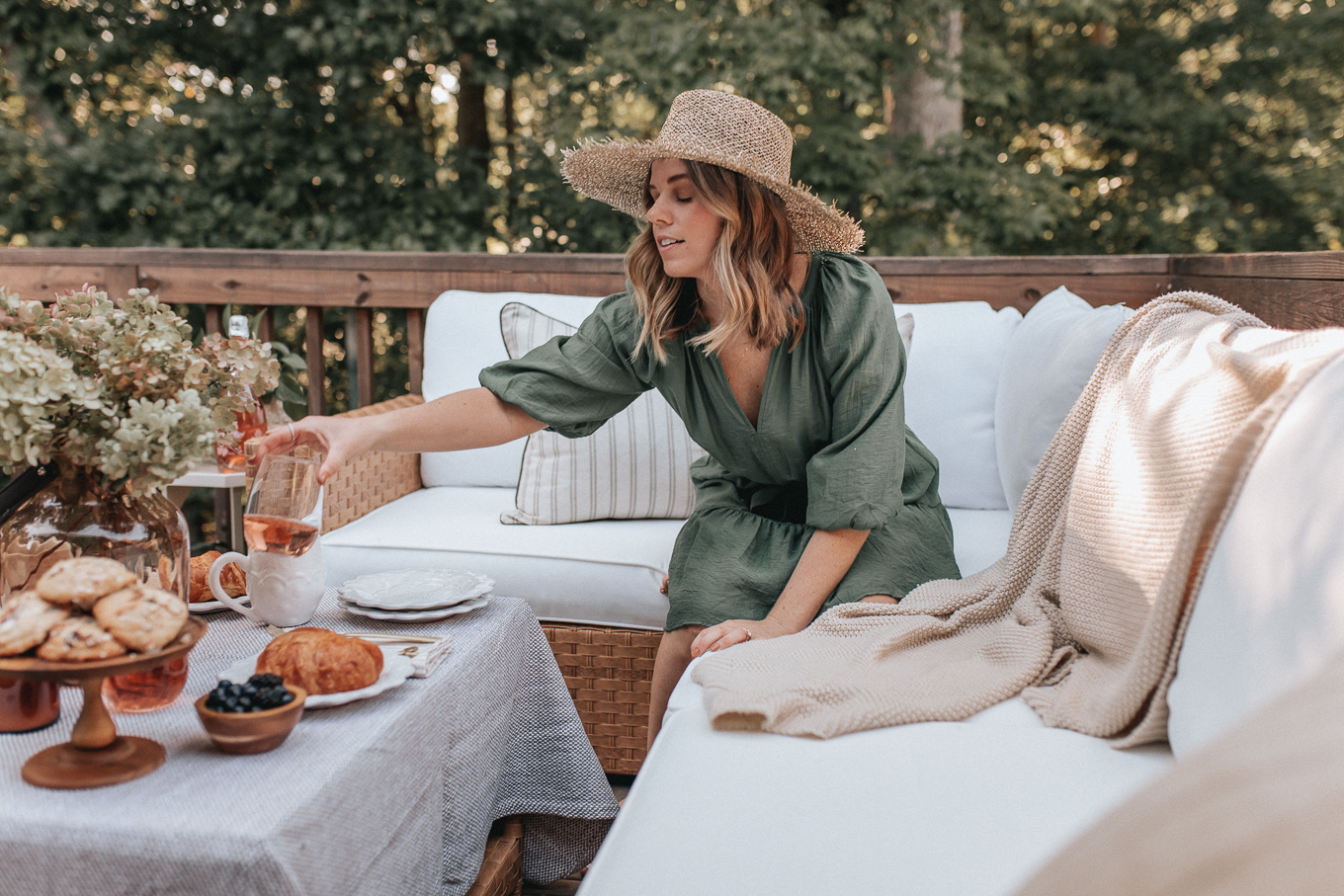 want more entertaining content? check out the entertaining page! or head straight to one of my favorites.
photo by Jennifer Austin Photography