Sharing my June 2020 recap – including a few new purchases, first trip in a long time, a couple can't miss movies plus lots more!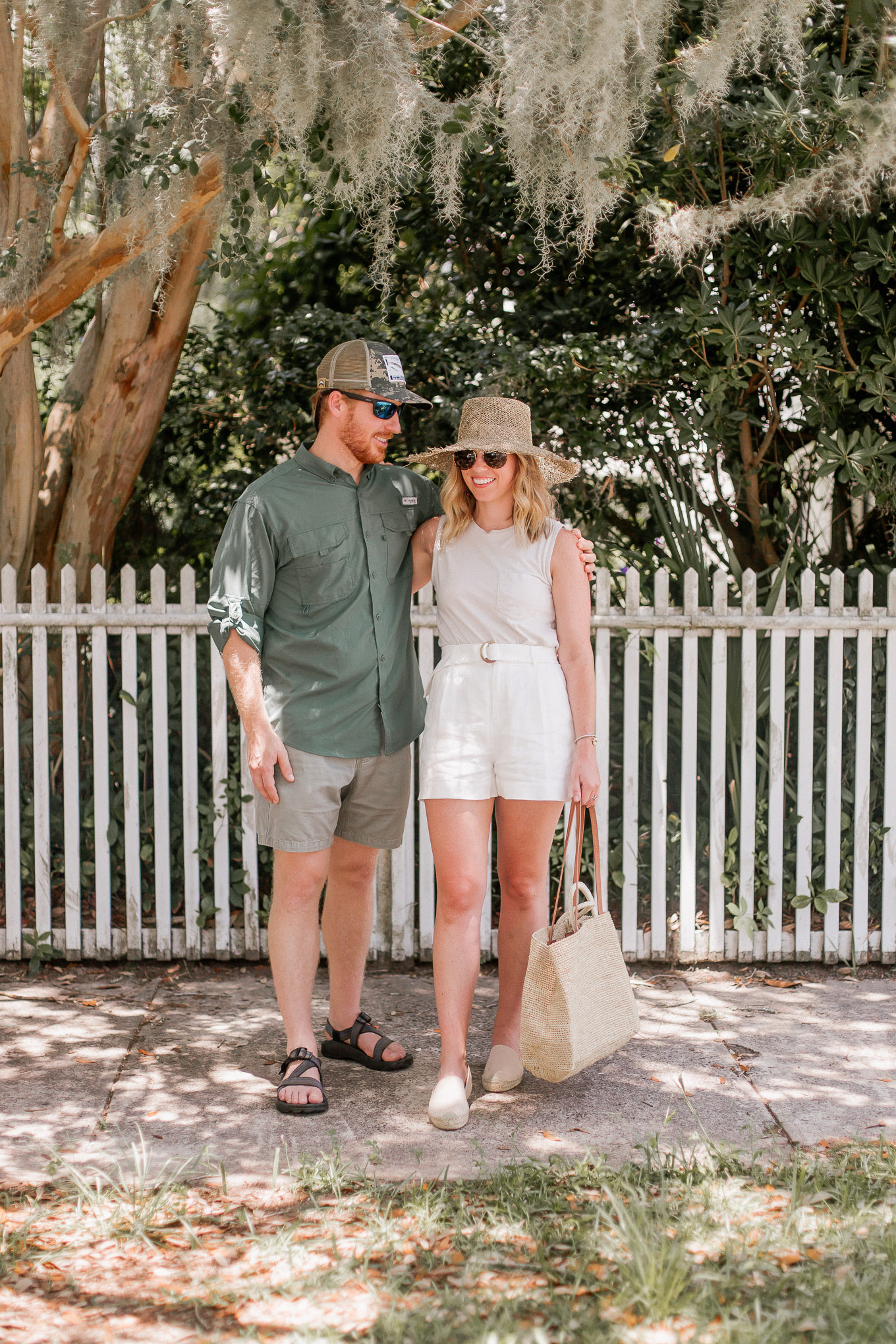 June 2020 RECAP
WHAT I BOUGHT
Side Slit Linen Midi Skirt
Smocked Waist Tiered Midi Skirt
Belted Linen Pleat Shorts
Large Woven Straw Tote
Ultra High-Rise Denim Shorts (also available here)
Fray Boater Hat
Blue Tie Dye Swimsuit
FOR THE HOME
Acacia Serving Tray
Medium Rope Baskets (3)
Woven Rop Console Table
Linen Light Filtering Curtains – returned. Really wanted to love these but felt they looked thin and cheap.
Moss Green Washed Linen Pillow Covers – returned. Liked the lighter version below better.
Light Khaki Green Washed Linen Pillow Covers
WHERE I WENT
Beaufort, SC – Joshua and I visited the charming riverside town for a media trip. We stayed at the incredible 607 Bay Inn that hasn't yet opened but will be soon! It is the perfect spot for walking to restaurants, shops, and activities. Which are all things we did! I will be putting together a travel guide to share with y'all later this week that will include everything! So stay tuned for that.
Hilton Head, SC – Joshua and I were suppose to spend last week in Jackson Hole, Wyoming for six days. It was to be our big trip for 2020 and longest trip since our honeymoon. To say I was looking forward to it would be the largest understatement ever. Jackson Hole has been at the top of my travel bucket list for quite some time. However, due to Covid-19 we thought it was best to cancel the trip. We were majorly bummed and decided we needed to plan something else – on a much smaller scale and much closer to home. So we settled on Hilton Head, SC – a place I had never been and Joshua hadn't visited since middle school. We had so much fun exploring the island via foot and bike and soaking up all of the rays on the beach. It is the perfect spot for a low-key, relaxing beach trip.
MOVIES WATCHED
The Gentleman – so quirky, so unique, so good! Joshua and I both loved this movie! It reminded us both of Knives Out which we also really loved. Matthew McConaughey is of course amazing – no surprise there. I also loved the character played by Charlie Hunnam and thought he was incredible.
Just Mercy – Oh my goodness is Jamie Foxx amazing! He always blows me away but in this movie he took it to a whole different level for me. This is a must watch movie for so many different reasons. Definitely add it to your watch list if you haven't already. You'll be left thinking what can you do to help – very inspiring, motivating, and also heartbreaking.
Entourage – I HAD to watch this after we finished the series! The movie didn't receive great reviews (okay, really horrible ones) but I still wanted to watch. And honestly I am so glad we did. In my opinion, if you loved the series you should love the movie. Just seems like an extended episode and really pulls everything together at the end.
RECIPES TRIED
Bulgur Salad from Magnolia Table Vol. II
WHERE WE ATE
SOO many spots in Beaufort & Hilton Head – will share them all in a travel guide soon!
FAVORITE BLOG POSTS ON LOUELLA REESE
Readers Favorite: Louella Reese Etsy Shop Launch
My Favorite: Recent Purchases + What's in My Cart
FAVORITE BLOG POSTS
Summer Mindset – Hello Adams Family
Isle of Paradise Tanning Drops Review & Application Tips – MyStyleVita
Things I Do on a Daily, Weekly, and Monthly Basis – it's Casual blog
24 hours in Wilmington – Southern Pearls & Curls
FAVORITE SONG
WHAT I WATCHED
We finished watching Entourage somehow made it through all of seasons! Both loved it. Joshua was kind of over it towards the final season but I was very committed. Needed to know what happened with the guys! I have also been watching Council of Dads – so good! A really great wholesome show. Reminds me a lot of Parenthood and Brothers & Sisters. Would definitely recommend it if you're looking for a new show to watch!
FAVORITE FINDS
Concealer that actually treats your pimples
Super cute, super soft night shirt
Mosquito repellent bracelets that actually work!
Fun straw visor for summer
FITNESS UPDATE
Still doing FWTFL but definitely took all of vacation off! No fat/protein days or intermittent fasting. Excited to get back to it this week though! Workouts also took a pause during vacation although we did kayak for two hours one day, biked 2 hours one day, and an hour another day. Plus lots of walking! But again, looking forward to getting back to it this week. I have really enjoyed working out at home and am actually contemplating cancelling my gym membership for later in the year.
Thanks for reading my June 2020 Recap. Take a look back a previous monthly recaps here.

We are excited to kick off summer!
I've teamed up with an amazing group of bloggers
to give YOU a chance to win:
a $750 Amazon Gift Card just in time to treat yourself!
Simply enter below by completing the rafflecopter. You'll receive one entry per completion.
This giveaway is open to the U.S. and Canada only and runs until 7/6.
Winner will be announced here. Good Luck!
Void where prohibited. By entering the giveaway you acknowledge that you are agreeing to complete each task, which involves following, liking and subscribing to newsletter's.